Do you want the best possible quality of the videos recorded with a dashcam?
Take a look into the 1080p dash cams then!
You can find all of the information regarding the HD car cameras, their pros and cons as well as five reviews of the currently most frequently bought models on Amazon. After reading this article, you should have a clearer understanding of this dash cam category, which makes it easier for you to opt for one!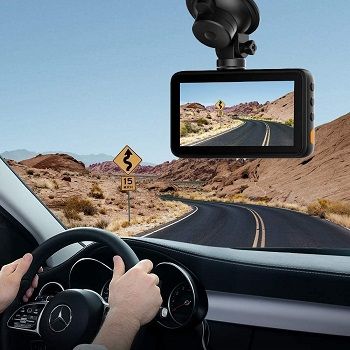 Buying An HD Dash Cam? Read These Tips!
What Are The Advantages Of HD Car Cameras?
If you are wondering, why are HD cameras so much better than all the others, we have the answer. The better the footage quality, the more details, such as the license plates, can you see clearly. Also, you are not getting a distorted picture, but a sharp, full and accurate representation of what is happening on the road. That way if you need ever need to use it as evidence, you can.
Middle Range Prices
When it comes to 1080p dash cams, they offer a great resolution, but still an affordable price tag. That is the combo that is enough for most people. There are also 2k and 4k dash cams that offer better resolution and have a higher price tag. But if you aren't a professional driver we don't think you need to invest in those.
 Best HD Camera Models For Car
Amongst so many models on the market, it is hard to sometimes choose the optimal model for yourself. Some of the best models we recommend are Apeman 1440p&1080p dual dash cam, Cobra Drive HD dashcam, Crosstour dash cam 1080p, Meshare 1080p mini wireless dash cam model, Pilot dash cam 1080p, Polaroid 1080p dash cam, Wheelwitness HD pro dash cam and a few others. Some of them we reviewed in the article below, so check it out if you are interested.
Best 5 HD Dvr Dash Cam Reviews
Best Dual HD Dash Cam
Apeman 1440p&1080p Dual Dash Cam
Dual Lens That Record In All Directions
The first model we want to share with you is the Apeman 1440p&1080p dual dash cam. This dash camera has the ultra HD resolution and 1440P & 1080P dual lens which record everything at the 30fsp. There is also a 170-degree angle for both cameras which offers amazing coverage in all directions without visual blind zone. There is a Sony IMX 335 sensor included for a neven better protection.
Longer Video Times
With this dash cam, you can record longer videos, because there is enough storage for saving them. The apeman dash cam 1080p and 1040p support SD cards up to 128GB. The longer videos are also possible due to the 420mAh battery that has a longer lifespan than most other dash cams.
User-Friendly Design
This dash cam comes with the 3-inch IPS widescreen where you can watch all of the videos as they are being recorded. The screen shows a clear and real representation of what is going on. You get four buttons on the side of the screen which you can use to navigate through different settings and options. The size of the screen won't distract the driver's attention from the road but will allow you to see a much clearer picture.
Simple Set-Up
One of the benefits that come with this dash cam is the easy installation. All you have to do is mount it onto the windshield and plug it into a power source. You can also read more detailed instructions in the user manual that comes with this dash cam.
Features:
170-degree angle
Sony IMX 335 sensor
3-inch IPS widescreen
supports SD cards up to 128GB
detailed instructions in the user manual
Best FHD 1080p Dash Cam
Crosstour 1080p FHD Dash Cam
Record Even The Smallest Details
Next, we want to review the Crosstour dash cam 1080p that is one of the best full HD car DVR 1080p dash cams. It comes with the SONY 2M CMOS Sensor, 6G lens and a 170-degree angle. You will have the vehicle nameplates and street signs capture at any time of the day or night.
Night Vision Technology
This dash cam comes with two infrared night vision lights that will capture all of the small details that cannot be seen well when you are driving at night. The high dynamic range(HDR) enables this dash cam to restore all of the true colors of objects so you get a real-life representation.
3-Meter Motion Detection
When you are driving the camera will automatically record everything. But when the car is standing still, the camera will record 10s videos after detecting an object moving in the distance up to 3 meters, That way you are still protected when your car is stuck in a traffic jam or when it is parked.
Easy One-Button Recording
There are a few buttons for easier operation with this HD car DVR dash cam. When you press the M button you will lock the file manually. When you press the UP button you will turn on and off the audio recording. The PHOTO button captures quick snapshots, while the POWER button turns on the IR lights if the lighting is low.
Compact And Well-Hidden
This car camcorder FHD 1080p comes with a delicate and unique cylindrical stealthy appearance and compact size. That way it is easily hidden behind the center mirror in your car. Most of the time you will even forget it's there. Mount can be tilted in rotated so you get the best multi-angle recording.
Features:
SONY 2M CMOS Sensor
170-degree angle
6G lens
delicate and unique cylindrical stealthy design
Best Panoramic View 1080p Dash Cam
Pilot Electronics Cl-3005 Black Dash Cam
High-Resolution Lens And Screen
Another 1080p dash cam on our list is the Pilot dash cam 1080p. It comes with a resolution of 1920x1080p or 1440x1080p with a 12/10/8/5 megapixel camera. It also offers the 120-degree viewing angle and features the 1.5″ LCD screen on which you can see what's being recorded. The size of the screen is not too big so it won't distract you when driving.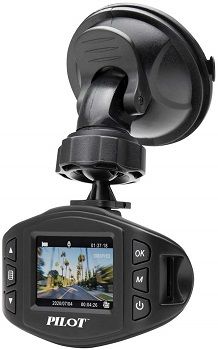 Portable Dahs Cam
One of the specialties of this camera is that it is portable. It comes with a USB and a car charger. You can easily reattach it form your windshield and install it into another vehicle in a matter of minutes. With the 300mAh Li-ion rechargeable battery, you never have to worry it will turn off in the middle of recording.
Excellent Video And Audio
If you are looking for a dash camera that will record everything in HD resolution, but will also capture clear audio, this is the one. It comes with the built-in microphone and night vision mode. That way no matter what time of the day it is you will get clear and sharp footage.
Other Things To Know
This dash cam has the outer housing made out if the durable, high-impact black plastic which makes it less noticeable. The dimensions of the product are 8.1″(H) x 5.6″(W) x 2.6″(L). The 120-degree viewing angle will provide a panoramic road's eye view, which is something not a lot of dash cams have. It comes with the included 4GB SD card.
Features:
1920x1080p or 1440x1080p resolution
USB and a car charger included
panoramic road's eye view
Best HD Mirror Cam
Toguard Backup Camera
Next is the HD mirror cam review on the Tougard backup camera. It is a 1080P front view and 480P waterproof rear cam that provide you with the best footage all day and all night.  It also comes with the 2.5D advanced anti-glare glass mirror and the iron body for a better vision.  There is a 7″ touch screen on which you can see a clearer representation of what is recording.
Reverse Cam Kit For Parking
To get the reverse parking guidelines you will have some extra installation. First, you will need to connect the red wire from the rear camera to the reversing light after which the image of the rear camera will switch over the full view. It will also trigger the guide's line for safe parking.
What Is In The Package?
With the Touguard mirror dash camera, you will get the backup camera with screws and 3M. You will also get the 11 feet car charger, 18 feet cable for the rear camera, three of the rubber straps for fixing the front camera. Also, like with most dash cams, there is a user manual and all of the required instructions on the operation and set up of this model.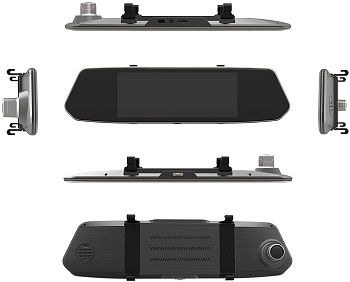 Simple Installation
This mirror dash cam is easy to both install and remove. You won't even have to review the factory rearview mirror in your car. You can just easily attach the dash cam to the rearview mirror with rubber straps. Then connect the car charger with the dash cam and hide all of the extra cables into the interior panel with the provided tools.
Use It Like A Normal Mirror
If you want to turn off the dash cam you can do that by simply tapping the power button on the bottom of the screen. After that, the display will turn off and you can use it as a mirror. But the good news is that the front and rear cameras will still be recording.
Features:
7" IPS touchscreen
1080P front view and 480P rear view
quick installation
Best HD Dash Cam With GPS
Polaroid PD-G55H Dashcam
Record Every Moment In HD
The last 1080p dash cam we are going to mention is the Polaroid 1080p dash cam. You can record every moment when you are driving with this dash camera. All of the videos are recorded in the 1080P or 720p full HD resolution with a speed of 30fsp. It comes with the LCD screen which is 2.4 inches in diagonal. It is used to get a better viewing of what is being recorded at that moment.
Equipped With The Gravity Sensor
Just like most of the dash cams in the market, the Polaroid 1080p dash cam also comes with the G-sensor. That way it can detect all of the collisions, shakes or crashes and automatically lock that feature. That is a great way of preventing these files to be deleted later on manually by accident or automatically with loop recording.
GPS Tracker And Storage
With the built-in GPS, you can locate any place where the recording was made. With the location, you will also find have the information about your speed at that time, time and date. All of the recordings are saved automatically, immediately after, one the micro SD card. But the card doesn't come included with the dash cam.
Easy Installation
All you have to do before start using this dash cam is to mount it on your windshield by using the suction cup and stickers included. That way you can easily remove it later. Then plug it into a power source and start the engine. The camera will start recording when you start the car.
Features:
1080P or 720p full HD resolution
4'' LCD screen
simple installation process
Conclusion: What Is The Best Drive HD Dash Camera We Recommend You To Get?
The best two 1080p dash cams from our list are by the brand Apeman and  Tougard. Both of these are dual dash cams with HD resolution at day time and nighttime. They have simply set up and operation amongst many other advanced features.
There is also an article we wrote on some of the best dash cams, so if you are looking for more recommendations, read it! If you want to know more about the models we picked in the 4k dash cam category, click this link.