Dash cameras are not a luxury, but a need today. Whether you want to capture a view while you're driving or you need evidence to show what exactly happened to a police officer or an insurance company – dash cam is your friend.
How to choose the right one for you?
By checking out different brands, and today, Viofo is the one you should see. Read my post about the Viofo dashcam offer and pick the one from the list!

Information About Viofo Dash Cam
Who Is Viofo?
Viofo is a Chinese company that creates action cameras and dash cameras. Their work is moved by a low profile design that blends well in the car, full HD resolution, and reliability.
Affiliate Program And Distribution
You can earn money by becoming a Viofo partner. That means you promote Viofo videos by posting URLs on other websites. They offer the commission rate up to 6% on each sale and the duration on it is 90 days from posting it.
If you want to become a distributor for the North American, European and Australian markets, you can send an application you can find on the Viofo official site.
Where To Buy Viofo
For the USA market, there is a lot of online platforms to buy Viofo products. For the rest of the world, the most common suggestion is Amazon and Viofo store. We recommend Amazon which is a high-grade reliable online seller with top service. They often have discounts and coupons.
Viofo Customer Support And Warranty
Viofo dash cams come with a 1-year warranty. If you are purchasing from the other sites, you should check the warranty out with them. If they can't solve your problem, you can directly contact the Viofo company.
The customer service is good only in the USA, Canada, and China, as there are customer service offices.
Best 5 Viofo Dash Cam Review
Viofo A129 Duo Dash Cam
Value For Money
A129 camera is the first camera that has a quality rear camera AND doesn't cost more than 400$. In A129 Duo dash cam you get premium features, but for under 200$. Comparing to other brands, that's quite an advantage. So let's find out what those premium features are!
Viofo A129 Duo Sensor And Lens
Dash cam A129 uses a Sony Starvis sensor and a front and rear F/1.6 glass lens. A higher number of glass lens means a smaller lens and less light in it. That means an image with clearer details. Sony Starvis sensor has shown its great quality in a night vision images.
Viofo A129 Duo Video Quality
A129 Duo dash cam competes for the top video quality cameras. Besides the Sony Starvis sensor and an F/1.6 glass lens, the Viofo A129 dash cam has a dual-lens 1080P Full HD. Usually, the rear camera quality is worse, but with this model Viofo rear camera is almost identical to the front one.
Parking Mode
For the activation of the parking mode, you need to install the Viofo's 3-cable hardwire kit. The parking mode allows your Viofo A129 to enable special space and energy-saving recording modes while the car is off. The 2-cable hardwire kit can't tell the dash cam when the car is off and send a signal to start recording, so we recommend the 3-cable.
Wireless Download Speed
Viofo dash cam A129 has a fast file download and streaming speeds. The app is easy to use. Some of the features could be improved, such as deleting the files.
The File Lock Button
The file lock button on dash cam A129  protects the footage from overwriting. It is easy to find in the dark as it is in the middle of the camera below the screen. Be careful about not pressing the button to stop the recording instead! You can also purchase the wireless remote for that reason.
Features:
Double 1080P Full HD, Sony Starvis sensor, F/1.6 glass lens, 140° wide view angle
Parking mode
Loop recording
G-sensor, motion detection, WiFi
Wireless download speed
Viofo A119S Dash Cam
Recommendations And Price Point
The price point for dash cam Viofo A119S is around 100$.
It is a highly recommended mid-ranged price dash cam, especially by Amazon comments.
Viofo A119S Night Image
Viofo A119S's camera comes in 1080P@60fps Full HD resolution and has an advanced Sony sensor. Paire with 7G F1.6 and 135° wide-angle lens, A119S gives magnificent images in low-light conditions.
Supercapacitor
Dash cam A119S uses a supercapacitor, which is a premium alternative to the traditional lithium-ion batteries. Supercapacitor makes your dash cam Viofo A119S more reliable in hot-weather conditions, as lithium-ion batteries don't perform well in heath.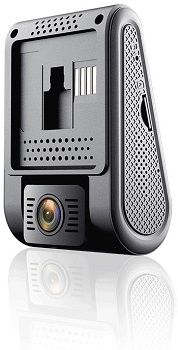 G-sensor And Motion Detection
Viofo A119S uses a parking mode combined with G-sensor and motion detection that detects the collision and activates the camera. For the proper work of the parking mode, make sure the camera's power is full-on. The USB charger connects the camera itself and the cigarette lighter charger.
Features:
1080P@60fps, Sony Sensor, 7G F1.6 and 135° wide-angle lens
Supercapacitor
G-sensor, motion detection
Loop recording
GPS logger
Viofo A119 Pro Dash Cam
A119 Pro Circular Polarizing Lens
Unlike most of the dash cam that are out on the market, Viofo A119 Pro supports optional circular polarizing lens (photography filters). Adding a polarising filter can improve image quality and reduce reflections and glare.
Viofo A119 Pro Dash Cam
A119 Pro has an NTK 96660 chipset, 5MP image sensor, and 7G F1.8 lens. This 5MP sensor makes it possible for dash cam to go beyond 1080P Full HD. Viofo A119 Pro dash cam is 2K, meaning 1440P@30fps or 1080P@60fps HD video and audio recording. Lower HD with higher frames per second is recommended in a more dynamic environment. The LCD screen is 2 inches.
The A119 Pro Design And Buttons
Viofo A119 Pro has a recognizable Viofo dash cam design: wedge-shaped ande wrapped up in solid, black plastic. A119 Pro has well-set hardware with mentioned solid firmware. The camera's great lens and 2 inch LCD screen make a great pair considering visibility.
On the one side of the camera, we have a speaker, microphone, and a Micro SD slot. On the other, there are AV out and USB port.
GPS Logger
Viofo A119 Pro has a built-in GPS. It shows the speed, driving route, and automatically sets the date and time. Location and speed go along with the video for the evidence later. The internal clock is here too.
Features:
Supports: circular polarizing lens, GPS
5MP image sensor, 7G F1.8 lens, 1440P@30fps or 1080P@60fps
2 inch LCD screen
G-sensor, parking mode
Viofo A119 V2 Dash Cam
Video Quality
Viofo A119 V2 comes with 6 layer glass lens and F/1.8 aperture. That makes this lens great both day and night. You can move the lens in all directions to adjust to your vision needs.
A119 V2 comes with 1440P@30fps or 1080P@60fps and you get 3.5 hours on 32 GB SD card.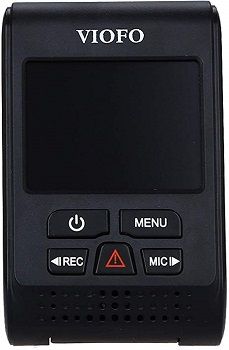 Design And Shape
A119 V2 is made of thick black quality plastic and is wedge-shaped. On one side, there is a USB port and EVA, while on the other there are a microphone, Micro SD and reset ports.
GPS Module
For the GPS option, you need to buy an external GPS module for your A119 V2. You can turn the GPS on and off. You cannot control the coordinates and your speed on the video. Miles per hour were also not included during the first version of the camera.
Warning Notification
The warning notification is important because it alerts you when the Viofo A119 V2 stopped recording if, for example, the weather is too hot/cold or the SD card is full. This camera has a great notification system. The notification sound is not so great.
Emergency Record Button
When the emergency record button on your A119 V2 is pressed, it prevents the wanted file from being overwritten. It is very useful for accident footage. Buttons on the camera are easy to mispress as they are very close, so watch out on that.
Features:
1440P@30fps, 6 layer glass lens, F/1.8 aperture
GPS module
Warning notification
Emergency record button
Viofo A119 V3 Dash Cam
Parking Mode And Power Consumption
Parking mode is better than A119 V2 version one. It has lower energy usage and more recording modes. Those are normal recording, time lapse, low bitrate, and motion detection. They are all automatically activated when the car is off. All of these modes have low energy usage.
Quad HD
Viofo A119 V3 is the first Viofo dash cam with a 2560 quad HD. You can manually choose both 1920 Full HD and also 1280 HD versions.
Quality Of The Night Footage
A119 V3 stands the test considering quality of the low-light videos. F/1.6 lens is big enough to enter enough light to capture amazing night-time videos. 140°wide viewing angle captures the images along the road very clear. Night footages also capture the license plates vivid and clear. Sony 5MP Starvis Sensor contributes to a super clear night vision.
Activating H.256 Codec
On your Viofo A119 dash cam there is an option for reducing the size of the video for 20% but without reducing the quality.  It does require much more processing power though.
Features:
Quad HD, F/1.6 lens, Sony 5MP Starvis Sensor
140°wide viewing angle
Parking mode, power consumption
Motion and collision detection
Viofo A119 Micro SD card
For the usage of the SD card, you have to format it first. All of the SD cards above 32 GB will come unformatted and that is not readable in the dash cam. You have to convert them to be readable. Dash cams come with that ability. All you need is to connect your power and you will get the message to format the Micro SD card. You don't need a computer for formating. Just press the menu button twice, the record button and you will see the format feature. Select that, and the formatting is done!
Conclusion: Which Viofo Dash Cam Do You Need?
For the newest 2020 Viofo dashcam model with clear and crips day and night video footage, which is also a great value-for-money, check out for the Viofo A119 V3 dashcam. For the more budget-friendly dash cam with great lense, look for the Viofo A119 Pro dashcam.
If you don't think this the dash cam brand you are looking for, read my post about the best dash cam models. You can check out other brands there. You can also check out models like 4K dash cams and dual dash cameras.