Getting into a car accident is never good, especially when you cannot prove that you were not at fault. That is why wide-angle dash cams are the perfect solution. Wide-angle dash cams are not only useful for car accidents but for parking, tracking and security in general.
This article will show you why wide-angle dash cams are something that is worth your money, explain how they work and even show you five examples of the best wide-angle dash cams found today. You'll find their most important specifications and characteristics to help you take your pick.
Know Your Dash Cams
What Are Dash Cams?
A dashcam, dashboard camera, car DVR, driving recorder, or event data recorder (EDR) is an onboard camera that continuously records the view through a vehicle's front windscreen and sometimes rear or other windows. There are types by field of view, and those are exterior and cabin or inside viewing mode (taxicam/Uber cam).
What Are Wide-Angle Dash Cams?
Those are dash cams that have an angle wider than 100 degrees. That lets your capture more of the road ahead and around you, and provides you with more security while driving and while your car is parked.
Where Can I Put A Dash Cam?
Dash cams are mostly put in front of you in the car, on your front window or mounted to your rearview mirror. There are also those that can be put in the back of your car, or on the rear window and those that can record the inside (Uber/Lyft cams).
Aren't Dash Cams Expensive?
You may think so, but you are wrong. When you browse Amazon, you can see that there is a wide variety of options at affordable and reasonable prices. You will get a lot of options and won't have to spend a fortune.
5 Best Wide-Angle Dash Cams Reviews
Best 4-Lane Wide Angle Dash Cam
Roav By Anker Dash Cam C2 Pro
Sony Starvis Sensor
This wide-angle dash cam can capture license plates whether it be day or night. It has a Sony Starvis sensor and built-in NightHawk Vision technology which record video at 1080p definition at any time of the day.
High-Quality Recording
The steel frame of the dash cam disperses heat from internal circuits when it is hot outside and operates in temperatures ranging from -4 to 158 degrees Fahrenheit. With an advanced chipset, 5 premium lens elements and Wide Dynamic Range image balancing, the quality of the recordings is 1080p.
Dedicated Roav App
You can view and download your recorded videos from the Roav app. The app also has GPS which tracks and indexes the route and speed of every journey. There is also a G-sensor in the dash cam which is shock activated and automatically records any accidents even when you're not in the car.
What Else You Get
The f2.0 wide-angle aperture lens enables you to view 4 traffic lanes at the same time. The package also includes a trim removal tool, suction and 3M sticker mounts, user manual and a 12-month replacement warranty. The dash cam requires a 32GB Class 10 microSD card which is not included.
Features:
Sony Starvis sensor
NightHawk technology
1080p quality
G-sensor
Dedicated app
Best 170-Degree Wide-Angle Dash Cam
REXING S300 Dash Cam Pro
Large Screen, Slim Design
This wide-angle dash cam has a 2.7" screen and a slim design that fits perfectly around your rearview mirror. The manufacturer recommends an adhesive mounting pad as the preferred mounting mechanism for a secure and permanent mounting.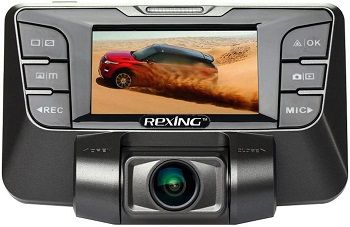 Full-HD Video
This dash cam also records videos in 1920*1080 resolution at 30 fps. The 170-degree angle can record automatically hands-free in a continuous loop. It has a Wide Dynamic Range video system for better clarity of the recordings, and all of that is done through a f2.4 six-glass lens.
Temperature Extremes
The f2.4 lens also makes clear night recordings and has a built-in G-sensor, also known as Accident Auto Detection Feature. The high-quality Li-polymer 3.7v 110mah battery can last 6+ hours in 170°F and in -40°F.  The dash cam supports microSD cards up to 128GB.
Features:
170° angle
Wide Dynamic Range
G-sensor
Best Mini Wide-Angle Dash Cam
Vantrue N1 Pro Mini Dash Cam
Miniature In Size
This 2.5 x 1.95 x 1.5" dash cam fits perfectly into any tiny space in your car and does not get in the way of your driving or vision. It records 1080p videos at 30fps with the built-in Sony Sensor IMX323 during the day and night. The 160° angle F1.8 sex-glass lens captures license plates and road signs.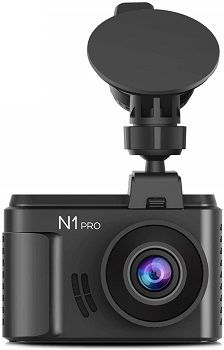 Collision Detection Parking Mode
With the dash cam hardwired, it is triggered by its motion detector which reduces power consumption. The collision detection parking mode makes the dash cam turn on even when the car and cam are turned off, and records video up to 20 seconds after it detects a crash.
Overwriting Old Recordings
If you reach the storage limit, the oldest recordings are automatically overwritten. The built-in G-sensor can trigger the cam and automatically detects a collision and locks the footage to prevent it from being overwritten even when loop recording.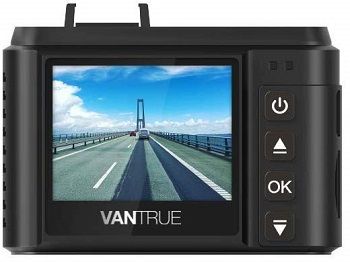 Optional GPS Function
Since the dash cam is made of PC and ABS materials, it can work in temperatures ranging from -4° to 158°F. If you want the optional GPS function, you can buy an extra N1 Pro GPS mount and record your route, location and speed. The dash cam supports microSD cards up to 256GB.
Features:
160° angle
Collision detection parking mode
G-sensor
GPS function (optional)
Best 6-Lane Wide-Angle Dash Cam
AUKEY Supercapacitor 170° Wide-Angle Dash Camera
Clear LCD Screen
The AUKEY dash cam has a 2.7" LCD screen, and is equipped with GC2053 2-megapixel CMOS sensor and F1.8 large aperture. These features make high-definition and natural pictures, while night-time images are as clear as the day ones.
Six-Lane View
The 170° wide-angle lens covers all peripheral action around you. The image does not get deformed, but rather the most realistic scene is restored. There is also a built-in G-sensor, an NTK chip, motion detection, loop recording and HDR function for better image quality.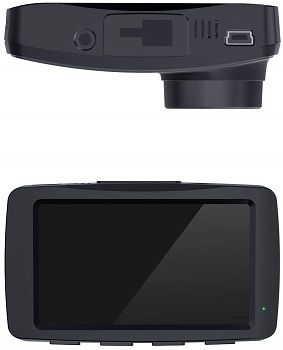 Operates At Any Temperature
Because there is a high-tech internal supercapacitor, the dash cam can operate in temperatures from -22° to 167° Fahrenheit. Other included parts in the package are a car charger with 13' USB Mini-B cable, suction mount, sticker mount, two 3M stickers, six cable clips and a user manual.
Features:
170° angle
G-sensor
NTK chip
Motion detection
Loop recording
Best Cheap Wide-Angle Dash Cam
VSTARCAM 1080P Dash Camera For Cars
Four-Lane View
The super wide-angle lens provides you with a view of four lanes and reduces blind spots while at the same time captures more details. It records videos in 1080p quality at 30fps and takes photos up to 12MP. The 6-glass fixed-focus records crystal clear videos.
Emergency Accident Lock
The built-in G-sensor protects footage of an accident and prevents it from being overwritten by the dash cam's auto-delete function. It also has the loop recording feature which allows continual recording even when you reach the storage maximum. Files can be protected either by the activation of the G-sensor or manually by pressing the file to the protect button.
Super Starlight Night Vision
With the advanced sensor and F1.8 wide aperture, the dash cam gathers more light and does not require any additional light source, even when in low-light environments. That is also true for night recordings which are not too dark and shaky.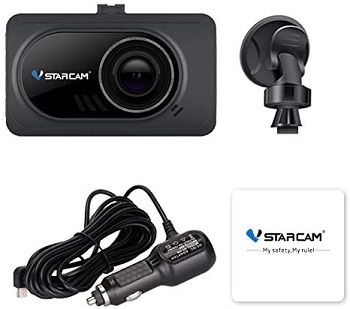 User-Friendly Design
The motion detector of the dash cam is turned on for 24 hours, and has a parking monitor as well. The package does not include a memory card so you will need to get one beforehand, and the recommended microSD card is the one with 32GB memory.
Features:
12MP images
G-sensor
Motion detection
Parking monitor
Which Wide-Angle Dash Cam Do You Like?
Besides the above-mentioned products, there are many more with similar and different features available on the market. If you need a little help, I recommend the REXING S300 Dash Cam Pro because it has a 170° angle and has a long battery life. Another product I like is the Roav By Anker Dash Cam C2 Pro because it has a Sony Starvis sensor and its own tracking app.
If you like the topic of this article, read another article which deals with best dash cams in general. For the highest quality recordings, read the article about best 4K dash cams. If you're looking for a cam with the widest angle of recording, read the article about best 360 dash cams.