Do you want to record your car rides, but you don't have a cigarette lighter socket?
Then you should look for a USB powered dashcam.
Here you can read what are the USB dash cams and how to use them. In this article, you will find the best 5 dash cams which are powered by a USB charger.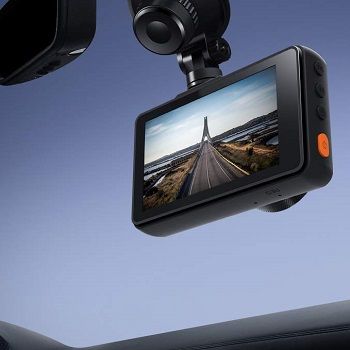 Tips For Choosing USB Powered Dashcam
What Are Dashcams Powered By USB?
USB powered dashcams are car cameras that get the power through a USB power outlet. They can also have a battery so it can be used when there is no power over the USB cable. Some of the USB powered dash cams come with the cigarette lighter charger for USB devices so the camera cable could connect even over the cigarette lighter charger.
How To Use USB Dashcam?
USB dashcams can be mounted on the glass inside of the car. The cable can then be hidden in the edges of a car interior. The next thing that you should do then, is to connect the camera USB cable to the car's USB power outlet and turn on the camera. After turning on the camera, you can use it or connect it to the phone if the camera has those abilities.
Problems With USB Dashcams
USB dash cams will have plenty of cable length. If you don't want to glue it on your car or push the wires through the most of the car, then this could be a problem for you. The USB plug can also get worse and after some time it is possible it won't make a good connection.
Important USB Powered Dashcam Characteristics
It is important to get a camera with good image and video quality. For the mentioned problems, it would also be good to look for a dashcam powered by USB that can be powered through a battery or that it has a different kind of power plug.
Prices Of Dash Cams With USB
Prices of the dashcam with USB charger range from 40$ to 660$. Good quality camera for this price range with any feature that you need, you can find on Amazon.com.
Best 5 USB Powered Dash Cams
Best Android G Sensor USB Dashcam
Yi Smart Dash Cam
Advanced Driver Assistance System
Yi Smart dashcam uses the Advanced Driver Assistance System (ADAS) to make traveling more comfortable and safer. This recording system is an intelligent system that collects important information and based on this information, provides real-time warnings regarding lane departures.
No Blinds Spots Wide-Angle
This dashcam powered by USB has a Full HD resolution and a lens that records 3 motor lanes. This wide-angle camera records almost everything in front of the car and that's because that angle is 165°. This means there will be little to none blind spots.
Parking Mode And Collision Detection
The camera can be left recording while the car is parked. It has a gravity sensor that will detect a collision and mark the accident video so it couldn't be overwritten during its loop recording.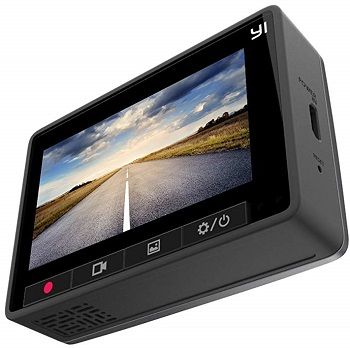 Night Vision And Widescreen
To make good videos at low illumination, this USB dashcam for Android has a high sensitivity sensor. These sensors allow night vision so the objects in the video would be recognizable. On this camera, you can see a preview on the LCD widescreen or your Android or iOS mobile phone app.
Infrared Rays Blocking
This camera uses an infrared filter so the pictures would be clearer. The infrared filter blocks infrared rays and that means the glare on the pictures will be reduced. To make clear and detailed videos, it uses high sensitivity. This dashcam comes with the USB charger in the package.
Features:
Real-time warnings about lane departures
165° wide-angle recording
Infrared rays blocking filter
Collision detection for saving important videos
Best 4k GPS USB Powered Dashcam
Rove R2-4K Dash Cam
4K Recording And Night Vision
This camera has 4K Ultra HD resolution for clear 4K videos and CMOS sensor to capture great videos even at ultra-low light. For great videos, there is also a 150° viewing angle that captures everything in front of the car.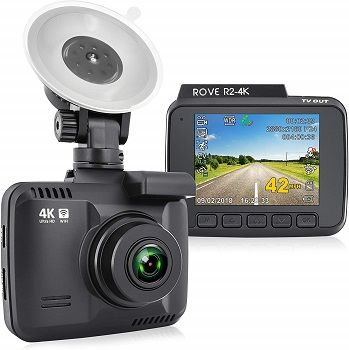 GPS And Voice Guidance
This camera's interface is user-friendly and it even provides voice guidance. The voice guidance helps you navigate through the system and changing settings. R2-4K has built-in GPS that records your driving speed and location.
Time Lapse And Loop Recording
To record long periods, you can use a time-lapse feature. It saves pictures at a lower rate than normal and makes them look like everything is moving faster. There are three options for time-lapse recording and you can choose from one, two or three frames per second.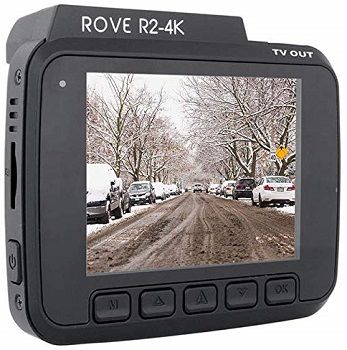 Parking Mode And Emergency Saving
This dashcam with USB charger also has a gravity sensor that can be useful for saving accident videos. When the G sensor detects a collision, it automatically starts emergency recording and saves the video as marked for not overwriting. Parking mode uses an internal battery so it could function for 24 hours.
All Features Through Application
This dashcam with USB power has a built-in Wi-Fi and it can be managed over an application. From the ROVE app, you can change settings, play or share the videos. Rove R2-4K doesn't allow remote recording as it is not an IP/4G camera.
Features:
128GB memory slot
Built-in Wi-Fi and GPS
Exceptional night vision technology
G sensor for collision detection
Voice guidance for easy use
Best Cheap Wide-Angle USB Dashcam
APEMAN Dash Cam C450
Wide-Angle Technology
To show most of the real scene in front of the car, this dashcam powered by USB uses a wide-angle lens. The lens is 170° wide and minimizes blind spots. There is also an infrared filter on the lens for glare-free videos.
Great Night Visibility
Apeman USB dashcam with USB charging has a Full HD resolution to provide great videos of recorded events. Thanks to the WDR and HDR technology, the video at low-light scenes can be delivered clear and in good quality.
Big LCD Screen And Parking Monitoring
To preview videos on the camera, it has a 3" LCD screen so it can be seen well. The camera has a 24-hours parking monitor and a G sensor to automatically protect possible court evidence. To deliver parking monitoring options over a long period, you should get a hardwire kit so the camera can be connected directly to the car power supply. The internal battery is used only in the emergency recording.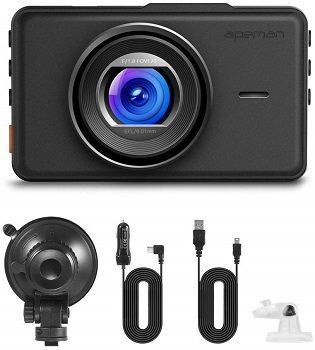 User-Friendly Setup
Apeman C450 dashboard camera can be easily mounted on the car glass. The wires can be hidden in the edges of a car in a couple of minutes. The manufacturer doesn't provide an SD card so be sure to order one on time.
Features:
Full HD resolution
Car charger included
Super night vision
Ultra-wide viewing angle
Best Dual Night Vision USB Dashcam
AUKEY Dual Dashcam DR02 D
Dual  Night Time Camera Recording
Aukey dual dashcam has Full HD resolution. Both cameras are wide-angled and cover most of the road around you. The front camera has a 170° angle and the rear one has a 152° angle. This provides a full six-lane view as both cameras show three lanes.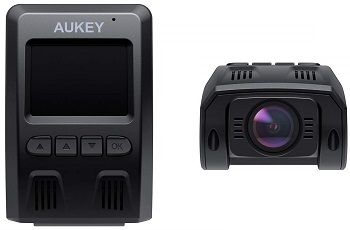 Supercapacitor For Longer Battery Life
This dual USB dashcam saves the battery life as it uses supercapacitor and not the regular battery. The supercapacitor can endure extreme cold and heat so they don't damage it so easily. The internal capacitor is added to the camera next to the dual-port USB car charger.
Motion Detection And Emergency Recording
Motion detection allows turning on the camera as someone passes by. If the incident occurs, the camera has an emergency recording that signals that a few minutes of the video should be saved and not overwritten by loop recording. That way you will have the video even after the camera has been recording for a long time and it would be in a different folder.
Loop recording allows continuous recording. After there is no more memory on the SD card, the camera overwrites the oldest videos with the newest ones. Thanks to this feature, you don't have to delete irrelevant videos, format an SD card regularly or change more of them.
Time-Lapse Recording
This dashcam with USB power can record long times of videos. It captures pictures slower than usual. These pictures then speed up and then the video shows that a long period in just a few moments.
Features:
Supercapacitor as an extra battery
Dual ultra-wide angled camera
Great nighttime visibility
Best Full HD WDR USB Powered Dashcam
Crosstour CR300 Dashboard Camera
WDR Technology For Image Quality
This dashcam with USB power uses WDR technology. It helps in low light situations or with backlight as it brings back the real colors of the recorded objects. Crosstour CR300 has Full HD resolution and makes quality videos at day and even at night.
Collision And Motion Detection
For collision detection, this dashcam uses a gravity sensor. The camera can automatically record the footage and save it when the collision is detected. The saved footage will be in a different folder and won't be able to automatically overwrite.
Wide-Angle Point Of View
Crosstour CR300 uses a lens that has a 170° wide-angle point of view. In the video, you will be able to see up to four lanes of traffic. The lens's focus is fixed with 6 layers of glass and that allows recording of very clear videos as the transmission of light is better.
License Plate Stamp And Audio Recording
The license plates can be seen clearly while using this camera. Thanks to WDR technology, they can be read even at low illumination events. Another great feature is that it records audio. This means that your videos will have sound and they will be more interesting and easier to follow and capture what is going on.
Small And Lightweight Design
This USB powered dashcam is designed as a small and lightweight camera. It weighs only 232.47 grams and its dimensions are 3.5 x 2 x 1.4 inches. Dashcam comes with the USB charger, suction cup, and USB cable. This is also a very cheap camera but provides good quality.
Features:
Built-in G sensor
Wide-angle point of view
WRD technology
Conclusion: Which USB car dashcam suits your needs?
For a great camera with plenty of features, I would recommend Rove R2-4K dashboard camera. This camera has a UHD resolution that puts it at the top image quality cameras. If you need a camera with a great night vision, then there is Apeman C450 dashcam. It has a wide-angle point of view and uses WDR and HDR technology for great video quality even at low illumination.
To learn more about 4K USB dash cams, read this post about 4K dash cams. If you want to find out how to choose the best dual camera, you should read this post on dual dash cameras. Read this article about best dash cams to find out even more about dashboard cameras and their best features.