Do you want to buy a dash camera with the parking mode feature?
This is the place to be!
In this buying guide, we introduce you to the parking mode feature and share with you our top 5 picks when it comes to best dash cams with parking mode. After you are finished reading this article you will have all of the information you need to decide which model is the best for you!
Things To Know When Buying A Dash Cam With Parking Mode
What Is Dash Cam Parking Mode Feature?
Parking mode is a feature that is often included with car dash cams. It senses the motion surrounding your parked car and automatically starts recording. It also saves all of those recorded videos as evidence. It is a great feature when you want to protect your car from vandals or even someone trying to steal it.
What Are The Best Dash Cam Parking Mode Models And Brands?
You can find a big variety of products on the market that have the parking surveillance feature. Some of the most popular ones are Thinkware, Garmin, Nextbase, Rexing, Cobra and many others. They offer great parking mode features but also many other great dash cam features.
Where To Buy The Best Dash Cam For Parking Security?
Even though you can find them at the physical stores, we recommend looking up online when looking to buy a parking monitor dash cam. Many brands have their official webshops, but you can also find dash cams with parking mode with many online retail shops. The one we recommend is Amazon because there you can find the biggest variety of brands and models at decent prices.
Best 5 Dash Cam With Parking Mode Reviews
Best Dash Cam With Wifi And Parking Mode
Garmin Dash Cam 45
Camera And Display Features And Size
Garmin dash cam 45 is the first dashcam that records while parked we will review for you in this article. The model includes a high-quality 2.1-megapixel lens with the 1080p resolution in every lighting condition. You also get the 2.0-inch LCD screen plus a small and discreet size that takes up very little space when you install it.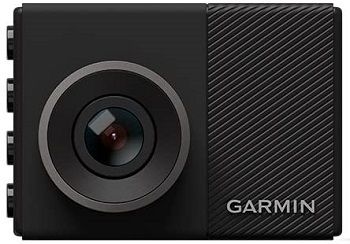 Alerts And Warnings
What makes this dash camera so great is that you get specific warnings and alerts that make your driving much safer, For example, if you start to stray away from your lane or if you are driving too close to the vehicles in front of you, you will get audio warnings. There is even an alert that will warn you about all of the speed cameras that are close.
Wirelessly Sync Your Videos
An additional feature of the best dash cam with parking mode is that it comes with a built-in Wifi. Therefore, you will be able to connect the dash camera to your smartphone and sync the videos after you downloaded the free VIRB app. It is also super easy to share the videos with your friends, family, legal authorities or insurance agencies in case of an accident.
GPS Feature Included
With this dash cam with parking mode, you will also get built-in GPS features. It will automatically determine your current location, time, date, and speed. That way for all of the saved footage you will know when and where the event happened. That also makes it easier to find the old footage when you need it.
Features:
1-megapixel camera
1080p video resolution
0-inch LCD screen
Best Dual Dash Cam With Parking Mode
Vantrue N2 Pro Uber Dual Dash Cam
Dual Camera Specifications
The next best dash cam parking mode 2018  we are going to share is the Vantrue n2 pro uber dual dash cam model. This one comes with a dual-camera- front and inside and they both offer 1080p resolution, which is rare for dual cameras. The front camera has a 170-degree angle, while the inside camera comes with a 140-degree wide viewing angle. You also get the Sony IMX323 sensor, 4 IR LED lights and f/2.0 aperture for crystal-clear recording even at night.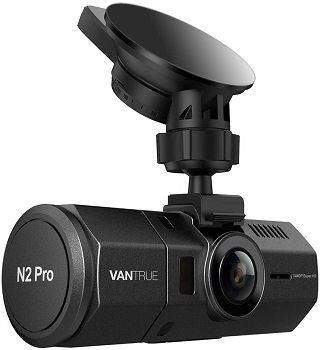 24 Hours Parking Monitoring
The most important feature you get with this model is the Parking mode that starts to record automatically when any kind of motion has been detected surrounding your parked car. All of those recorded videos are then automatically saved and can be used as evidence if someone is trying to steal or wreck your car.
Two Recording Options
There are two recording options included with this best dashcam for parking mode. You will get the Loop Recording option that will replace all of the oldest footage with the newly recorded videos once there is no space left on the SD card. When there are shakes and collisions, the G-sensor will record and lock the emergency footage to save it from the loop recording feature. This type of recording is called Emergency recording.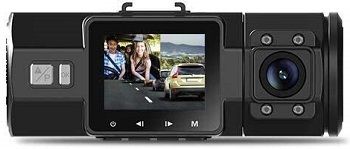 GPS And Storage Features
Another great benefit of this dash cam is the fact that it comes with the GPS. With it you know your location, time, date and speed at all times. One of the cons is that you have to buy the GPS mount first, if you want to use this feature.  Recorded videos are all saved on the not included SD card. The maximum SD card size is 256 GB, which is plenty of space for all of your recordings.
Other Features
Another great thing about this dash cam is that you get an 18-month warranty as well as the 24/7 customer support you can get ahold of through email. You will get a wide working temperature between -4° and 158°F. Since it comes with the inside camera as well it is for use in uber or taxi.
Features:
Built-in GPS Mode
Night Vision Sony sensor
Two recording options
18-month warranty
Best Mini Dash Cam With Parking Mode
70mai Pro Dash Cam
Camera Specifications
The next best park mode dash cam we are going to mention in this article is the 70mai dash cam pro model. It is a mini dash cam that has a 1944p full HD lens with a 140-degree wide viewing angle. It also comes with the 6-glass lens and the Sony IMX323 sensor that allow for a clear image even if you are recording in low light conditions. With the camera, you also get a 2-inch LCD screen where you can watch all of the recording videos and change most of the settings.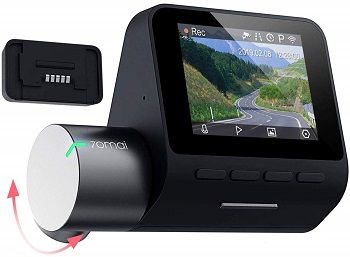 Free Dash Cam App
This 70mai dash cam pro 1944p has built-in wifi that allows you to connect it to your smartphone. You will need to download the free app on your phone first to be able to then watch live videos, playback videos, download and share them through your phone no matter where you are at that moment. The app supports iOS 8.0 & Android 4.4 or higher systems.
24-Hour Parking Monitor
One of the benefits you get by purchasing the 70mai pro is the Parking Surveillance Mode. This mode will look after your parked car and it will automatically start recording when motion has been detected surrounding it. That way your car is protected from possible vandals and thefts, no matter where you parked it.
Built-In G Sensor Feature
Another great feature that is included with this car dash cam pro is the built-in G-sensor. It is can detect collisions and shakes and automatically lock the recorded footage to the Emergency file. That way it can prevent those files to be overwritten with the Loop recording feature.
Features:
1944p HD resolution
Sony IMX323 sensor
built-in G-sensor
140-degree viewing angle
Parking Mode
Best Dash Cam Parking Mode Without Hardwire
Viofo A119Pro Dash Cam
Wide Angle Camera Lens
Another one of the best dash cam parking mode options is this Viofo A119 Pro dash cam model. It comes with a full 1440p HD video and audio capture and a 130-degree wide-angle lens. That way you will get a clear view of both sides of the road, so you don't have to worry about missing something important.
Built-In Sensor And Parking Mode
An additional benefit of this model is that it comes with a built-in G-sensor which knows when you were in an accident. That way it will automatically protect all of the accident footage so it doesn't get overwritten with the Loop Recording feature. The parking mode will watch over your parked car and start recording when you detect some motion in front of your car.
Footage Viewing And Storage
You will also get the 2.0″ LCD screen where you can watch all of the things that are being recorded. You can also use the screen to change settings. All of the videos are stored on an SD card, which sadly isn't included in the package. But this parking mode camera supports up to 128GB of storage.
Capacitor Instead Of Battery
This parking dash cam also comes with a capacitor instead of a regular battery. With it, it can operate on different temperatures from really cold to really hot. It will prevent the camera to get too hot or too cold in that kind of weather condition. The capacitor also offers a longer lifespan than the traditional batteries.
Features:
130-degree wide-angle lens
full 1440p HD video and audio
0″ LCD screen
Best Dash Cam Front And Rear With Parking Mode
AUKEY Dual Dash Cam
Full HD Front And Rear Cameras
The last parked car security camera we are going to mention in this article is by the brand Oakley. It is their DR02 D model which comes as the complete front and rear dash camera system. It will offer you full protection in any road incident. Both cameras come with the Sony Exmor Sensors which capture the super-sharp 1080p videos and perform great at nighttime.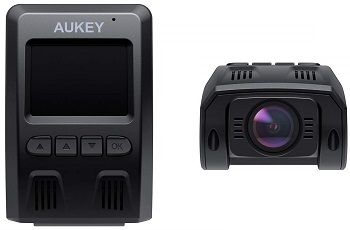 Six-Lane Full Coverage
Another benefit that comes with this Aukey camera us that the front camera has a 170-degree viewing angle while the rear has a 152-degree viewing angle. It can capture what is going on in front, behind and on the sides of the road. It covers six-lanes in front of you.
Emergency And Loop Recording
It comes with the loop recording feature which will capture everything nonstop and also overwrite the oldest videos when there is no space to save the newest ones. With the Emergency Recording, you will be able to detect collisions and shakes and therefore lock that footage to prevent it from being deleted if you will need to use it later as evidence. With the parking mode recording, your car will be safe and protected no matter where you park it.
Package Includes
Inside of the box, you can find both front and rear cameras, dual-port USB charger for the car, USB mini cable which is 14 and 23 feet long, two sticker mounts, six 3M stickers, six cable clips, the user manual that includes all of the required instructions. You will also get a 45-day full money refund as well as the 24-month warranty card.
Features:
Sony Exmor Sensors
super-sharp 1080p videos
24-month replacement warranty card
Front and rear camera with wide viewing angles
Conclusion: What Is The Best Dash Cam With Parking Model?
After reviewing some of Amazon's most popular models, we chose two as the best ones that will keep your parked car safe at all times. They are the Vantrue N2 Pro dash cam model and 70mai pro dash camera. The first one has a 24-hour parking monitoring, full HD front and inside lens as well as GPS features. The second one is small, discreet and also offers 24-hour parking surveillance features.
If you are want to know more about best dash cams, read this article and find out more options! To learn more about the dual dash cams and their best models, take a look at this article. There is a best 360 car cams topic in this short buying guide if you are interested.