Are you interested in investing in a dash camera for your car?
Would a dash camera help you relax while driving?
You've come to the right place cause it today's post I'll be talking about the Pruveeo, its product offer and give a review of 5 Pruveeo dash cam models. I'll give you basic information about each model including weight, dimensions, and materials. You'll learn about their recording quality and their most interesting features. By the end of this post, you'll be able to decide which model would suit your needs best.
If you want to know more about Pruveeo and its dash cams, continue reading below.

About The Brand And Their Product Offer
The Pruveeo Brand
Pruveeo was founded in 2000 in Blaine, Washington. Pruveeo is a famous brand known for making high-quality dash cams that have been well accepted in over 20 countries around the world. Pruveeo employs more than 300 people and its team of experienced engineers is devoted to designing high-quality digital devices.
Pruveeo's Product Offer
Some large industries that Pruveeo started in are navigation devices, tablets, action cameras, and dash cameras. Currently, on their official website, you can find many different models of dashcams, charging cables and a review mirror mount kit.
Simple Set Up And Easy To Use
The Pruveeo dash cams are very easy to set up. Operating them is also easy as they're designed to be simple to use and comprehend. In the manual for your model of dash camera, you'll find detailed instructions on how to use it and explanations of all possibilities of usage.
Discreet
The Pruveoo's dash cams are very discreet and aren't that noticeable. You can attach them to a windshield with suction cups instead of a rearview mirror and no one will see it. You will want your camera to be very sharp and get high-quality recordings of the road.
Best 5 Pruveeo Dash Cam Reviews
Pruveeo F5 Dash Cam Review
Main Information About The Pruveeo F5 1080p Dash Cam
The Pruveeo F5 dashcam measures 3.5 x 1.7 x 1.5 inches and weighs 3.04 ounces. It made of black plastic and has a built-in single front-facing camera with glass lens, and a small LDC display screen. Pruveeo f5 full HD dash camera is very easy to install on your windshield using a mounting kit you'll receive with the Pruveeo F5. In the package, you'll also receive a dashcam charging cable and a cable tray.
Camera Specifications And Possibilities
The Pruveeo F5 dash cam comes with a single camera with a 6 layer glass lens. This wide-angle lens will give you a 170-degree view of your surroundings. It has a full HD 1080p video resolution with 30 frames per second. The Pruveeo F5 Full HD 1080p dashcam turns on and off automatically and records the road while you're driving.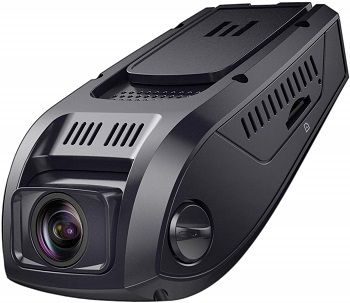 Technical information
The Pruveeo F5 FHD 1080p dashcam has an automatic power-off feature that makes the dashcam to turn off after 5 seconds of no power source. It has a built-in microphone and supports audio recording and loop recording when it runs out of memory. This dash camera has a limited storage so I advise you to buy a 32GB micro SD card.
Features:
Affordable
Turns on and off automatically
Good quality footage
Easy to use and set up
Doesn't need cables to work
Pruveeo D700 Dashcam Review
Materials And Design
What makes this dash cam stand out is its discrete and clever design. The Pruveeo D700 dash cam comes in a shape of a rearview mirror and can be placed on top of it making it completely unnoticeable. The cable is meant to go through a cabin of the car and be plugged into a cigarette lighter. Its exterior is made of high quality black plastic and has a 7 inch touch screen mirror.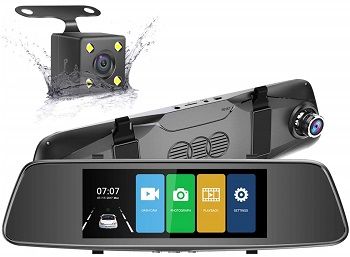 Touch Screen
The screen allows you to view footage from one camera or both cameras at the same time thanks to its picture-in-picture display feature. You can easily switch between 2 modes by simply touching the screen. For safe parking, the Pruveoo D700 will automatically show a full view of the parking space when the R gear is activated.
Cameras And Other Technical Specifications
The Pruveeo dashcam D700 comes with 2 high-resolution cameras. Rear lens has a VGA 480p video resolution, records up to 90 degrees and is waterproof. The front-facing camera has a full HD 1080p resolution and a 170 degrees glass lens. After you reach the limit on your micro SD card the dashcam will start recording over the old video. It supports up to 32 GB class10 micro SD card that is not included in the package. It comes with a built-in 320 mA battery that is used to save files in emergency situations.
Features:
VGA 480p video resolution rear lens
Full HD 1080p resolution front camera
Clever design and easy set up
Automatic parking image
Loop recording
The Pruveeo MX2 Dash Cam Review
Simple Installation To Windshield
The Pruveeo dashcam MX2 will blend in easily with your windshield thanks to its discreet design. It has an 2'' LDC monitor in the middle, push buttons on each side and 2 cameras. The Pruveeo MX2 is made of durable black plastic and with it you'll receive one 3m sticky mount, in-car charging cable and manual instructions booklet.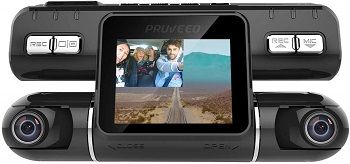 Camera Resolutions and Display Options
The cameras can rotate for 320 degrees and will allow you to adjust the angle to your needs. Video resolution on one camera is 720p with 30 frames per second, and on the other one VGA 480p with also 30fps. You can switch between displaying the Pruveeo MX2 dash cam front and rear dual cameras or view them simultaneously using picture-in-picture feature.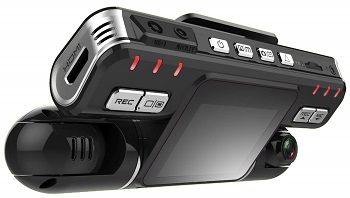 Interesting Features Of The Pruveeo MX2
The Pruveeo MX2 dashcam does not include a built-in safety battery but has a Super Capacitor that has proven to be safer and more durable. It allows loop recording as well as audio recording that you can turn on and off. It has a built-in power outage recovery function and supports 32GB micro SD memory cards such as Samsung EVO or SanDisk High Endurance Micro SD Card. This dashcam starts recording automatically when you start driving and stops when the engine turns off.
Features:
Simple set up
Power outage memory function
Cameras record the inside of the car and its surroundings
Super Capacitor instead of a battery
Pruveeo C2 Dual Dash Cam Review
Basic Information About Pruveeo C2 Dash Cam
The Pruveeo C2 1080p dash camera is suitable for any type of vehicle. It measures 4.8 x 3.37 x 1.5 inches and weighs 12.8 ounces. Even though the size of the device might seem big at first, it can be easily hidden behind the windshield. It's made of high-quality black plastic and includes a dual camera. With the Pruveeo F5, you'll receive a suction cup mount, 3 adhesive mounts, and an in-car charger.
Interesting Features Of The Pruveeo Dash Cam C2
The best feature of the Pruveeo C2 dual dash cam is the dual camera with 150 degree wide angles that can be rotated 180 degrees for full 360 degree footage. They record at the same time front and backside of the road and work automatically. It means that they start recording when you start driving and stop when the engine turns off. If you reach the limit on the memory card, new footage will be saved on top of the old footage.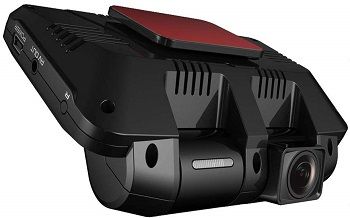 Recording Quality And Display Screen
The recording quality on both cameras is the same. It lets you choose between 720p HD and 1080p FHD. The Sony Exmor IMx323 sensor is responsible for high-quality footage. It's important to know that if you use only one camera for recording or taking photos with the other camera turned off, you'll get up to 2196p high-quality recordings. The LDC display screen measures 2.7 inches and lets you view the recordings or photos you took.
Features:
High quality (720p HD and 1080p FHD) recordings
Loop recording
Dual cameras that rotate for 180 degrees
Auto Power Off feature to save power
Sony IMX323 sensor and infrared night vision
The Pruveeo P3 Dash Cam Review
Primary Information
This low profile dash camera is made of black plastic. Its dimensions are 3.7 x 2.8 inches and it weighs 6.4 ounces. It includes a 2 inch TFT LCD display monitor with push buttons below and a dual camera on the side. With the Pruveeo P3 dashcam, you'll get a charging cable and a well organized manual book.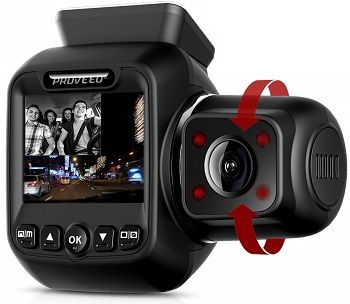 About Dual Cameras
The cameras rotate 340 degrees to give a clearer and wide-angle image. The dual camera records front and back t the same time at 1920x1080P with 30fps. You can also set the front camera only to record at 2560x1440P with 30fps or 1920x1080P with 60fps. The Pruveeo P3 starts recording when you start the engine and turns off when you stop driving.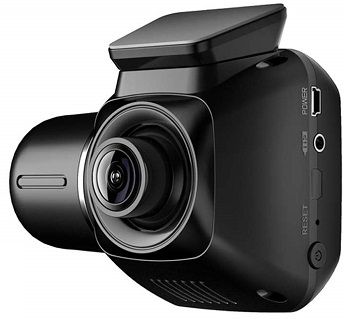 Useful Features Of The Pruveeo P3 Dash Cam
The Pruveeo P3 has a built-in Wi-Fi, GPS, and a high/low-temperature resistance thanks to a Super Capacitor. You can download the Tima Cam app and connect it with the P3 with Wi-Fi and look at real-time recordings.  It supports infrared recording for clear night time footage. Since it has limited internal storage, it supports up to 128 GB class10 micro SD card that you'll have to buy separately.
Features:
Dual camera
Front camera records at 2560x1440P with 30fps or 1920x1080P with 60fps
Built-in Wi-Fi and GPS
Supports up to 128 GB micro sd cards
The Pruveeo Dash Cam Spare Parts
Replacement parts for Pruveeo dash cams are easy to find and relatively affordable. Customers usually look for Pruveeo dashcam mount kits, stands and charging cables. Since they're not expensive, I advise you to buy an original replacement part because with it you'll be sure that the part you bought will be a perfect fit for your dashcam. Of course, you're allowed to consider buying universal parts but you must be careful while choosing.
The Pruveeo Camera Instructions Manual
The manual instructions booklet will provide you with useful information on operating the Pruveeo dash camera. It'll introduce you to all parts of the device including cameras, display screen, and buttons. Also, you'll receive information about the dashcam set up and the mounting kit. Because of information, the Pruveeo dash cam manual provides you with, it's important to keep it somewhere safe. Whenever a malfunction occurs, you'll have a chance of fixing it by using the manual.
On Pruveeo's official website, you can find Pruveeo C2 dual dash cam manual, Pruveeo D700 manual, Pruveeo dashcam MX2 manual and Pruveeo F5 dash cam manual available to download.
Conclusion: Last Words About The Pruveeo Dash Cameras
Pruveeo has proven to be a high-quality dashcam provider. All models I mentioned today have high-resolution 1080p cameras and give clear and sharp recordings of your surroundings. My personal favorite is the Pruveeo D700 dash cam because of its cleaver and discreet design. No one will notice it because it's supposed to be attached on top of your rearview mirror. Its display screen allows viewing front or back camera separately or simultaneously using a picture-in-picture feature. It has a touch-sensitive screen that allows for easy switching from one display mode to the other.
If you're interested in chocking out other dash cameras on the market, read my post about the best dash cam and a car security camera. Or if you're looking for more affordable models, check out my post about a cheap dash cam.