Do you want to feel protected when you're driving your motorcycle?
The motorcycle dashcam is a must!
Here, in this short buying guide, we will discuss all of the benefits of having a dashcam for a motorcycle. We also made a list of some of the best dash cam motorcycle models and all of their features. We hope this article will be helpful and you will find what you are looking for.
Things To Know Before You Buy A Motorcycle Dash Cam
Why Do I Need A Motorcycle Dash Cam?
When you are driving a motorcycle, you need to be just as protected as you would be when driving a car, maybe even more. That is why the motorcycle dash cam is the best option for you. It is a camera that you install on your motorcycle and it will record the road you are on. For even better protection you can get the dual motorcycle dash cam that will record both in front and the back of your dashcam.
How Is A Motorcycle Dash Cam Different Than The Dash Cam For Cars?
One feature that a motorcycle dashcam almost always has, is the waterproof design. It is needed because it can't be installed inside of the vehicle as you would do with a car dash camera. That is the biggest difference between the car and motorcycle dash cameras. It will keep on working even when it is pouring rain or snowing outside.
What Models Are The Most Popular At The Moment?
Some of the most popular models, when it comes to the motorcycle dash cam category are Blackvue motorcycle, Blueskysea dv688 motorcycle dashcam, Dod motorcycle dashcam, Gopro motorcycle dashcam, Halocam m1 motorcycle dash camera, Innovv c5 motorcycle dashcam, Nextbase motorcycle dashcam, and a few others. Most of them you can find on the Amazon website.
Best 5 Dash Cam For Motorcycle Reviews
Best Two Channel Motorcycle Dash Cam
Vistaric Vsys C6l Motorcycle Cam
Dual Lens With Wide Viewing Angles
The first dash cam for motorcycles we want to share with you in this short buying guide is the vsys motorcycle camera. More specifically we are going to review the C6L model which comes with the dual VGA D1 camera. The VGA lens offers the 640*480 resolution, while the D1 camera offers 720*480 resolution. Both cameras have a 120-degree wide-angle and come with the 0.3 mega-pixels CMOS image sensor.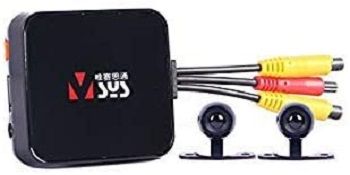 Other Specifications
You will get the IP68 weatherproof design which will allow you to use it in the most extreme weather conditions. You will get the 2-channel Cycle recording and the Loop recording feature which will continue to record and overwrite some of the oldest files. That way you don't have to worry about your memory card reaching its full capacity.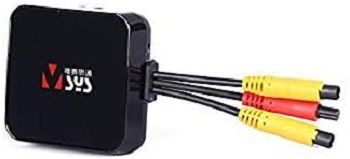 What Is In The Package?
With the main dash cam unit, you will get the USB cable, 3M bracket for the main unit, two of the separate waterproof cameras and a power cable that doesn't have the smart power option. So, you are getting everything you might need for the installation and easy use.
Features:
VGA and D1 lenses
3 mega-pixels CMOS image sensor
2-channel Cycle recording
Best Motorcycle Dash Cam Front And Rear
THINKWARE Sports M1 Dash Cam For Motorcycle
Both Lenses Offer High Resolution
The next dash cam model we are going to mention is by the brand Thinkware. It is the Sports M1 model, which was specifically designed for motorcycles. It comes with the dual-lens that records both front and back. Which means you will be protected from all sides. Both record videos in 1080p resolution both in the daytime and at nighttime.
Advanced Electronic Image Stabilization
Another benefit of this best motorcycle dashcam is that it comes with the Advanced Electronic Image Stabilization. That feature will reduce all of the vibrations and also minimize the blurring of your monitor. That way you will get smooth and stead video recordings no matter what terrain you are driving on.
Weatherproof design
With this Thinkware motorcycle camera, you will get the weatherproof design, which means you can use it in different weather conditions. It is made out of durable and water-resistant materials and can withstand snow, rain, extreme heat and extreme cold.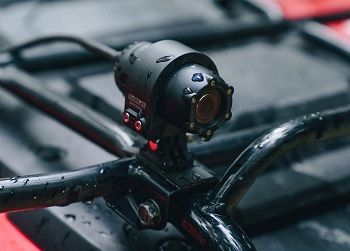 Recording And Storage
An additional benefit of this model is that you won't have to check if the camera is recording or not. Each time you start the engine the camera will start recording automatically. All of the recordings are saved on the SD card. There is also the Anti-File Corruption technology which will improve the reliability of your Thinkware memory card. It will do that by minimizing the risk of losing your footage due to the bad blocks or your data being corrupted.
Wifi And Connectivity
Just like with many motorcycle dashcams, with this model, you will get built-in WIfi. With it, you can connect the dash cam to your phone whether you have iOS or Android. That way you can easily share, download and replay all of the videos.
Features:
1080p resolution
rear and front lens
Advanced Electronic Image Stabilization
built-in WIfi
weatherproof design
Best 1080p Motorcycle Dash Cam
Blueskysea DV688 Motorcycle Dash Cam
You Get The Whole Unit
The next best motorbike dash cam we found for you is the Blueskysea DV688 motorcycle dashcam. This model comes as the whole unit with the screen and the camera. The lens has a 130° wide-angle 6-element lens and all of the videos are recorded in 1080p resolution. All of the videos are recorded in 30 fps. With the 6-element all-glass lens you will get the infrared filter which will block the infrared rays and reduce glare. That way all of the images will be much sharper, clearer and way more realistic.
IP67 Waterproof Design
The whole Blueskysea motorcycle dash cam device, both the camera lens and the screen are waterproof. They are also IP67 rated which means that no matter how dusty or rainy they are they will continue to record every moment of your journey.
GPS Function Is Optional
With this Blueskysea motorcycle camera, you will get the optional GPS feature that will track your driving route, current location, and speed. There is no GPS mount included so you will have to buy it separately. However, keep in mind that this GPS feature works only with Android Smartphones and not the iOS systems.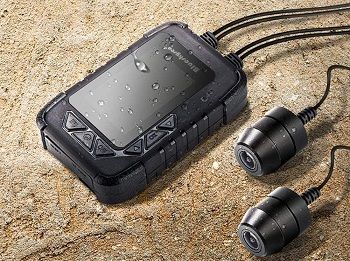 Package Contents
In this package, you will be able to find a couple of other accessories aside from the DV688 dash cam. You will get the wired controller, power adapter, USB charger cable, six bandages, two velcros, two camera lenses, 2 connection cables which are 1 meter long as well as the backup mount for the camera.
Features:
6-element all-glass lens
1080p resolution
130° wide angle
accessories included
Best Dual Camera Motorcycle Dash Cam
Innovv K2 Dual Channel Motorcycle
Water Resistant Design
The Innovv c5 motorcycle dash cam is the next model we want to share. It is another one of the motorcycle dual dash cams which come with the waterproof design. You can easily mount it to your motorcycle and not worry if it is raining or snowing. It is made out of durable CNC aluminum material.
Full HD Dual-Camera System
You will get the SONY EXMOR R-CMOS sensor in combination with the WDR technology for a better quality image at night. Also, you will get the full HD footage in 1080p resolution. All of the videos are recorded at a speed of 30 fps. The lens is the 6G glass lens type which has a 120-degree horizontal and 100-degree vertical angle.
Innovv App And GPS
If you download the Innovv app on your phone you can easily do that on all of the Android and iPhone devices. You can then connect it with your dash cam. That will allow you to watch live streams or playback videos, download them and share them with friends and family.
What Does The Package Consists Of?
In this package, you will get the dual camera, a lens with video cables, a bracket pack for two cameras, a bracket pack for DVR, a GPS logger antenna and a user manual. Also, for all of their models, you will get the one-year guarantee with 24/7 customer service help.
Features:
made out of CNC aluminum
6G glass lens
full HD footage in 1080p resolution
one-year guarantee
SONY EXMOR R-CMOS sensor
Best Motorbike Dashcam With GPS
WonVon MT1 Motorcycle Dash Cam
Front And Rear Recording
Another one of the best motorcycle dash cams we want you to know about is the WonVon MT1 model. This one comes with the front and rear lens and an NT96663 chip. Both lenses record at the resolution of 1080p and the speed of 30 fps. You will be able to record all of the important moments when driving with this dash cam on a motorcycle.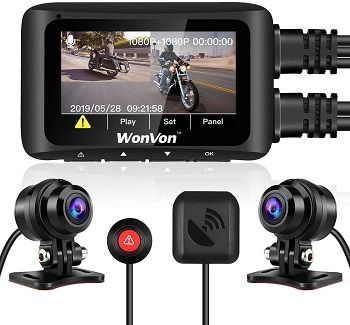 Excellent Night Vision
There us a SONY IMX 323 CMOS sensor included with this dash camera. Itis used to record more clearly during the day or the night. You can also record audio because it comes with the built-in microphone. Everything that is being recorded can be seen on the 2.7 inch LCD monitor which comes with three modes- front camera, rear camera, and front and rear camera simultaneously.
GPS Module And Built-In Wifi
You will also get the GPS module included with this dashcam. Before you decide to use it you will have to install it. With it you can track and instantly share your current location, driving routes and speed with others. The wifi feature allows you to connect it with your smartphone as well.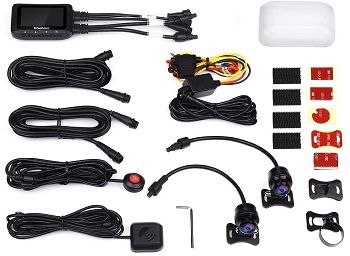 Package Includes
In the package, you will get the MT1 main unit, one power cable, power USB, two of the 3M adhesive tapes, two of the round 3M adhesive tapes, two magnets, eight screws, two of the hex screws, mini hex wrench, two cameras with the 2.9M extension cable, two metal bases and two plastic bases, four magic tapes, GPS module, one waterproof rubber cover and dustproof, wired remote control and a user manual. All of these accessories will allow you to install this dash cam by yourself in a matter of a few minutes.
Features:
GPS module
All of the accessories included
1080p for both front and rear lens
SONY IMX 323 CMOS sensor
Conclusion: What Is The Best Motorcycle Dash Cam We Can Recommend You To Buy?
I would recommend two best motorcycle dash cam models, which are the Innovv c5 motorcycle dashcam and the Blueskysea motorcycle dashcam. Both of them offer dual lenses and the 1080p full HD resolution. They also have a waterproof and dustproof design which means you can use them in different weather conditions.
In the Best dash cams article, we bring more options when it comes to different models and brands. Also, to read more about the best dual dash cams, click on the link. And if you want to know more about the best 360 dash cams, check out the full article we have on that topic!