Have you heard about the multi-camera dashcams, but you're not sure if you need one?
We are here to help you out!
If you continue reading this article you can find out more info about the multi dashcams as well as read detailed reviews on the five most popular models. We are convinced that after reading this article you will want to get one multi dashcam for yourself!
Things To Know When Buying A Multi-Camera Dashcam
What Is A Multi-Camera Dashcam System?
A multi dash camera is very similar to the regular dash camera for your car except it comes with more than one lens or recording channel. They can record the front, the back both sides of your vehicle with one, two, three or even more lenses. With that type of camera, you will get better coverage and a lot less blind angles.
What Types Of Multi Dashcams Are There On The Market?
You can find a few types of multi dash cameras on the market, depending on how many recording channels they have. There are 2 channel dashcams which are the most common, 3 channel dashcams and 4 channel dashcams. Dashcams that have more than 4 channels are not as often, but you can still find a few models on the market. Today we are focusing mostly on 3 and 4 channel dashcam models.
What Are Some Of The Most Popular Multi Dashcam Models?
Even though there is a big variety of different models on the market, there are quite a few models that are more popular than the rest. Some of them are Thinkware 4 channel dashcam, Gopro hero 3 dashcams, Blackvue 4 channel dashcam as well as the Blackvue 3 channel dashcam, Axis dashcam, and a few others. If you want to know which ones we chose to review, then keep on reading!
Best 5 Multi-Camera Dashcam Reviews
Best 3 Camera Dashcam System
Pyle Newest Technology HD 3 Camera Dashcam
Triple Camera Dashcam
The first 3 channel dashcam we are going to review in this article is the Plye newest technology HD 3 camera dashcam. This one comes with three cameras for full coverage and accident protection. There are two front cameras and one inside camera included. Cameras come with a 140-degree angle and have infrared lights that give you one of the best night visions on the market. All of the lenses give 1080p HD resolution and have the 4X Digital Zoom Function.
G Sensor Technology
Like most of the dash camera systems, this one also comes with the G-sensor which is a safety feature. If there is an accident, collision or a shake detected the G-sensor will automatically lock all of the footage recorded at that time. That way you can use it later as evidence if needed.
What's In The Box?
With this dashcam system, you will get the power wiring harness, cigarette plug power adaptor, and the USB connection cable. You also get a 4.3'' built-in digital LCD screen included with this dashcam. On the screen, you can watch everything that is being recorded at that moment. You also have the option to instantly view or delete videos and images on the screen.
Features:
two front cameras and one inside camera
4X Digital Zoom Function
3'' built-in digital LCD screen
140-degree angle
infrared lights
Best 4 Channel Dashcam DVR
JOINLGO 4 Channel Dashcam
Connectivity And Resolution
The next multi-camera dashcam we are going to mention is by the brand Joinlgo. This is their 4-channel dash camera that offers 1080p loop recording with all of its lenses. It also can connect to your TV or monitor with the HDMI input. You also can back up all of the videos via the USB slot.
Loop Recording And Storage
With this 4 channel dash camera system, you will get the full HD recording that never stops. Due to the loop recording feature, you will get a continuous recording without the storage ever getting full. When there is low space left, the loop recording feature will overwrite the oldest videos to make room for the newest ones. There are two SD cards included, each has a 256GB capacity.
Camera Specifications
You will get the IP69 waterproof design, 18 pieces IR LED, SONY sensor and 4MP lens for a night vision feature. That way you can record good quality footage during the day but also during the night or in any other low-lighting conditions. For the pictures you have taken you can mirror image them using the OSD menu operation.
What Is Included With This Surveillance System?
With this dashcam, you will also get for of the 33 feet long pin cables, one 7-inch IPS VGA car monitor, one accessory for the MDVR as well as the user manual with all of the instructions. You also get great customer service you can reach via email if you have any additional questions.
Features:
two SD cards included
1080p loop recording
4-channel dash camera
Best 3 Channel Dashcam With WiFi
Pruveeo D40 Three Channel Dashcam
Two Or Three Channel Dash camera
The next multi dashcam model on our best multiple camera dashcam list is the D40 model by the brand Preuveeo. This one comes with the front, rear and inside the camera. The front camera has a resolution of 1080p while the rear and inside camera have a resolution of 2304x648p. You can switch between the two and three-channel modes.
Night Vision And Waterproof Design
This dashcam system comes with 4 infrared lights and F1.8 aperture which allows you to take good quality pictures and record videos even in low light conditions. Aside from the night vision feature, another benefit is the waterproof design which endures all kinds of weather conditions.
Built-In WiFi
With this 3 way dashcam, you will get the built-in WiFi which will allow you to wirelessly connect to your smartphone or any other smart device. That way you will be able to watch real-time footage or playback old videos, download and edit them as well as share them with others via your phone. All you will have to do is download the free app on your phone.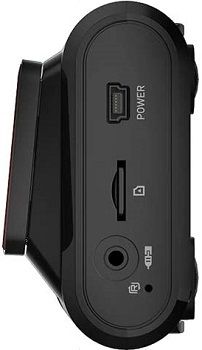 Storage Feature
All of the recordings are automatically saved on the memory card. Unfortunately, the card isn't included but it supports cards class 10 or higher with the maximum size up to 128 GB. With the Loop recording feature that overwrites the oldest footage, the memory card can never get full.
Features:
front, rear and inside the camera
switch between the two and three-channel mode
4 infrared lights and F1.8 aperture
built-in WiFi
Best Three Lens Dashcam With Night Vision
Vantrue N4 Dashcam 3 Channel
Front, Rear, And Inside Camera
Another one of the 3 channel dashcams we are going to mention in this article is the N4 model by the brand Vantrue. This one offers the 155° front camera, 165° inside the camera and 160° rear camera which can record simultaneously at 30fsp. Therefore, you get all-round protection when you're on the roads. The front camera records in 2560x1440P resolution while the inside and rear camera records in 1920x1080P resolution.
Superior Night Vision
With this 3 lens car dashcam, you also get the Sony STARVIS CMOS sensor, a big F1.4 aperture, 6-glass lens, F1.8 6-glass lens, and 4 IR LED lights. With them, you can get great quality footage even when you are recording with any of these three cameras at nighttime.
Heat Resistant Dashcam
An additional benefit of this dashcam is the fact that it comes with the supercapacitor as a power source. This supercapacitor is used instead of a lithium battery. It can survive extreme weather conditions and has a working temperature between 14°F and 158°F. One of the benefits of this supercapacitor is the fact that its lifespan is longer than lithium-ion battery dashcams.
Parking Monitor Mode
You will also get the 24-hour parking monitoring mode which is triggered by motion or collision detected near your parked car. However, for this feature, you will need a continuous power supply. Once the motion was detected the video will be recorded and automatically saved so you can use it later as evidence if someone tried to damage or steal your car.
Features:
155° front camera, 165° inside the camera and 160° rear camera
Sony STARVIS CMOS sensor
24-hour parking monitoring mode
Best 3 Channel Dashcam DVR System For Trucks
VSYSTO Dashcam DVR System
Three Channel Recording Camera
The last dashcam multiple cameras we are going to mention in this article is the VSYSTO dahs cam DVR system. It is a 3-viewpoint camera, that lets you see the whole picture. The main camera records the road in front of you, while the two separate cameras record both sides of your vehicle. It is not only great for cars but also trucks, cans, trailers, buses and even RVs.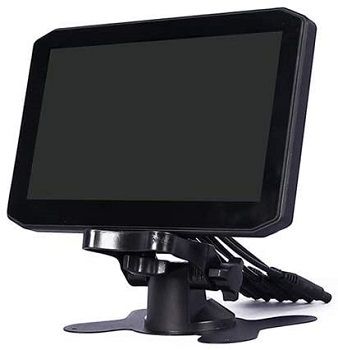 No Blind Spots And Storage
Another benefit of this dash camera is that it is specially designed to reduce all of the blind spots.  The two side cameras are mounted to your two side rearview mirrors so both sides are covered.  All of the recorded footage is automatically saved on one of the SD cards.  You get a dual SD card slot, but the cards aren't included in the package. That will give you around 10 to 18 hours of recording before overwriting of the oldest videos starts to happen.
Waterproof IP67 Design
Since the side cameras are mounted on the side rearview mirrors on the outside of your vehicle they come with the IP67 waterproof design.  The front camera and the wires are also waterproof. That way you don't have to fear your camera will stop working when its pouring rain or snowstorm outside.
Recording Features
Another feature of this multi-channel dash-camera is the Loop recording feature. With this feature, the oldest videos are automatically overwritten with the newest ones once the memory storage gets full. When there is an accident, shake or collision detected by the G-sensor the footage recorded at that time will be locked and saved from deletion, so you can use it as evidence if you need to.
Features:
3 viewpoints- front, rear, and sides
full coverage with no blind spots
IP67 waterproof design
Two SD card slots
Conclusion: What Is The Best Multi-Channel Dashcam You Can Currently Buy Online?
In my opinion, the best multi-camera dashcam model we reviewed is the N4 model by the brand Ventrue. This one comes with the front, rear and inside the camera that gives you coverage from all the sides. This model also comes with the supercapacitor instead of a battery for prolonging life and operations in almost all weather conditions.
The second one we also think is the best is another one of the three-channel dashcams- VSYSTO Dashcam. This is a multi-camera car DVR system that also has three viewpoints-front, back, and sides. You also get full coverage and no blind spots as well as the IP67 waterproof design.
If you are interested in reading more about the best dash cams, check out this article. If you are interested specifically in dual dash cams, check out another one of our articles. To learn more about the most popular car security cameras, click on the link!