Are you thinking about buying a dashboard camera? Do you believe it's going to make you feel safer while driving?
You've come to the right place because in this post I'll give a review of a Nexar dash cam. First I'll tell you about the brand's history and introduce you to their product offer. You'll learn about the models' interesting traits, features, Nexar dual camera and basic dash cam information such as installation procedure, materials used in manufacturing the unit, and its dimensions.
Since the Nexar Halocam is meant to be used paired with a Nexar dash cam app, I'll say few words about the app first. In this post you'll find a list of its positive and negative sides, advice on buying a dash cam, spare parts and a short introduction to the manual.
If you're interested in knowing more, continue reading.
About Nexar And Its Product Offer
The Brand's History
Nexar was founded in 2015 by entrepreneurs Eran Shir and Bruno Fernandez-Ruiz. Both are former Yahoo! employees. Their goal is to reduce the number of car accidents by developing high quality car tools such as dash cams and their respective apps for Smartphones.
Nexar's Products
Nexar creates a line of sophisticated car tools to improve safety on the road. Their gadgets record, detect and signals drivers about road hazards. Nexar supplies the mapping and automotive industries with its services and products.
Nexar Dash Cam App
The Nexar dash cam becomes even more powerful when paired with the Nexar dash cam app. All you need to do is go through the Nexar dash cam log in process and pair it with the device via Wi-Fi.  If you need any help with logging in, feel free to contact the Nexar dash cam customer service that is there to help you at any time.
The Nexar Cloud
All recordings are automatically streamed to the app that saves them when it detects sudden hard braking or a car accident, and uploads them to the Nexar cloud. The app creates a report with useful information about the car crash that occurred, such as the location, camera footage and vehicle speed.
Nexar Halocam Camera Review
Basic Information About The Nexar Dash Camera
This Nexar smart dash cam measures 1.5 x 4.3 x 1.7 inches and is made of high quality durable black plastic. It comes with an adhesive mount so you can place it on the wind shield behind or close to the rearview mirror for additional discretion. Because of its oval shape and small size it's very discreet and hard to notice.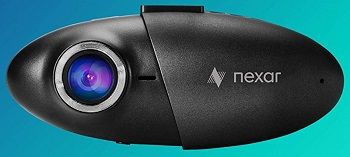 Includes A Matching App
The dash cam works only when it's paired with the Nexar dash cam app. It doesn't have a display screen because the footage is meant to be viewed through the app. Since most accidents happen when one driver decides to take a turn that others can't see because they're only able to look in one direction at a time, the Nexar app will tell you speed and direction of other cars nearby.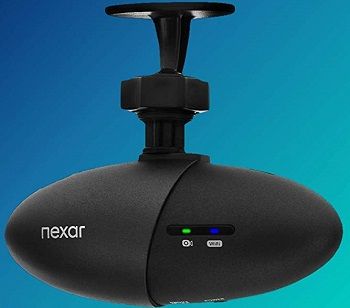 Technical Features
With the Nexar Halocam rear camera you'll receive a mounting kit, adhesive mount sticker, USB charger and adapter. The dash cam powered by Nexar takes quality recordings of the road in 1080p HD resolution. You'll get an extra 32 GB SD card so you don't ever have to worry about not having enough memory.
Features:
Automatically saves videos of accidents
1080p HD resolution camera
Easy installation
Includes a matching app
Free 32GB SD card
Replacement Parts For Nexar Dash Cameras
In online retailers you can find universal or original spare parts, most often mount kits. Universal mounting kits are meant to be used with a lot of different models of dash cams so you need to make sure that the one you buy will be a good fit for your dash camera. Original replacement parts are pricier than the universal ones but you'll at least be sure they'll fit.
Nexar Camera Instructions Manual
With the Nexar dash cam you'll receive a detailed manual with explanations of various features and useful information about the app and the dash cam. It'll introduce you to the parts of the dash cam, teach you about its resolution and sharpness and tell you all about its possibilities and interesting features. You'll find information about installation and how to pair it with the Nexar dash cam app. Because of all information it contains, it's important you keep it safe you can open it whenever you have some questions and prevent from any malfunctions.
In case you accidentally lose it, you can find all information you need about the Nexar dash cam on the Nexar's official website.
Conclusion: End Of The Nexar Dash Cam Review
To conclude, the Nexar dash cam is an innovative product that is designed to be used by pairing it with the Nexar dash cam app for smart phones. The dashcam Nexar Halocam is easy to setup, discreet and has great camera quality. The Nexar rear camera is designed to eliminate car accidents and improve road safety. It comes with a great price. For less than 100 dollars you'll get a high quality 1080p HD resolution camera, USB charging cable and mounting kit, smart phone app and a 32 GB SD card.
If you're looking for a camera that can take front and back road recordings, read my review of a dual dash cam. If Nexar dash cam is still a bit expensive for you, read my post about a cheap dash cam. Or if you simply want to explore all other options, check out my posts about the best dash cam and a car security camera.