There are many car dash cam brands and it is not easy to choose one for yourself. I will try to help you by presenting vava dash cams today.
Vava dash cams are cameras that are completely user-friendly because of Vava dash cam app. All of the Vava dash cams have a built-in WiFi and with your Vava dash cam app you can easily manage with you Vava dash cam.
VavaDash Cam: Meaningful Innovation
What Is Vava?
The brand Vava was born in 2015 and is becoming a leading brand in small home appliances.Vava got Red Dot award for Vava dash cams in 2016. Red Dot is a product design award. Besides the high-end design, Vava's goal is to make life simple.
Vava 4K Projector And Baby Monitor
Vava's top selling products besides dash cams are the 4K projector, and a baby monitor. Vava 4K projector is the laser most funded laser projector that brings theatre experinece to your home. Baby monitor is also a Red Dot award winner in 2019.
Where Can You Find Vava Dash Cams For Sale?
You can buy dash cam Vava dash cams at their website. For the discount, you can compare Vava dash cam prices and discounts at their website and on Amazon, which we higly recommend as a top reliable online seller. Kepp an eye on that, because you could find Vava dash cams for sale often.  You can even get Vava 2K dash cam for the 40$ less than the starting price.
Vava Customer Support And Warranty
All of the Vava products have an 18 month warranty. By registring to the Vava website, you can get lifetime warranty for some of the Vava speakers (Voom 20, Vomm 21, Voom 22) or extrend your 18 month warranty for another 12 months.
By registring your product, the customer support team gives faster and more personal assistance.
Best 2 Vava Dash Cam 2K Reviews
Vava 2K 360° Dash Camera
Vava 2K's camera is innovative and practical. Since it is round shaped, it is also 360 degree rotatable. That way you can adjust your camera any angle that suits you.
Vava Dash Cam SD Card
The Vava dash cam is magnetically connected to the suction mount holder. Vava dash supports up to 128GB external memory and that is more than enough for you to record as much as you want.
Vava Dash Cam Suction Mount
For the installation of the Vava 2K dash cam, first thing needed is the suction cup which you get in your Vava box. For the details of the installation, I will explain it later.
1080P@60fps Or 2K@30fps Dual Camera
Vava 2K dash cam has a two standard camera modes. First one is 1080P Full HD@60fps, and the other one is 2K Super HD@30fps. The camera has a Sony sensor, 6 layer glass lens and an infrared lens for the superior night vision. Wide angle view is impressive with the 155 degree angle.
Loop Recording Time And Emergency Folder
Loops folder contains videos and you can adjust how long the loops are (1, 2, or 3 minutes long). Emergency folder consists of the footages taken when the G-sensor is activated. Vava 2K prioritizes the emergency files over the loop files.
Gravity Sensor
If you hit something, the G-sensor is activated and the Vava 2K starts recording. You can adjust the G-sensor's sensibility. There are 4 ways to manage it: deactivated (not recommended), low, medium, and high. These footages are saved to the emergency folder.
Vava Dash Cam Parking Mode
The parking mode allows you camera to take 15 seconds long video while the car is parked. It gives you snapshot of what happened.
The GPS Module
By removing the sticker the GPS module is easily glued to the top of your windshield (looks at the sky). You can help yourself with the wire clips you get with Vava 2K.
Features:
suction mount,
rotatable camera with snapshot button
1080P@60fps or 2K@30fps,
Sony sensor,
infrared lens
155 degree wide viewing angle
Vava Dash Cam 1080P Full HD Review
Vava Camera App
App is available for Android and iOS users. It is very user friendly and simple. There are snapshots, loops, and emergency folder. Snaphots folder contains the screenshots that you took. For using this option, there is an accessorie called snapshot button which you have to click for snapshooting the image you want.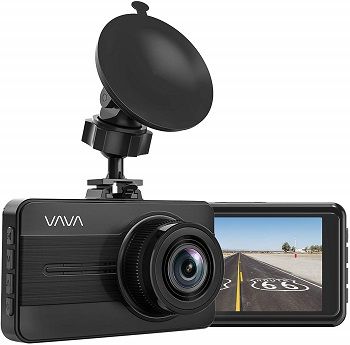 1080P Dash Cam Suction Mount
Installation of the Vava 1080P dash cam is as easy as the previous model's. The suction cup is easily sucked to your windshield, and the camera is put to that very easily. The camera rotates full-circle, 360 degrees.
24 Hours Vava Dash Cam Parking Mode
Parking mode can be activated/deactivated via Vava app. When it's on, the dash cam activates that stand-by mode which activates and starts recording when the car is hit while parked. The G-sensor senses it and it automatically starts the recording.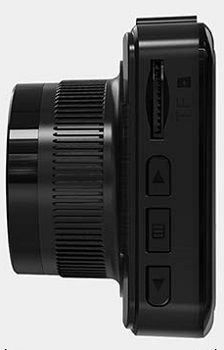 Loop Recording For Safety
The loop recording function helps to save the new footages while overwriting the oldest ones. It is connected to the G-sensor mentioned above.
Wide Angle View
Vava 1080P has one of the most impressive 170 degree wide angle views on the dash cam market. Paired with the 3 inch screen it really captures the wide image of the road.
Features:
3 inch screen size
1080P Full HD, 170-degree wide-angle view
super night vision
24h parking mode, G-sensor
Vava 2K Dash Cam Installation
There is a suction mount that is very solid once connected to you windshield. When you put it on your desired location on your windshield, you simply connect your Vava dash cam to it. There is a micro USB spot on the camera that is connected via USB cable to the lighter charger in your car. The camera is 360 degrees rotatable. The camera is automatically connected to your mobile phone via Vava app.
Vava Dash Cam Installation And Manual
Besides the manual you get your Vava 2K dash cam box, you can always download it at Vava page, under the Support section. They send it to your e-mail address when you ask for it. We recommend you follow the instructions and read the manual before use!
Conclusion: Do You Need Vava 2K Dash Cam?
If you want to have well-designed and a user-friendly dashcam, Vava 2K dash cam is the answer. It is not pricey for the features it has, especially if you catch the discount which is very often at Amazon.
This is not the only dash cam brand I recommend and if you want to know more of them, read my post about different dash cam types. If you have a certain budget, check out my post about cheap dash cams and if you want something serious, check out my post about dual car cameras.