Have you been looking into buying one of the Aukey dash cams?
You came to the right place!
Before you make your decision on which Aukey dashcam model to buy, read our short reviews on five of the most popular model. You can learn all about their technical specifications and features they have to offer to help you make up your mind and find the perfect one for you!
Things To Know When Buying Aukey Dash Cam
About The Brand
Aukey is a young company that started seven years ago in 2013. They are known to combine the latest technologies with over a decade of hardware expertise to produce solid, reliable and modern electronics and mobile tech accessories that can elevate your lifestyle. The company headquarters is in Shenzhen, Guangdong. They are most known for their USB-C accessories, smartphone lenses, Bluetooth audio products and dash car cameras.
Where To Buy Their Products?
Aukey sells its products worldwide. They have distribution partners in over 50 countries throughout the Middle East, South East Asia, North, and Eastern Europe as well as Latin America. Their products can be found in stores and online and they are one of the top ranked global Amazon sellers. That is why all of the products we reviewed below, you can find on the Amazon website.
Aukey Dash Cam Price
Because you get such great quality, the Aukey dashcams aren't the cheapest ones on the market. Some cost more than 100 dollars, but we think they are worth investing your money in because they were built to last. With each purchased model you also get a 45-money back guarantee as well as a two-year warranty in case of any defects, which is another plus.
Best 5 Aukey Dashcam Reviews
Best Aukey Dash Cam GPS
AUKEY 4K Dash Cam
Amazing Camera And Lens Features
The first Aukey camera we are going to mention in this article is the Aukey 4k dash cam model. It is the Aukey dash cam DR02 which comes with the 157° wide viewing angle that can capture the full width of the road in front of you. All of the recorded videos are in the 2160p resolution. One of the benefits of this Aukey 4k dashcam is that it has an HDR feature as well as some other enhancements. They make sure you get good quality footage even if you are driving at night time.
Recording Features
You will get the Loop recording feature which will ensure there is a continuous recording each time you start driving. With the Emergency recording feature, you Aukey DR02 will automatically start recording in case of any driving incidents. Footage recorded in that mode will be locked and cannot be deleted in case of full memory.
Equipment Included
In the package, you will get this Aukey DR02 dashboard camera as well as the dual-port USB car charger, mini power cable, two sticker mounts, two spare 3M stickers, six of the cable clips and a user manual. You also get a 54-day money-back guarantee and 2-year warranty for this Aukey dash cam 4k. You can also connect this Aukey dash cam to a GM-32 GPS Antenna to track your location and speed data. But the antenna isn't included with the rest of the equipment.
Easy Mounting
Before you start using this camera you will have to securely mount it to your windshield. That can be done in just a few seconds by using the included sticker mount as well as two of the spare double-sided 3M pads. Once you mounted your dash cam you can still remove it if you want to simply by unclipping or unplugging.
Features:
157° wide viewing angle
2160p resolution
Emergency and loop recording
Best Aukey 1080p Dash Cam
AUKEY Dash Cam
High-Quality Footage
Next is the Aukey 1080p dash cam review on the Aukey dash cam dra1 model. This one comes with the 1080p full HD resolution and has the F1.8 large aperture for a softer color, higher definition and more natural pictures that still have a great quality to them. You will also get to record clear night-time images, due to the HDR and other enhancements.
Great-Coverage Lens
The lens on this Aukey dra1 model has a 170-degree wide-angle which covers up to six lanes at the same time. This type of lens will not give you deformed but will keep the most realistic scenes. You will also get the 2.7″ LCD where you can watch all of the videos that are being recorded at the moment.
Accessories Included
The contents of the package aside form this Aukey 1080p dashcam are a car charger, USB mini cable, suction mount, sticker mount, two 3M stickers, six cable clips and a user manual with all of the instructions. When it comes to saving the footage you will have to buy an SD card because it is not included in the package. Also, before you use the dash camera for the first time you will have to format the camera.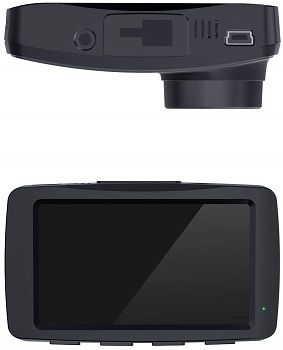 Operation Features
One of the benefits of this Aukey dashcam 1080p is that it can operate on extreme temperatures between -30°C and 75°C. Also, its battery has a longer working life than most of the other dash cameras. This Aukey dashcam comes with motion detection, emergency, and loop recording features.
Features:
Super clear 1080p resolution
7" LCD screen
Motion detection mode
Loop recording
Emergency recording mode
Best Aukey Dash Cam Front And Rear
AUKEY Backup Camera
Dual Camera System
Another one of the Aukey dash cam reviews is on the Aukey front and rear dash cam DRA3. This model comes with the front and rear dash camera system which makes it a dual dashcam. It captures very sharp 1080p videos on the rear camera as well as on the front camera. WIth the F/1.4 and F/2.0 aperture, you will capture high-quality content at night.
Large Display Included
With this Aukey dash cam dual 1080p HD, you will also get a large 9.66″ IPS LCD touchscreen display. There you can watch what is being recorded at all times. You will get a view angle you can adjust by sliding your finger up and down the touch screen. It is super user-friendly and will not distract the drivers, which is the most important thing when it comes to dash cams.
Intelligent Operation
Some of the intelligent features included with this Aukey dash cam are G-sensor activated emergency recording.  It will automatically capture all of the driving incidents and protect those recordings from being deleted once the memory is full. You will also get the Loop Recording feature which overwrites old, unneeded footage. Parking mode will record any physical motion or vibration around your parked car.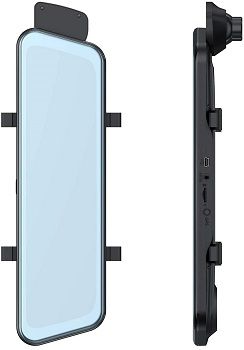 What's In The Package?
In the box, you will find the 7m/23ft cable, car charger, mini USB cable, four mounting straps, two screws, two 3M stickers, six of the cable clips, trim removal tool and the user manual with all of the instructions. Also, you get a 45-day money-back guarantee as well as the 24-month replacement warranty card.
Features:
66″IPS screen
1080p front and rear cameras
140°water-proof rear camera
Best Aukey Camera Car Mini
AUKEY Dash Cam Mini
High-Resolution Lens
Another model we want to review here is the Aukey DR01 1080p dashcam. This is perfect when it comes to back you up in any road incidents. It can capture super-sharp 1080p videos with the 170° field of view that is also suitable for nighttime driving. All of the footage is recorded at 30 frames per second.
 Equipment You Get
Aside from this Aukey DR01 dash cam, you will also get the dual-port USB car charger, USB mini power cable, a sticker mount, and three 3M stickers, six cable clips, and one user manual. Just like all of the Aukey dashboard cameras, this model also comes with the 45-day money-back guarantee in case you aren't satisfied with the product for whatever reason. In case of any defects, you will get a 24-month warranty replacement card.
Easy To Install
When it comes to installation it is super quick and easy. You will need to use the 3 M adhesive pad or suction mount to fasten your Aukey dash cam DR01 to the windshield of your car within few seconds, Then you will have to plug in the included dual-port car charger and connect the dash camera via the mini-B cable. After that, you can start recording. It will start recording automatically whenever you use the car. If you want a non-stop recording even when you aren't driving you will have to have a continuous power supply.
Memory And Storage Management
With the Loop Recording feature, you will get a continuous recording in segments up to 10 minutes. It will also overwrite the old footage if the SD card is full. That way you can't ever run out of memory, which is great! Micro SD card isn't included, but this Aukey DR01 model supports SD cards up to 128 GB. Keep in mind that you will have to format the micro SD card in the dash camera before you first start recording.
Features:
1080p dash cam
170° field of view
45-day money-back guarantee
24-month warranty replacement card
Aukey Dual Dash Cam
AUKEY Dual Dash Cam
Clear Video Capture
The last camera on our best Aukey dash camera list is the Aukey DR02d dash cam. This one is another one of the dual dash cams that will capture super sharp and clear footage at daytime and nighttime. All of the videos recorded with this dash cam are in 1080p resolution. The lens has a 152-degree field of viewing which means it can capture activity in front, behind and on the sides of your car. It can cover up to 6 lanes at once.
Equipment And Installation
With this Aukey DR02d dash camera you will get a dual-port USB car charger, USB mini cable, two sticker mounts, a few stickers, cable clips, and a user manual. All you have to do when installing it is fasten the dash camera to your car's windshield by using the given adhesive pads. Then you can plug in the dual-port charger and connect rear camera to front camera and front camera to the charger with the mini USB cables. After that, it is ready to record.
Recording Features
There are two main recording modes- the loop recording and emergency recording. The first one will continuously record in segments up to 10 minutes long and overwrite the old footage when the memory gets full. The emergency recording will turn on when the Gravity Sensor detects any motion or vibrations do to any driving incidents. All of the footage then is locked, which means it can't get overwritten so it can be used as evidence.
Memory And Storage
All of the footage on this Aukey DR02d dual dash cam is automatically saved in the micro SD card. The micro SD card isn't included but this dash cam supports SD cards up to 128 GB. That is around 20 hours of 1080p recording saved on the 128 GB card.
Features:
1080p resolution
152-degree field of viewing
supports SD cards up to 128 GB
Aukey Dash Cam Manual And Instructions
When it comes to instructions they are all written in the user manuals you get with each box. If you follow all of the instructions in the manual, the set up of these das cams is easy and quick. Manual can also be found online on the brand's official website, which is great if you lose the physical copy. Keep in mind that each model has its manual. So for example, the Aukey DR03 manual is different from the Aukey DR02d manual.
Aukey Accessories And Replacement Parts
When it comes to accessories, each model comes with most of them included in the box. You will get the Aukey dash cam mount, stickers, chargers, USB cables, etc. All of those accessories are original, but you can also find universal parts on the market if you need it. A full article on the universal parts, read here. However, one of the most important things- Aukey dash cam memory card isn't included most of the time.
Conclusion: Which Is The Best Aukey Dash Cam Model Currently On The Market?
In my opinion, two of the best Aukey dash camera models are the DRA3 backup model and the DR02 D dash camera. Both of them are dual cameras that offer high-resolution on both front and back cameras, wide camera angles and intelligent operation features. Those two are worth checking out!
If you are curious to know more about the best dual dash cams on the market, don' miss his article. We also gathered some of the best wireless dash cam models and shared them with you in this article. The overall review on the best dash cams divided into different categories, read here.