Maybe you are not aware of it – but dash cams are a necessity if you have a car. There are a lot of car dash brands, all of them offer better or worse features. Which one to choose?
Today I am presenting the brand Crosstour. If you are interested, read my Crosstour dash cam reviews with matching tips about the brand.
Crosstour Brand Dash Cam Info
Who Is Crosstour?
Crosstour is a company that was found in 2017. It specialized in camera and photo, especially action cameras, dashcams, and projectors. They are striving to bring next-generation tech and elevate people's lifestyles. Crosstour claims to give importance to product quality and high customer support.
Where To BuyCrosstour
When you click on the "where to buy" link on the Crosstour official webpage, it leads you to Amazon. We also recommend Amazon as a top-reliable online seller with the best feedback of the online-shopping world.
Crosstour Customer Support And Warranty
All of the Crosstour products come with a 1-year warranty. Their customer service is available 24/7. If the problem happens, their team will try it's best to work it out.
Best 4 CrosstourDash Cam Review
Crosstour CR300Dash Cam Review
Wide Viewing Angle And Aperture
Our eyesight can only see from 130°to 150°wide viewing angle. The CR300 dash cam has a 170° wide viewing angle which is above our eyesight and helps you reduce the blind spots on the road.
With its super big aperture, it can shoot great both day and night.
Motion Sensor And Loop Recording
If you find yourself in a car accident, the Crosstour CR300 and a car will shake and activate the motion sensor. While so, CR300 will film everything at the moment and overwrite the loop function. That way you will have that important footage saved.
The loop function helps create videos, and overwrite the oldest ones.
Keep in mind to buy a memory card as it is not included!
Video Quality
CR300 dash cam has a 1080P Full HD resolution. Paired with the wide dynamic range it gives a high-quality picture. For the quality of the low-light environment videos, there is a SONY IMX323 sensor.
Features:
1080P Full HD, SONY IMX323 sensor, wide dynamic range
170°wide viewing angle
Motion detection, G-sensor
Loop sensor
Crosstour CR600 Dash Cam Review
Crosstour CR600 Camera
Video quality of the Crosstour CR600 is one of the best on the market, especially at night. Front and rear cameras capture missing scenery and collision. The front camera has a 170°wide viewing angle, and the rear camera has a 120°wide viewing angle. The front camera captures 4 lanes of traffic.
Crosstour CR600 Night View And HDR
With the F1.8 aperture and high dynamic range technology, the night footages are almost as equally good as the day ones. Crosstour CR600 dash cam has an upgraded high-performance chip and 6 glass lens. This high-performance chip affects the resolution, frame and night vision.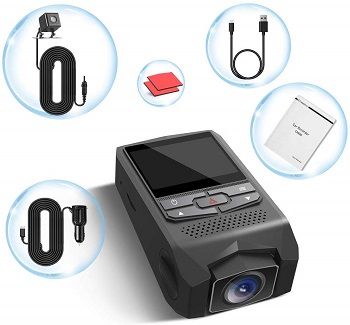 Waterproof Design And Temperature
This CR600 dashcam is not only user-friendly and easy to operate (with buttons on it) but is also resistant to extreme climates. The rear camera of the Crosstour CR600 dashcam is waterproof.
Its high-temperature resistance varies from -20 to 60 °C (-4 °F to 140°F)).
Features:
Wide dynamic range, F1.8 aperture
HDR, high-performance chip
Waterproof rear camera
Temperature resistance
Crosstour CR750 Dash Cam Review
Dual Lens Recording
CR750 dash cam has a dual-lens with front 1080P Full HD and rear 720P. There are 4different real-time display modes for you to choose according to your preferences. This dashcam is amazing for Uber and taxi drivers.
Built-in GPS Module
Crosstour dash CR750 comes with a built-in GPS module. It can record your driving track, speed, and data time. If you buy the CR750 via Amazon, they will send you the installation package.
Super Night Vision
CR750 dash cam has a maximal output of 12MP. Six layer glass lens and a Sony IMX323 sensor make a great pair for the quality night footages. The aperture for the front camera is F1.8 and for the rear camera F.6. The angle of capturing the videos for the front one is 170° and for the rear 130°.
Parking Monitor
For this feature, you will need a hardwire kit. After being connected to the car battery, the CR750 dash cam automatically starts recording the video of 30 seconds durance after detecting external force and then turns off for the prevention of running out of battery.  Combined with loop recording, your footages are safe!
Features:
Dual lens, 4 display modes
GPS
Sony IMX323 sensor, F1.8/F1.6
Parking monitor
Crosstour CR900 Dash Cam Review
Dual 1080P Front and Rear Camera
Crosstour CR900 has a dual camera. Both front and rear ones are in 1080P Full HD. It has a Sony sensor and a 6 layer glass lens. Front and rear cameras both have a 170° wide viewing angle.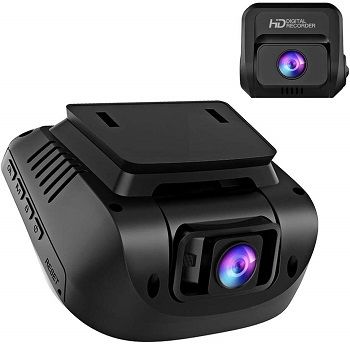 Crosstour CR900 Night Vision
For the night vision, CCR900 Crosstour has some quality features. It has a NOVATEK chip, Sony Sensor, and a dual F1.8 super big aperture. Bigger the lens, the more light comes in. HDR automatically adjusts the brightness.
G-sensor
In the case of shaking or collision, the CR900 dashcam automatically takes the footage and locks the video. It can't be overwritten, all because of the built-in gravity sensor.
Features:
Dual 1080P Full HD and 170° wide viewing angle
NOVATEK chip, Sony Sensor, dual F1.8 super big aperture, HDR
3 inch LCD screen
G-sensor
Crosstour Dash Cam SD Card
Crosstour dash cams don't have the SD cards included in the box. Instead, there are recommendations which one you should buy for every model. Also, you need to format them both on the computer and camera before use. Most of the models support 10 or above, a maximum 32GB SD card.
Crosstour Dash Cam Manual
When unboxing, you get manual with every Crosstour dash cam you buy. There is also an option for downloading the manuals on the official Crosstour webpage. The manuals are translated into 6 world languages. I am going to simply describe the installation process of the CR900. You remove the tape from the camera, stick it to your windshield, and tuck the wires under the car headliner and rubber door liner. After the installation, check out the camera. If it is not recording, go for the dual recording feature and turn it on.
Conclusion: Which Crosstour Dash Cam Do You Need?
If you are looking for the high-performance dash with night vision as of equal quality as the day vision, you should check out the Crosstour CR900 dash cam.  If you are considering the budget-friendly dash cam with Full HD and Sony IMX sensor, you should check out the Crosstour CR300 dash cam.
If you don't think one of these camera suits you, read my post about the best dash cam models, and maybe you will. Read about dual dash cams here, and also about uber dash cameras.