Are you searching for a good auto rear view camera you can easily install in your car?
We might have some solutions for you!
In this article, we bring you all about the best reverse cameras for cars with a detailed review as well as a more detailed explanation of the entire category. We are sure that after reading this article you will get all of the knowledge you need to pick the perfect model for yourself.
Things To Know When Buying A Car Rear View Camera
What Is A Rear View Camera?
A rear view or reverse camera is the kind of camera that is mounted to the rear of your vehicle and records everything that is going on behind you. It automatically starts recording when you put your car into reverse gear. They are usually aimed at a downward angle so you get the best view of the immediate behind of your car.
Common On The New Cars
Rearview, or backup, cameras are very common in the latest years on the new cars. They add even more safety, protection but also a convenience when driving in reverse. If you have a late-model car which doesn't come equipped with a rearview camera you will have to buy one, which will work just like if it was originally there.
Types Of Reverse Cameras
There are many variations of the backup cameras available nowadays. Some of them will use the Bluetooth connection to send the video to the driver, while others use wires. Usually, they are mounted somewhere in your car, either the mirror or the back of your windshield. There are even some models that flip open when you put your car into the reverse gear. They are mostly sold with the display screen and you can easily install them with some basic tools.
Best 5 Car Reverse Camera Reviews
Best 170-Degree Rear Camera For Car
BLAUPUNKT RC2.0 Rear View Car Reverse Cam
Optical Features Included
The first rear camera for a car we want to share in this short buying guide is by the brand Blaupunkt. It is the RC2.0 model which comes with the ultrawide 170-degree viewing angle and the lens that can be moved 145-degrees horizontally and 125 degrees vertically. There is a 4-glass lens included with the Blaupunkt reverse camera for high-quality footage. You will get the CMOS image sensor for better viewing at night. All of the footage comes in the 720 x 480P resolution.
What Is It Used For?
The RC 2.0 is a reverse camera that will help any driver to keep more focused on the road and aware of the surroundings outside of the car. That way it helps to prevent accidents to any other vehicles or people that are passing by. With such a wide viewing angle you will get no blind spots.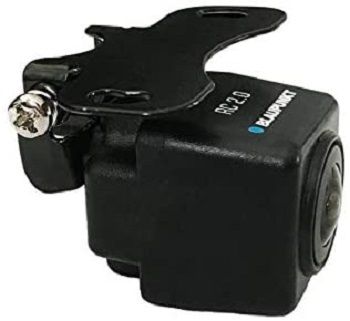 Other Specifications
One of the benefits of this Blaupunkt rearview camera is that it has an IP68 design, which means it is waterproof. You will need 12V of power for the operation of this camera. This reverse camera also comes with the RCA/4 PIN DIN connector which allows you to connect it to the power source with ease.
Features:
170-degree viewing angle
4-glass lens
CMOS image sensor
720 x 480P resolution
Best Car Reverse Camera With Monitor
Pkg Soundstream Backup Camera
Combination Of Two Things
The next product is a combination between a Soundstream and a backup dash camera. It is by the brand PKG and comes with many excellent features that will make driving so much better experience for you. More specifically it is the Soundstream reverse camera VR-345B model.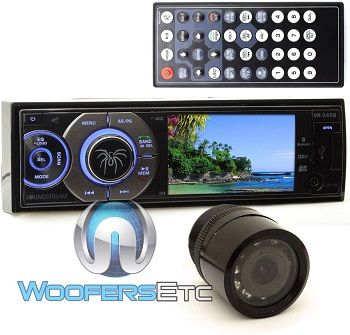 What Do You Get?
With this product, you will get the 3.4-inch flip-down detachable LCD and the wireless remote control included for easier operation. There is a built-in Bluetooth technology that allows for the hands-free talking and audio streaming. It can also connect with most mobile devices through Bluetooth.
Inputs And Outputs
This model comes with the 52 watts x 4 channels and 20 watts x 4 channels power outputs. It also comes with the front 3.5mm auxiliary input, front USB input, front SD card slot, backup camera input and two sets of 2V preamp outputs front and rear.
 Backup Camera Features
The backup camera that comes with this resolution of 420 Tv Lines. It will require a power supply of 12 V. There is a 1.7MM lens included and you will get the 170-degree wide viewing angle. There is a waterproof design and the minimum lamination you will get is of 1.5 lux. There is also the Night vision feature that allows the camera to capture everything, even in the lowest lighting conditions.
Features:
Combination of a Soundstream and a backup
4-inch LCD
built-in Bluetooth technology
170-degree wide viewing angle
Best Rear View Backup Camera
eRapta ERT01 Car Rear View Reversing Backup Camera
Requirements And Compatibility
Another one of the best rear view cameras is the ERT01 model by the brand eRapta. It is a camera that needs the voltage range from 12 to 24 DC as its power supply. You will get this license plate backup camera without any additional monitor. But it is compatible with many different vehicles such as cars, trucks, SUVs, minivans, tractors and even trailers.
Design And Materials
This security dash cam is made out of durable and long-lasting materials. It comes with a waterproof ring that is made of high-quality resin. Therefore, the entire dashcam is IP 69 waterproof. Its dimensions are 9.4 x 1 x 1.3 inches.
Lens Specifications
One of the benefits of this best reverse camera is that it comes with an adjustable lens. That way you can manually adjust it to find the best position for it. The overall viewing angle for this dash camera is 149-degrees, which is enough to let you see behind your car, especially when you are parking it. You also get automatic LED lights for an even safer drive at night.
Features:
149-degrees viewing angle
automatic LED lights
IP 69 waterproof design
Best Wireless Car Rear View Camera
Auto-Vox Tw Wireless Backup Camera Kit
Wireless Transmission To The Monitor
The next model is the wireless rear camera for the car by the brand Auto-Vox. It is a product between the regular camera and a monitor which turns on when your vehicle is switched to reverse. The image is transmitted to your monitor wirelessly, which means you won't have to run wires from your camera to the monitor. All of that makes it a lot easier to install and set up.
Brightness And Night vision
The brightness on the 4.3-inch display is automatically adjusted according to the brightness of the environment. You also get the 26 lumens LED and a light sensor that will detect the dark area and turn on so you can see clearly when you try parking at night.
Stable Signal Transmission And Design
This dashcam has the IP 67 waterproof design and a waterproof transmitter. That way you can install it to any place without having to worry about the rain or snow. The 2.4G wireless transmission signal is very stable and there is no interference with any other wireless devices.
Installation Steps
All you have to do when installing this wireless rear camera for the car is to set it up on the existing license plate of your car and connect it to the wireless transmitter. Then you will need to connect the red wire of the transmitter to the reverse light and black wire to any metal ground screw. After that, you need to take off the straps and bind it to the existing mirror and plug the car charger. For more details, we advise you to check the user manual included in the package.
Features:
3-inch display
IP 67 waterproof design
26 lumens LEDs
4G wireless transmission signal
Easy installation
Best License Plate Rear View Camera
Pyle Backup Car Camera PLCM7200
Backup Car Camera
This is the last model we want to share with you and it is the PLMC7200 model by the brand Plye. It is the rugged backup rear view camera that offers the true color reproduction and a swivel angle. With the excellent low lux performance and a wide viewing angle, it is one of the best models in the rear view camera category. It comes with the 7″ TFT/LCD mirror monitor screen display and NTSC/PAL video system as well.
Night Vision And Waterproof Design
With this dash camera, you will get the IP 68 marine-grade waterproof design which ensures that it keeps o working no matter the weather conditions. You also get the night vision feature with the IR LED lights for illumination when the lighting conditions are low.
Mount-It To The License Plate
The car backup camera that comes included with this whole reverse camera system can be mounted to the license plate. That is possible because of its slim design that doesn't take up too much space on the plate. For the instructions on how to do it, please check out the user manual.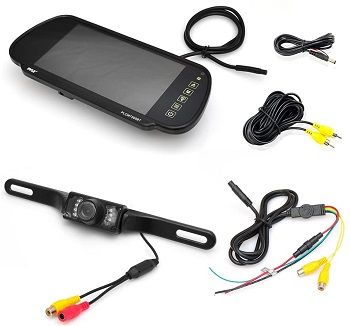 Dimensions It Comes With
The screen included with this dash cam system has the dimensions of 5.9" x 3.25", while the mirror has dimensions of 10.0" x 1.5" x 4.25". The camera is 8.46" W x 1.29" H x 1.37"D in size which is compact enough so it doesn't take up too much space. The entire unit weighs around 2.2 pounds, which is pretty lightweight.
Features:
7″ TFT/LCD mirror monitor
IR LED lights
IP 68 marine-grade waterproof design
Conclusion: What Is The Best Car Rear View Camera On The Market?
After reviewing the top five rear view cameras for cars, we chose the two winners. The first one is the Pkg Soundstream Backup Camera that is a combination of a Soundstream and a backup camera. This one offers a 170-degree viewing angle, comes with a 3.4-inch LCD screen and uses Bluetooth technology to transmit the footage to the screen. The other one is the Auto-Vox Tw Wireless Backup Camera Kit that uses a 2.4G wireless connection to transmit the image to the 4.3-inch display. It also has a waterproof design and an easy installation process.
If you want to find out what are some of our other top best dash cams, read this full article. All of the best wireless dash cams are listed in another article we wrote for you. All of the car view mirror camera models which are our favorites, we gathered in this must-read article, so don't miss it.