Are you looking for a good quality dash camera for uber drivers?
We are here to help you out!
Weather, you are a uber or taxi driver or you just want a camera to record inside of your vehicle, we got you covered! In this article, we gathered some of the best dash cams for uber drivers and reviewed them in detail. Hopefully, after reading all of the reviews you will have a better idea of what to buy!
Things To Know When Buying The Best Dash Cam For Uber Drivers
What Is An Uber Dash Cam?
Uber dash cam consists of a front dash camera and an inside dash camera that records the cabin of your vehicle. It offers you more protection than regular dash cams that only have the front or rear camera. That can be very important not only if you drive uber or taxi, but also if you have small kids and you want to know everything is okay while driving.
What Features To Look For In Dash Cams For Uber?
The most important feature when it comes to uber dash cam is a good resolution camera that can record in different lighting conditions. Additional features that are always recommended are big storage, loop recording, built-in GPS and Wifi, etc.
Where To Buy An Uber Dash Cam?
Since there aren't so many dash cams on the market, a good place to buy such a product is online. You can choose the brand's official webshops or other online retailers of their products. We recommend Amazon, as the online retail where you can find the biggest variety of different brands and models.
Dash Cam App For Uber Drivers
Some of the uber dash cams come with the free app you can download on your phone. After that when you connect the camera on your phone, you will receive notifications about everything that is going on directly on your phone no matter where you are.
Best 5 Dash Cam For Uber Drivers Reviews
Best Uber Night Vision Dual Lens Dash Cam
Vantrue N2 Pro Uber Dual Dash Cam
Front And Inside Cameras
The first uber dash cam we are going to mention in this article is the Vantrue N2 Pro Uber Dual Dash Cam. This one comes with the front camera with a 170-degree viewing angle and the inside camera of a 140-degree viewing angle. They both offer 1080p HD resolution if all lighting conditions. It comes with the Sony Exmor IMX323 sensor for the inside car camera and OV4689 sensor for the front camera. It comes with the 4 IR LED lights, HDR technology and f/2.0 aperture for night recording in HD.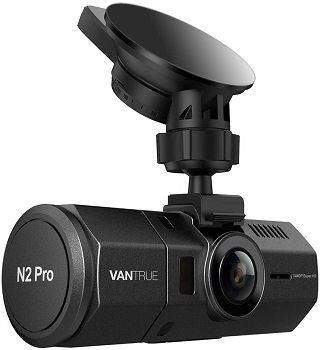 Audio And Video Features
You will get the LCD screen included with this uber dash cam that will not be disturbed by any other glowing rectangle on your windshield. Another benefit is the great audio recording due to the built-in microphone. With the time-lapse function, you can automatically take photos at specified intervals and edit them into video clips.
Recording Features And GPS Option
With this best dash cam for uber, you will get a loop recording feature that overwrites the old footage with the newest one. It also has a G-sensor that detects sudden shakes or collisions and locks the footage recorded at that time. That way it prevents the loop recording feature to overwrite the evidence. There is also the optional GPS feature that can track your driving route, location, and speed. But you will have to buy the extra GPS mount to use this feature.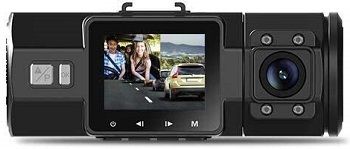 What's In The Box?
In the box, you will find the suction cup mount, 3 feet long mini USB cable, one car charger with 11.5 feet mini USB cable, user manual and quick guide with all of the instructions. You also get an 18-month warranty and email replies within 24 hours from the customer service if you have any further questions.
Features:
4 IR LED lights
1080p HD resolution if all lighting conditions
LCD screen included
GPS feature
Equipment included
Best Dual Dash Cam For Uber
Nexar Pro Dual Dash Cam
Front And Interior Camera Specifications
Next on our best camera for uber drivers list is the Nexar dash cam uber. This model offers the ultimate protection by recording the road in front of you, but also the interior of your car at the same time. The front view camera records with the 135-degree wide-angle in 1080p full HD quality. The interior camera records the footage in 720p HD quality. It also includes the 10 infra-red light bulbs for a superb night vision.
Evidence On The Nexar App
You will get to download the Nexar app on your smartphone for free when you purchase this dash cam. Without the app, your dash cam will not work. You can easily stream live footage on your phone, each time you drive. The app will work in the background on your phone so you can use other apps at the same time. This best dash camera for uber is compatible with iPhones only, from iPhone 7 to higher models.
Smart Detection And Free Storage
The camera can detect all of the critical situations on the road and save them as short video clips on the Nexar app. They are also automatically backed on the unlimited Nexar cloud account, which is free with each dash cam you buy from this brand. It also supports SD cards as the other source of storage, which can be anywhere from 32 GB to 128 GB in size.
Post-Collison Reports
With the tap of a button, this dash cam can create detailed post-collision reports which include footage from the crash, driving speed, G-force impact, the location where the accident happened and time and date. It is very useful to use as evidence and it is widely accepted by the insurance companies.
Features:
10 infra-red light bulbs
135-degree wide front angle in 1080p resolution
720p HD quality for an interior camera
Creates post-collision reports
Best Dash Cam For Uber And Lyft Driver
TOGUARD Uber Dual Dash Cam
HD Resolution With Both Cameras
Another one of the uber dash cams on our best dash camera for uber drivers list is the Toguard uber dual dash cam. It is a dual cam that has a front and in-car camera that both have 1080p resolution. This dash cam comes with the advanced Sony Exmor IMX323 sensor which also helps to provide you with sharp, high-quality footage.
Night Vision Mode
Aside from the Sony sensor, you will also get the f/2.0 aperture as well as the Wide Dynamic Range feature to make sure the footage recorded at night also has a good quality. It also helps to obtain sharp images and videos in low light environments.
Motion Detection And Parking Monitoring
Parking monitoring is a feature triggered by motion detection. The camera will automatically turn on and start recording when there has been motion detected around your parked car. It also records audio very well with the built-in microphone. The recorded footage is saved and can be used as evidence later if someone tries to steal or damage your car.
Recording Options
With the seamless Loop Recording feature, you will automatically overwrite the oldest footage with the newest one. That way you will never have to worry about your memory card running out of space. With the smart record emergency lock system, the footage taken at the time of the accident will be locked. This way it can't be overwritten later and you can use it as evidence or insurance claim.
Package Contents
In the package aside from the dual dash camera you will get the 3.5m car charger, suction cup mount, 3M adhesive stickers, crowbar, four of the cable clams and one user manual.  You will also get 24/7 customer support via email if you have any questions.
Features:
Sony Exmor IMX323 sensor
1080p resolution
Accessories included
Best Uber Dash Cam With GPS
Crosstour Uber Dual Lens Dash Cam
Full HD And Wide Viewing Angles
The next best camera for uber drivers we are going to mention is by the brand Crosstour. This one has 1080P FHD with the front lens and 720P resolution with the inside camera. Itis able to record traffic in front of you as well as what's happening inside of your car. That makes it perfect for uber drivers as well as for big families. The front lens has a 170-degree wide viewing angle while the rear camera has a 130-degree wide viewing angle.
Night Vision Mode
One of the biggest benefits of this dash cam is that it can record just as high-quality footage during the day and the night. The night vision mode is possible due to the 6 all-glass high-resolution lens, F1.8 aperture, WDR technology as well as high sensitivity image sensor.
Built-In GPS Feature
With the built-in GPS module, you can record your speed, longitude and latitude data. Itis also great if you are an uber driver who needs to drive someone to a certain destination. Therefore you won't have to spend extra money on additional GPS modules. You will receive the installation package via email when you buy this dash cam.
Parking Monitoring DVR
The parking monitoring feature will automatically start recording 30-second video once the external force has been detected. The recorded footage can be used as evidence if someone damaged or tried to steal your parked car.
What's In The Box?
With this dual uber dash cam, you will get two of the 3M adhesive stickers, adhesive mount, suction cup, user manual, car charger, and the USB cable. The SD card isn't included but the maximum size SD card that is supported is 32 GB. Don't forget to format the card in the computer and dash cam before you use it.
Features:
720P resolution inside
1080P FHD resolution front
WDR technology
built-in GPS module
24-hour parking monitoring
Best 1080P Uber Dash Cam
Pruveeo D30h Dash Cam
Wide Viewing Angles
The last uber dash camera we are going to mention is the Pruveeo D30 dash cam. This one some with the discreet design and can be well hidden on your windshield, but provide you with enough protection. The front and indoor camera can be rotated 180 degrees forward and backward as well as 50 degrees left and right. Both cameras record in full HD 1080p resolution.
Night Vision And Sensor
With this uber dash camera, you will get 4 infrared lights and F1.8 aperture that allow for sharp footage in low-lighting conditions. You will also get the Sony IMX323 sensor that helps to keep the resolution of the videos recorded in the dark the same as the ones recorded during the day.
Built-WiFi Feature
You will get the built-in Wifi with this dash cam. That way you can connect the camera to your phone. All you will have to do is download the Tima Cam App on your phone. After that, you will be able to watch real-time footage or videos, download them or share with friends all with this app.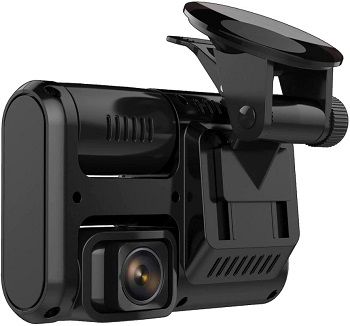 Equipment Included
In the package, you will also get a car charging cable, suction cup mount and the 3M adhesive mount and the user manual. The installation is easy- all you have to do is mount the camera on your windshield by using the included 3M adhesive mount kits. The camera starts working automatically when the engine is turned on and stops recording when the engine is turned off.
Features:
1080p resolution
Sony IMX323 sensor
4 infrared lights and F1.8 aperture
Easy installation
Conclusion: What Is The Best Dash Cam For Uber?
In my opinion, the best uber dash cams are Tougard uber dash cam and Venture dash cam model. Both offer 1080p resolution with both cameras and have night vision modes that help when you are recording at night time. The Venture one also has built-in GPS which is important if you are an Uber driver.
If you are interested in more best dash cam models check out the dual dash cams article or the best truck dash cam where we review some of the top models from each category. If you aren't sure which category you are looking for, read the best dash cam models article first where we review best models in many different categories.