Do you want a good quality dash cam you won't have to spend a lot of money on?
Then buying one of these cheap dash cams is the best way to go!
In this article, we review some of the top cheap dash cams that won't break the bank, but will still offer you all of the much-needed features and characteristics. If you are interested to know more, don't stop reading!
Things You Must Know About Affordable Dash Cams
How Much Does A Cheap Dash Cam Cost?
When it comes to cheaper and more affordable dash cams, the price range they fall into is very individual. What is expensive for some people, might be affordable for others. But for the purposes of this article, we chose to review all of the dash cams that cost under 100 dollars.
What Characteristics Does Best Affordable Dash Cam Have?
When buying a more affordable dash cam it is important to still look for a good quality product. Some of the characteristics to look for are good quality lens with a wide viewing angle and a high resolution, enough storage space, easy setup and use, connectivity with other smart devices, etc. A great thing is that lately, you can find many products on the market with those qualities under 100 dollars.
What Are Some Good Cheap Dash Cam Models?
You can find the best inexpensive dash cam from some of the most famous brands such as Apeman, Garmin, Nextbase, Aukey, Pruveeo, etc. That way you can be sure you are getting a good quality product because you are buying from a well-known and well-trusted brand.
Best 5 Budget Dash Cam Reviews
Best Dash Cam Under 100 Dollars
KDLINKS X3 Super HD Dashboard Car DVR Cam
Protection Comes First
The first budget dash cam in this article is the KDLINKS X3 dash cam model. If you want to stay safe when driving and have the proof and evidence in case of an accident then this is the product for you. It starts recording automatically after you start the car and has many different many modern features.
Resolution And Lens Quality
You will get the 2.7K 2688×1520 super HD quality with the six-glass lenses and the extremely sensitive sensor. The WDR technology that comes with this best dash cam under $100 is there to ensure good quality recordings even in the lowest lighting conditions.
Why Chose this model?
One of the special things about this dash cam is that it will automatically turn off if it hasn't detected any kind of motion in 5 minutes. That way you are saving a lot of power. With most other models you will need to manually click to turn it off.  Also once it is mounted to your windshield it has the ability to rotate in 360 degrees.
Package Contents
From the equipment, in the package, you will get the USB cable, car charger 3M glue pasted bracket with no suction mount and a user manual. You also get a 12-month warranty card included. If you have any other questions or problems with your dashcam you can easily contact the customer service which will help you via email. You will need to buy the SD card separately but the 64GB or 128GB micro SD card is supported.
Features:
7K 2688×1520 super HD quality
360 degrees viewing angle
12-month warranty
WDR technology
Equipment included
Best Cheap Dash Cam With Parking Mode
APEMAN Dash Cam
The second best budget dash cam on our list is by the well-known brand Apeman. This is a camera model that will cost you less than 50 dollars but will bring you all of the important features a dash camera should have.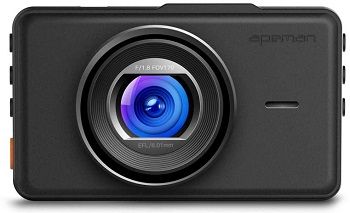 Full HD
With this dash cam, you will get the super high resolution of 1080p when it comes to videos and 4032×3024 resolution when it comes to photos. Also, there is a 3-inch screen that delivers a clear view of everything that is being recorded at the moment. On that screen, you can even replay some moments later, which can be quite convenient. The size of the screen is not too big, where it would distract the driver.
Super Wide Viewing Angle and Night Vision
Another benefit of the lens that comes with this dash cam is that it has a wide viewing angle. It equals 170-degree which is more than enough to capture the road in front of your car, but also the sides. This type of wide-field reduces all of the blind angled and captures even more details. Thanks to the combination of a large F1.8 aperture, WDR, and HDR you will get clear images even at night time. These features will eliminate the need for auxiliary light sources and obtain color-accurate and sharp photos.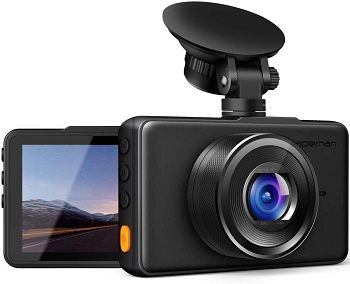 Monitors Your Parked Car
There is another feature that comes with this best cheap dash cam and that is the Parking Monitoring. With this mode, you will be able to detect and records any threats near your parked car. For this feature, you will need the hardwire kit.
What Is In The Package?
With this C450 series dash cam, you will also get all of the equipment and tools you need to install it within 3 minutes. You will get the suction mount, adhesive mount, user manual, car charger, and a mini USB cable. Once you set it up it will be hidden behind the rearview mirror and will not distract you from the road. It also has a simple operation, so you don't have to worry if you are a first time user.
Features:
Simple set up and operation
super high resolution of 1080p
8 aperture, WDR, and HDR
Parking mode
Best 1080p Cheap Dash Cam
AUKEY Dash Cam
Ultra Sharp And Clear Images
This next cheap dash cam model by the brand Aukey comes with stealth low-profile and will go almost unnoticed behind your rearview mirror. However, it will capture all of the details on the road in front of you. That way if anything happens you have the evidence with you. With the Sony Exmor Sensor, you will capture everything in super-sharp full HD 1080p resolution with a wide 170-degree viewing angle.
Emergency Recording Mode
The built-in gravity sensor will activate the emergency recording mode to capture the unexpected driving incidents. It will also lock them to prevent them from being overwritten with some new recordings later on.
Equipment And Accessories Included
With this dash camera, you get the Dual-Port USB Car Charger, USB Mini-B Power Cable that is 4 meters long, sticker mount, two of the 3M stickers, six cable clips, and a user manual. Instead of the battery you get the supercapacitor which ha san even longer lifespan and can endure ore extreme temperatures.
Quick installation
When it comes to installing this good affordable dash cam you will have to use the included double-sided 3M stickers. With them, you can easily mount the dash camera to your windshield. After that, you can remove it later if you need to. All you have to do is unplug the power cable and unclip the dash cam from the mount.
Features:
Accessories included
super-sharp full HD 1080p resolution
170-degree viewing angle
Best Ultra HD Affordable Dash Camera
Rexing V1-4K Ultra HD Car Dash Cam
Discreet Design And Powerful Protection
The fourth model on our list is the V1 dash camera by the brand Rexing. It comes with the OV4689 image sensor that will capture everything in the 2160p resolution. Because of its small size and low profile, you can hide it well behind your rearview mirror and still get amazing protection. It has a sleek, black exterior that has a very unpronounced interface.
 Ultra Wide Angle Lens
Another benefit that comes with this good and cheap dash cam is the 170-degree wide-angle that is provided by the 7-layer glass lens. It can capture all of the surroundings at the front and sides of your vehicle. With the WDR technology, you won't have to have additional light sources to capture good quality images at night.
Advanced Features
For a cheap dashcam, these models include all of the advanced features some more expensive models have. Some of them are wireless connectivity with your smartphone, Loop recording, G-sensor motion detection, Parking mode, and the optional GPS function.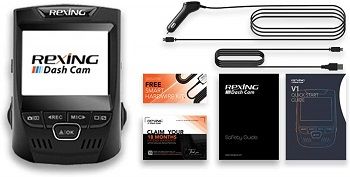 Supercapacitor Instead Of A Lithium Battery
Just like with some of the previously mentioned models, with this one you will get the supercapacitor instead of the traditional lithium battery. Not only does the supercapacitor have a longer life, but it also operates better in more extreme temperatures and conditions. It works on temperatures between 176°F and -20°F.
Features:
Supercapacitor included
2160p resolution
7-layer glass lens
sleek, black exterior
Best Cheapest Dash Cam With GPS
Nexar Light Full HD 1080p Dash Cam
Perfect Model For Every Day Drivers
The last on our best inexpensive dash cam list is the model by the brand Nexar. This is a Halocam that records all of the videos with a 1080p Full HD quality and has a 135-degree viewing angle. It gives you full protection on the road for an affordable price which is why it is one of our favorites.
Immediate Proof On The App
One important thing to know about this Nexar dash cam is that it works only if it is paired with the Nexar app. Though the app you can then watch the live footage on your phone or download and share the recorded videos fast and easy. The app works in the background of your phone and you can use your other apps simultaneously. It is compatible with the iPhone 7, Galaxy or Note S8 or newer devices and Google Pixels.
Free Backup On Cloud
Good, thig about this product that all of your footage is automatically saved on the SD card. But it is also automatically backed up on the unlimited Nexar cloud account you get with the purchase of any Nexar dash camera. That way you can never lose your recordings, even if you somehow lose the SD card.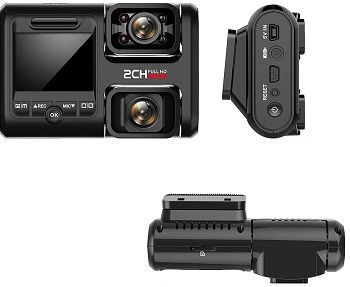 Set Up And Operation
When it comes to installing the Nexar dash cam, it will take 5 minutes or less no matter how skilled you are. All the tools are provided in the package together with the instructions in the user manual. Therefore, there is no need for professional help, you can do it on your own and save some extra cash.
Features:
135-degree viewing angle
compatible with the iPhone 7, Galaxy or Note S8
free cloud back up
Conclusion: What Affordable Dash Cam We Recommend You To Get?
There are really many good budget dash cams to choose from, but we picked only two as our winners. They are the Rexing V1 model and the KDLINKS X3 model. The first one is great because it has 2 K resolution, sleek design and all of the advanced dash cam features. On the other hand, the KDLINKS model has an even higher resolution of 2.7k, 360-degree camera angle and all of the equipment included in the package. Both cost less than 100 dollars which makes them affordable dash cams.
If you want to know more about some other most popular best dash cams, check out this article. If you are interested specifically in the 360 car cams, we have one article covering that topic! The best-hidden car camera models can be found in one of our short buying guides as well.