Are you in need of the best-hidden car camera that will record everything on the road and still be unnoticeable?
You came to the right place!
We tried to gather some of the most popular hidden dash cam models you can currently find in most physical stores and online. All of these models have a sleek, compact and discreet design. In most cases, you will forget they are even installed in your car. If this sparked your attention, please keep on reading.
Tips For Buying A Spy Camera For Car
What Is A Hidden Car Camera System?
A hidden car camera is essentially a dashcam that has a small and compact design. Most of the time they come in black or grey color and can seamlessly blend with your windshield. The best-hidden cams are wireless and even come with the magnetic mounts for even easier installation and removing process.
What Other Characteristics To Look For?
When it comes to best-hidden dash cams, you should look for those who have a good optical feature- wide viewing angle for good coverage, high-resolution, night mode, etc. Also, you can look for those who can connect to other smart devices and have the wifi connectivity or at least Bluetooth.
What Are Some Current Favorites?
When it comes to the current most popular dash cams there are a few models. Some of them are Alpine dash camera, Aukey dr02 1080p stealth dashcam, Boss dash cam bcam50, Spytec a119 dash cam, etc. Some of these mentioned models we reviewed below, but also added a few others. But you will have to read the full article to know which ones.
Best 5 Hidden Car Camera System Reviews
Best Hidden Car Security Camera
Aukey Dash Cam DR02
Low-Profile Dash Cam
First on our best spy camera for the car list is the Aukley DR02 dash cam. This one falls into the hidden dash cam category because of its stealth low profile design which can barely be noticed once you mount it to your windshield. The dimensions of this dash cam are 3″ x 2″ x 1.45″ and it weighs about 11 ounces.
High-Resolution Optics System
All of the footage that is recorded with this dash cam has a 1080p resolution due to the Sony Exmor Sensor. You will also get the super-wide 170° field of view and great performance in low lighting conditions. You will get the optional in-car audio if you want to capture the audio as well.
Power Sources
This low profile dash cam is powered by the standard car 12/24V socket through the included dual-port USB car charger. You will also get the internal supercapacitor instead of the standard battery with this stealth dash cam. It will automatically start powering and recording whenever you start the engine. This supercapacitor can endure extreme weather conditions and has a lot longer operational lifetime than the regular battery.
Also In The Package
With the DR02 dashboard, you will get the dual-port USB car charger and the USB mini power cable. Also, there is a sticker mount, two 3M stickers and six cable clips included. The user manual you get contains all of the information about installation and use.
Easy Installation Process
With the best-hidden dahs cam, you won't have a hard time with the setup. You can mount it to your windshield by using the given double-sided 3M pads. It s super easy to remove all you have to do is plug the power cable and unclip the dash cam from the mount.
Features:
1080p resolution
Sony Exmor Sensor
supercapacitor instead of the standard battery
super-wide 170° field of view
Best Car-Key Sized Hidden Dash Camera
Garmin Dash Cam Mini
Resolution And Coverage
The second best car spy camera we want to share with you is the Dash Cam Mini model by the brand Garmin. It is a full HD dash cam that comes with the 1080p resolution and a 140-degree wide-angle lens. You will get to record all of the roads you are driving on but keep it hidden and almost unnoticeable.  The size of this camera is the same as your car keys size, so it is hidden after you mount it to your windshield.
Memory And Storage
All of the footage is automatically saved on the SD card. This dash cam supports any SD card from 8 GB, class 10 or higher. Unfortunately, you won't get the 8 GB dashcam already included in the package. With the auto loop recording, you will never be able to run out of memory.
What Else Will You Get?
Aside from the mentioned characteristics and features of the dash cam with audio you will also get the highly sensitive motion detection system, emergency recording features, date and time stamp log on all of the saved features, etc. You can also connect the camera to your phone through Wifi or Bluetooth. You can even connect more than one dash camera of this model to your phone.
Features:
1080p resolution
140-degree wide-angle
Supports 8GB SD card
Best Hidden Dash Cam Front And Rear
Crosstour Font And Rear Dual Lens Dash Cam
Super Front And Rear Night Vision
The third product which is also one of the most popular models at the moment is the Crosstour's dual dash cam. It has the best front and rear night vision options. You will get the F1.8 super big aperture and HDR both front and back. The F1.8 aperture allows more light to get in, which makes the images brighter and clearer. The HDR will adjust the brightness of the clips automatically.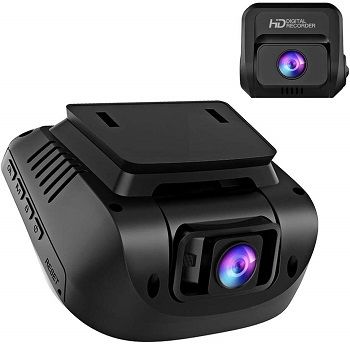 Dual Wide-Angled Lenses
With this hidden dash cam for cars, you get the 1080P and 170° wide-angle dual camera which records front and behind your car. That way you have protection from both sides. Itis great because for the price it sells, you can usually just get a 720P rear camera with most other brands.
Optional GPS Interface
Another benefit of this dash cam is the optional GPS interface which will track not only your driving route but also speed, longitude, and latitude dana. For that, you will have to have the antenna connected, which you have to buy separately.
3M Motion Detection
When you turn on the 3M motion detection feature your camera will automatically start recording about 10 s when there is a movement in front of the lens. However, this feature will only work when your camera is in standby mode and not recording.
Features:
1080P and 170° wide-angle
3M motion detection
8 aperture and HDR
optional GPS interface
Best Hidden Car Surveillance Camera
Eubell Mini Dash Cam
Captures Small Details
The next dash cam we want to mention is the Eubell dash camera. It comes with the 1080P resolution in all conditions. It captures the road signs and license plate din detail. You get the motion detection feature which automatically starts recording as soon as you start driving.
Compact Design
The size of this dash cam is pretty small and almost unnoticeable when you mount it on your windshield. The dimensions of the product are 70x60x30mm and weigh about 7 ounces. It comes in plastic material in black and blue color.
Most Important Functions
You will get important features with this dash cam. Those are the parking monitor, G-sensor, emergency recording and loop recording. Due to these features, this mini dash cam will be the best personal copilot during your driving for work, journey, entertainment, etc.
Accessories Included
When you buy this small hidden camera for the car you will need to get the 32GB SD Card, to store all of the videos. But you will get the USB car charger, power USB cable, user manual and a stand. Aside from the one year warranty, you will get the 7/24 customer service if you have any questions.
Features:
1080P resolution in all conditions
pretty small in size
parking monitoring feature
Best Hidden Car Camera With GPS
Vantrue S1 Dash Cam
Discreet And Compact Design
The last dash camera we are going to mention is by the well-known brand Vantrue. It is their S1 model that has a very discreet design and can barely be noticed on your windshield. The compact size will also not block the driver's sight. You will get the advanced Novatek NT96663 Chip and Sony Starvis CMOS sensor for sharp and clear footage.
Dual Lenses
With the front lens that has a 170-degree viewing angle and the rear camera that has the 160-degree viewing angle, you will get great coverage. If you choose the single front recording mode you can capture the clear video at 2880*2160P/24FPS or 1920*1080P/60FPS.
Built-In GPS And Supercapacitor
With the GPS feature, you will know the exact driving route, speed, and location at each moment. All of that information will be shown on Google maps. The SuperCapacitoris used with this secret camera for the car instead of a lithium battery and has a prolonged lifespan. It can also be use din extreme temperatures between -4°F to 158°F.
Warranty And Returns
With this hidden spy camera for the car, you will get an 18-month long warranty. Also, you will get 24/7 customer service which can answer all of your questions if you have any. The installation equipment is included but you will have to buy the microSD card up to 256GB in size.
Features:
18-month long warranty
installation equipment included
Novatek NT96663 Chip and Sony Starvis CMOS sensor
170-degree viewing angle
Conclusion: What Is The Best Hidden Dash Cam 2018?
In my opinion, two of the best low-profile mini hidden car cameras are Aukley and Vantrue models. They both come with 170-degree viewing angles and 1080p resolution. Their compact and sleek design will be almost unnoticed when you're driving.
Some of the best dash cams are mentioned in this article. You can also read all about the best 4k dash cams in another one of our articles. All of the best car security cameras are also mentioned and reviewed on the link.