Are you on a hunt for the best 4K dash cam on the market?
We are here with some suggestions for you!
In this article, you can read all about the best 4K dash cam models and the features they come with. We also discuss why getting a 4K dash camera can be the best option for your safety on the road. We hope that after you read the full article you will have a better idea of what you want to buy.
Things To Look For When You Are Purchasing A 4K Dashcam
What Should You Need A 4K Dash Cam?
If you are looking for a dash cam that has the best video and picture resolution, then getting a 4K dash cam is simply a must. A dash cam with such high resolution will pick up on all of the small details any other dash camera simply wouldn't be able to do.
What Is The Price Of A 4K Dashcam?
Since these types of cameras offer some of the best quality lenses and many other advanced features, their price will be higher. But we think it is worth paying a little more, for the quality of the image you are getting.
Best Place To Buy A Dashcam 4K?
If you are looking for a specific dash cam brand or a model the best place to look for is online. You can check the brand's official webshop or search on other online retailer sites such as Amazon. To make it easier for you, all of the products we mentioned below are available on the Amazon website.
5 Best 4K Dash Cam Reviews
Best 4K Ultra HD Dash Cam
AUKEY 4K Dash Cam
Ultra-Sharp Lens
The first best 4K dashcam we are going to mention in this article is by the brand Aukey. It is the DR02 J model which comes which has an ultra-wide viewing angle and captures everything in ultra-sharp 4K resolution. Not only is the quality of the video great, but also the quality of the recorded audio. HDR and other technologies ensure better quality when driving at night or just in low lighting conditions.
Easy Mounting
The installation of this Aukey 4K dash cam is super easy and consists of mounting it to your windshield with the sticker mount you get. The camera was meant to stay mounted, but you can also remove it if you need to by simply unplugging and unclipping it.
Supercapacitor Instead Of A Battery
This Aukey 4K dashcam comes with the supercapacitor instead of a battery. You will get a slimline dual-port USB car charger that can power this supercharger. Due to the supercapacitor, it can endure greater heat and cold. It also has a longer lifetime than the traditional lithium battery.
Package Contents
With the Aukey DR02 J camera, you will also get the dual port USB car charger, USB mini-B power cable that is 13 feet long, two sticker mounts, two spare 3M stickers, six cable clips, and a user manual. With it, you also get a 45-day full refund if you aren't satisfied with the product. If the product has any defects you will get a free replacement within the next two years.
Features:
Easy installation
Accessories included
45-day full refund
Long-lasting supercapacitor included
Best 4K Front And Rear Dash Cam
Blackvue Dr900s-2ch 4K Dashcam
Dual Lens And Sensors
The best 4K dash cam front and rear we will review today is the Blackvue 4K dash cam. The two lenses- front and rear record in full HD at 30 fps. The front camera also has the 8 megapixels sensor, while the rear one is equipped with the 2.1 megapixels STARVIS sensor. The viewing angle with the front camera is 162-degree, while on the rear camera is a little less and equals 139-degrees.
Fast Video Transfer To Your Phone
The dual-band 2.4-5ghz WiFi is also included with this dash cam. That way you can easily connect it to your smartphone. It also allows you to connect with the free Black Vue over the cloud service where all of the videos are saved automatically. You can replay videos, download them and share them with others simply by using your phone.
GPS Adds Location And Speed Data
Another amazing thing about this Blackvue dash cam 4K is that it comes with the GPS already built into this camera. That means that not only is this dash cam able to record, but it can also track your speed, location, and route of driving. If you want to you can even visualize your location in the BlackVue App or Viewer's Map.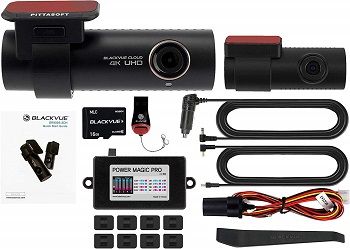 The Sony Starvis Sensor
The Sony Starvis image sensor that is included with this dash cam makes a really big difference when it comes to low-light performance. It helps to capture all of the small details even in very dark surroundings. There is one on the front and rear camera of this dash cam.
Features:
GPS feature
Two STARVIS sensor for night vision
full HD at 30 fps
dual-band 2.4-5ghz WiFi
Best Dashcam WiFi GPS 2160p 4K
Azdome UHD 4K Dash Cam
Lens And Camera Qualities
The next dash cam in the 4K car dash cam category is the Azdome 4K dash cam. It comes with the 2160P HD resolution and records at 30 frames per second. The camera angle on this model is 170-degrees which is enough to get decent coverage of the front and the sides of your car. There is a combined F1.8 six layers glass lens and a wide dynamic range (WDR) which ensures that the quality of the recorded videos is just as good at daytime and nighttime.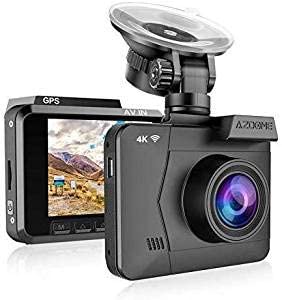 Dashcam With WiFi And GPS
Just like most of the dashcams on the market, these models also come with built-in GPS and WiFi. The GPS feature records all of the locations you are driving on, together with your speed and the exact route of driving. While the WiFi feature allows you to easily connect to your phone through the free app. That way you can rewatch, edit, download or even share your videos no matter where you currently are through your phone.
Loop Recording And Motion Detectors
The loop recording is a feature that makes sure you never run out of space on the SD card. That is possible due to the constant overwriting of the oldest files with the newly recorded videos or images. But all of the footage that was taken when any kind of stronger motion such as collision or a shake was noticed, will be a lock to prevent later deletion.
What It Supports?
This Azdome 4K dashcam will support the 8 to 64GB Micro SD card class 10 or higher, but the SD card isn't included. Some of the supported SD cards are for example Kingston, Samsung, SanDisk memory card, etc. We advise you not to use fake SD cards, It supports online firmware updates, editing videos via mobile phones and multi-languages.
What Is In The Package?
Together with this dash camera, you will get a couple of other accessories included. You will get the power cable, dual USB car charger, suction cup, five of the wiring buckles, trim removal tool, a thank you card and the user manual.
Features:
wide dynamic range (WDR)
2160P HD resolution
170-degree viewing angle
Equipment included
built-in GPS and WiFi
Best 4K WiFi Dash Cam
Rove R2-4K Dash Cam
Revolutionary Super Night Vision And High Resolution
Another best 4K dash cam 2019 on our list is the Rove 4K dash cam. More specifically, we are going to talk about the R2 model by this brand. This one also offers pretty high 2160p resolution and gives you a lot more clarity than any other dash cam does. With the revolutionary Super Night Vision Technology that includes ultra-low light Sensor NT96660 + OV4689, you get amazing quality even when you are recording at nighttime.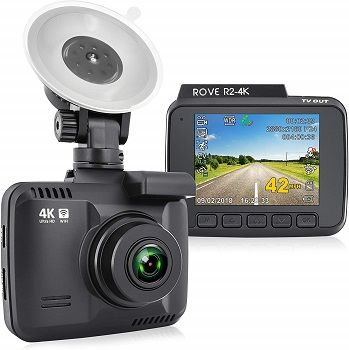 State Of The Art Technology Included
With this best dashcam 4K, you will get one of the biggest f1.8 apertures, parking mode feature, highly sensitive motion detection, 150-degree wide viewing angle, and the G sensor. Some other features include the loop cycle recording, emergency video lock feature, time-lapse videos as well as the slow-mo video. It supports SD cards up to 128 GB class 10 to U3.
WiFi And GPS Feature
With this dash camera, you will get the GPS feature included which records and tracks your speed, location, and the exact driving route. The last two can be seen on google maps via WiFi or by using the free app. The WiFi feature is also used to download the videos directly to your phone and can be downloaded on the iOS and Android devices.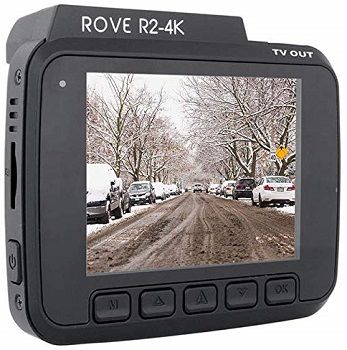 Additional Information
This dash cam is made in the USA and comes with the full one-year warranty. If your camera is having any defects or you just have some additional questions, you can easily contact the customer care via email. If you are for some reason not satisfied with your product, you can also get a full refund within the first 30 days.
Features:
ultra-low light Sensor NT96660 + OV4689
supports SD cards up to 128 GB
150-degree wide viewing angle
made in the USA
Best Dashcam 4K GPS
Toguard 4K UHD Dash Cam
Better Than The Regular FHD Cameras
The last best 4K dash cam from our list is the Toguard 4K dash cam. This one comes with the ultra HD 4K resolution and a 170-degree viewing angle. It records all of the videos in the 25 or 30 fps which is four-time higher than the regular FHD recording. You also get a 3-inch LCD screen that allows you to see everything that is recorded at the moment in high-resolution. But the size of the monitor is also small enough not to clock your sight.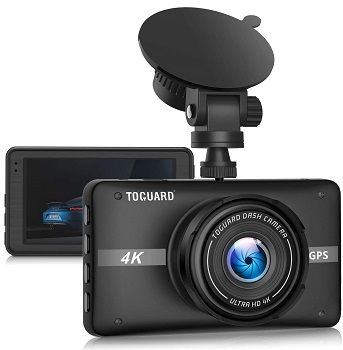 GPS Comes Included
One of the features that are included is also GPS. It is built-into the camera and is used to track your location, speed, direction as well as time and date. If you connect your phone with the dashcam you can track all of those through the free app.
24 Hour Monitoring
Due to the highly sensitive motion detectors, any kind of shock or a vibration noticed when your car is parked will automatically turn on the camera and start the recording. Excellent audio recording with a built-in microphone will provide you with evidence if someone tries to steal or just damage your car.
What's In The Box?
In the box, you will find this 4K dash cam, car charger, GPS module, USB cable, and a suction cup mount. Also, you will get the adhesive mount, six of the cable clamps and one user manual. Because you get the user manual and all of the needed tools and equipment the process of installation is super easy and quick.
Features:
170-degree viewing angle
3-inch LCD screen
GPS module
Conclusion: What Is The Best 4K Dashboard Camera Available To Buy?
We chose the Blackvue dashcam and the Azdome dash camera as two of our favorites from this list. Aside from the 4K resolution, the first one has two lenses, two STARVIS sensors, GPS and WiFi features, while the other one has a wide dynamic range (WDR), GPS, WiFi and all of the equipment and tools for installation included.
If you want to read more about the best dash cams, check out this article and short buying guide all in one. To learn more about the wireless dash cams and some of the best models that have that feature, check out this article. For all of those interested in cheap dash cam options, we gathered and reviewed some of our top picks, so check it out!