Do you believe having a dash camera will help you feel safer while driving? Have you considered buying a dash camera?
If you have, continue reading because today I'll talk about the Blackweb dash cam model BWB17AV003. This is a very affordable camera and a good choice for those who can't spend more money on a dash camera. In this post I'll provide you with basic information about the Blackweb video dash cam such as dimensions, materials, the design and camera specifications. I'll give you useful advice for buying a dash camera, advise you on buying replacement parts and walk you through the Blackweb dash cam BWB17AV003 manual.
If you want to know more about the Blackweb digital dash cam, continue reading below.
Advice On Buying A Dash Cam
Must Be Small And Discreet
For the dash cam to be unnoticeable, it must be small-sized and very discreet. You should be able to hide it next to or behind the rearview mirror. Dash cameras usually come in the color black as it doesn't draw much attention.
Good Quality Camera
A high quality camera is necessary for receiving a clear and sharp footage. Dash cams usually have 1080p resolution cameras that can rotate and give you a full view of the road ahead. A small monitor display is located on the back side of the camera.
Easy Installation
I'm sure you wouldn't want to spend hours trying to figure out the best way to install a dash cam in your car. That's why dash cams are made to be easy to set up by simply attaching the camera to the mount head and placing it when you want it to be on the windshield.
Includes A Memory Card
You won't have to worry about having enough memory because the Blackweb dash cam comes with an 8GB micro SD card for additional storage. In case of a car accident or sudden breaking the Blackweb wide angle dash cam will record it and automatically store it on the memory card.
Blackweb Dash Cam Review
Blackweb BWB17AV003 Dashcam
Primary Information About The BWB17AV003
This is a small sized dash cam that measures 2.5 inches in length and is 2 inches wide. It's made of durable black plastic and stays stable on the windshield while you scroll through. Because of its size it will be unnoticeable on the windshield and it won't get in the way while you're driving.
Included Accessories
It comes with a Blackweb dash cam manual, 12V power adaptor, 8 GB SD card, micro USB cable and windshield mount with a suction cup. The Blackweb wide angle dash cam also includes a built in microphone and speaker, and a 1.5 inch display monitor.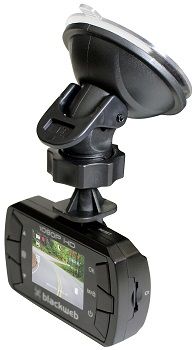 Camera Information And Quality Of The Rcordings
The Blackweb video dash cam produces 1080p HD resolution videos and has a 120 degree wide angle camera that gives you a full view of the road ahead. The 1080p HD Blackweb dash cam gives you a pretty sharp and clear image, but some users mentioned the license plates being hard to read on the small monitor. Others said that the video looks pixilated at times.
Features:
Includes an 8GB SD card
1080p camera resolution
Its hard to read license plates on the screen
Recording is sometimes pixilated
Replacement Parts For Blackweb Video Dash Cameras
When it comes to dash cameras, people usually search for a replacement mounting kit. On the market, including Amazon, you can find plenty of universal mounting kits that come with a number of mounting heads for different models of dash cams. Your only task will be to find the one that will suit your Blackweb dash camera. Mounting kits are very affordable and cost fewer than 10 dollars.
Blackweb Dash Cam Instructions Manual
With the Blackweb 1080p dash cam you'll receive a Blackweb video dash cam manual with useful information about the device. In the Blackweb BWB17AV003 manual you'll find instructions on installation and facts about the camera resolution and sharpness, interesting features and detailed instructions on using the dash cam. To prevent any defects due to improper use, you should keep the Blackweb 1080p dash cam instruction booklet somewhere safe, since people have a hard time finding it online. For all questions about installation or operating the dash cam, you can contact the Blackweb customer service.
Conclusion: Is The Blackweb BWB17AV003 Dash Cam Worth Buying?
Even though the Blackweb wide angle dash cam has its downsides, it's still a good and affordable choice for those who can't spend more money on a dash cam. The Blackweb car camcorder is easy to install and easy to operate. The Blackweb dash cam records 1080p HD resolution footage and the 120 degree wide angle lens gives full windshield coverage. If an accident occurs the Blackweb 1080p HD dash cam will save the recording onto the 8GB micro SD card that comes with the Blackweb wide angle dash cam.
If you want to know which dash cam on the market is the best, read my post about the best dash cam. If you're looking for a dash camera with the simplest setup, read my post about a wireless dash cam. Or if you want a dash camera that will give you a full view of the road in front of you and back, read my post about a 360 car cam.