Have you been wanting to buy a smart dash cam?
You came to the right place!
Before you head out to buy one, read this article! Here we bring you all about the android and iPhone dash cams and review the top 5 models. Hopefully, you can find the right model for you after reading this article.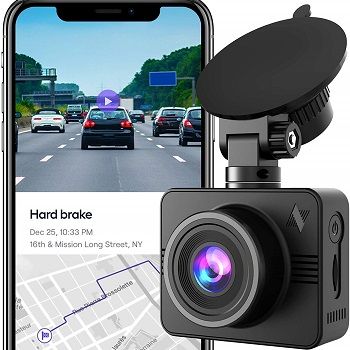 Things To Know About Smart Dash Cams
What Is A Smart Dash Cam?
Just like a regular dash cam a smart dash cam records the road in front of you while you are driving. It is compatible with Android phones and iPhones and comes with the app you can easily download on your phone. That way you can download videos and share them with your friends and family much easier no matter where you are.
Where To Buy A Smart Dash Cam?
You can find these dash cams in physical stores as well as online. We suggest looking online if you are looking for a specific model or brand. Amazon.com is our recommendation since they deliver worldwide and offer a big variety of dash cams for iPhone and android devices.
What Are The Best Smart Dash Cam Brands?
Best brands that sell android dash cam and iPhone dash cams are Owl, Nextbase, Garmin, DPPAI, and a few others. Some of them we mentioned below. All of them offer high-quality products that will keep you safe on the road!
Best 5 Dash Cam App For Android
70mai Dash Cam
Supports Both Android And Ios Systems
The first best smart dash cam we are going to review in this article is the 70mai smart dash cam. This one supports iOS and Android systems which allow you to watch live streams, replay and download your footage after you connect it to the 70mai free app. It comes with the built-in wireless hotspot module to connect to your smartphone's wifi.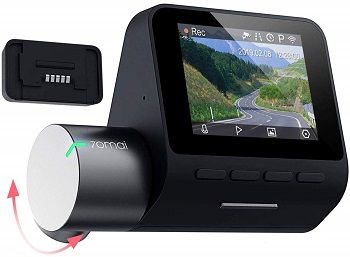 Lens Feature
This 70mai smart dash camera comes with a 6-glass lens, Sony IMX355 sensor and 2592x1944p HD resolution with WDR 140° wide angle. You can adjust exposure, clarity of the image depending on if its day or night. You will also get a super large screen to show the live image to help you see clearly every little detail.
Advanced Driver Assistance System
One of the great features of this android dash cam is that it comes with the ADAS advanced driver assistance system. It is sensitive to the motion of the vehicle and will provide you with safety alarms and warnings. You will get a warning when you are drifting out of your lane but also when you are driving too closely to the car in front of you.
G-Sensor And Loop Recording
The 70mai smart dash cam will capture every moment and automatically overwrite the oldest footage with the newest ones when the memory card gets full. But once the G-sensor detects collision it automatically starts recording and locks and saves the video into the Emergency File to prevent it from being overwritten.
Features:
supports iOS and Android systems
140° wide angle
2592x1944p HD resolution
ADAS – advanced driver assistance system
G-sensor
Best Dashboard Camera Android 1080p
YI Nightscape Dash Cam
The next best android dash cam we are going to mention is the YI smart dash camera. This one comes with the built-in wifi and you can connect it to the large 2.4''LCD screen as well as your phone. All you have to do is download the free app, before you can sare or back-up recorded footage. The LCD screen is also great because you can change all of the settings on it in just a few seconds.
Crystal Clear Optics
You will get the 1080p resolution lens and six high quality internal F1.8 glass lenses that provide greater light sensitivity, better focus, and high precision optics. The viewing angle on this smart dash camera is 140-degrees. With the STARVIS sensor, you will be able to have crystal clear images even when you are driving at night.
Sleek Design
This iphone dash cam has a very elegant aesthetics with a minimalist design with modern elements. It comes with smooth curves and matte black texture finish which fits any car's dashboard perfectly without taking up to much space. It is super easy to set up and ready to go in 5 minutes or less. All you have to do is plug it into your car USB charger port and its ready to use.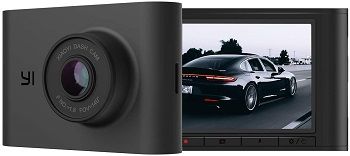 Made For Modern Lifestyle
With this smartphone dashcam you will get the Advanced Driver Assistance System (ADAS) which gives you alerts and warnings to minimize human error while driving. You will get alerts when you are getting to close to the car in front of you as well as when you start drifting out of your lane. It also operated in temperatures beyond your average dash camera from -22°F to 185°F.
Features:
Advanced Driver Assistance System
4''LCD screen
1080p resolution lens
140-degrees viewing angle
Best Android Auto Dash Cam
BLACKVUE Full HD Dash Camera
Dual Camera
Next dash cam we are going to mention is by the brand Blackvue. It is their full HD camera that comes with the front and rear camera. They have the Starvis sensor which allows it to take pictures and record videos of high quality even at night.
Parking Mode
With this camera you will be able to record any movements surrounding your car when it is parked. All of the movements will be recorded and automatically saved. For that, you will also need an external battery pack or a hardwiring kit.
Buil-In GPS
Another great feature of this product is the GPS feature. With it, you can easily track your current location and directions as well as your speed. All of the information can be read on your phone after you connect it with this dash camera. You will need wifi for all of these features.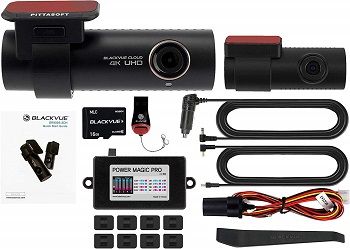 Loop And Emergency Recording
You can record in the Loop mode with automatic overwriting of the old stuff once the memeory gets full. You can also record with the emergency feature when there is a crash about to happen. All of those videos will be locked and saved from deletion later on.
Features:
Dual camera
Parking mode
GPS feature
Best Smart Gear Dash Cam
DDPAI Dash Cam
Instant Footage Access And Sharing
Another one of the smartphone dash cam models we are going to introduce today is the DDPAI mini smart dash cam. It can be connected to your smartphone by using the built-in WiFi function. That eay you can easily save the videos on your phone or share them with others, no matter where you are.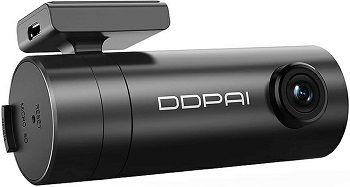 Lens Features
Another benefit of this smartphone dash camera is that it comes with the rotatable lens which can cover up to 4 lanes at once. There are a 1080P resolution and the advanced OV2735 sensor which makes sure you get the same crystal-clear image even when you are recording at night.
Recording Features
All of the videos are recorded automatically with the Loop Recording feature and the new videos overwrite the old ones when the memory card gets full. With the built-in 3 axis G-sensor the camera can automatically detect shakes an collisions and locks the footage recorded at that time. That way the footage is saved and will not get overwrite later which means you can use it as evidence if needed.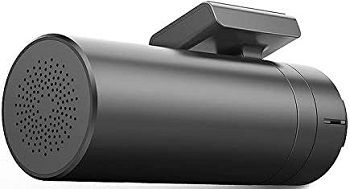 What's In The Package?
In the box, you can find the DDPAI mini dash camera, dual USB car charger, 3.5 meter micro USB cable, spare 3M adhesive tape, pry tool as well as the user manual with all of the instructions. It is super easy to install, all you have to do is mount it to the windshield by using the given 3M pads. After that, you can start recording and driving. It also comes with the built-in supercapacitor which can operate in great heat and cold temperatures.
Features:
built-in WiFi function
1080P resolution
advanced OV2735 sensor
Best
Nexar Beam Dash Cam
The last smartphone dash camera we are reviewing for you in this article is the Nexar smart dash cam. It is one of the smallest dashcams by this brand and can easily be hidden behind the rearview mirror. You will get the Full HD 1080p quality with the 135° wide viewing angle, no matter if it is day or night.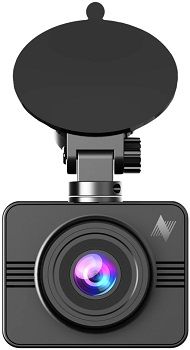 Nexar Smartphone App
One thing to keep in mind is that this dash cam works only when you pair it with the Nexar app. That way you can easily stream live footage to your phone every time you drive. That way you have video evidence if you ever need it. Also, the app will work in the background all the time so you can use other apps such as navigation.
Free Storage And Easy Installation
All of the footage which was recorded in critical situations such as crashes or sudden brakes will be saved on the Nexar app. And those clips wil also be automatically saved on the Nexar cloud account which is free and provided for each Nexar car camera. It takes only five minutes to set this camera up. All of the tools for the installation are provided in the package.
Warranty And Support
With this dash cam you will also get a one-year warranty if there are any defects. You will also get a lifetime 24/7 support from their customer service in case of any questions. You can reach them by email or app chat.
Features:
135° wide viewing angle
1080p quality
Storage on free cloud
One-year warranty
Conclusion: What Is The Best Smart Dash Cam Currently On The Market?
When it comes to the best android dash cam and iphone dash cam we chose two models- Nexar dash cam and 70mai dash cam. They both support iOS and Android systems and come with a 1080p resolution lens. All of the videos can be downloaded, rewatched and shared on the app that comes with each model and is free to download on your smartphone.
You can choose the best dash cam model in different categories if you read this article. To find out what are some of the best hidden car cameras, check out this article. In the best car security camera article, we gathered some of the best models for you to buy.