How many times have you thought about wanting to capture breathtaking landscape outside of your car while you're driving? How about something even more important – capturing the evidence of the accidente while it occurs and you can't remeber and/or prove what happened?
If so, Vantrue dash cam might be your friend. Today we will talk about best Vantrue dash camsyou can get in 2020. Let's go!
Vantrue Dash Cam: High-end Dash Cam Brand
Something About Vantrue Brand
The brand was born in 2015 and is growing ever since. Vantrue claims to be a high-end dash camera brand. They justify their higher-than-your-usual-dash-cam prices with high quality products and top level customer service. Even the quality of the packaging and the accessoires inside is high-end. Besides dash cams, Vantrue makes home security cameras and other video products.
The Price Range Of Vantrue Dash Cams
As being said earlier, Vantrue dash cameras are high-end cameras. Their prices are from avarage to higher than average/standard car dash. There are discount coupons on Amazon sometimes so you can save money on them.
Where To Buy Vantrue Dash Cams?
Besides All of the Vantrue dash cams are available on their website. They can also be bought on Amazon, which we higly recommend as a top reliable online seller with the possible return of the product. Amazon also has discounts very often, so keep an eye on that for saving few dollars.
Vantrue Customer Service And Warranty
Vantrue brand claims to have a top level customer service. You can download every Vantrue product manual on their website. What is also available for download is their every latest firmware update. Every product comes with 18 month warranty.
Best 3 Vantrue Dash Cam Reviews
Vantrue N2 Pro Dash Cam Review
First World's Dual Full HD Dash Cam
Vantrue N2 Pro dual dash cam is a first dash cam in a world that is made with front and rear camera lenses both 1080P Full HD cameras. That means that N2 Pro camera films road in front of you and cinside your car both in Full HD.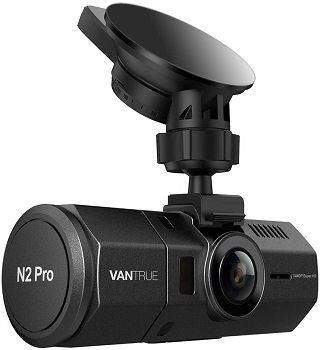 N2 Pro Vantrue's Design
N2 Pro comes in elegant, round and oblong shape. It's color is matte black. On the bottom there is a microphone, power button, forth and back button, and a menu button. On the back there is a parking button to activate parking mode or save a picture while driving, OK button to start and stop recording, an 1.5 inch display, and a back camera facing you that is rotateble 80 degrees. USB port and Micro SD ports are on the side.
Dual And Single Front Camera
Although your Vantrue Pro dash cam has a dual 1080P Full HD camera, if you don't need the inside camera, there is a single front camera option. It is very easy to use. You have the "resolution" option in your menu, so you can change it the way it suits you.
N2 Pro Dash Cam's Parking Mode
When the camera and parking mode are both turned on while the car is parked, Vantrue N2 Pro captures everything the moment something shakes up the car. Hits and scratches are included. But you have to be careful in ordred to actually have these footages captured. Your Vantrue N2 Pro has to have the battery supply or the hardwire connection to the car.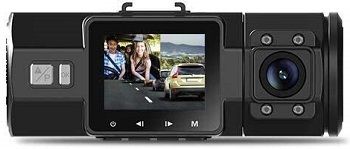 Built-in G-sensor
Vantrue N2dash cam automatically film the footages that are the lenght of three minutes long. If you want it to be shorter or longer, you can adjust it to your needs manually. But if you want your N2 Pro to make some footages at the exact moment, you have to press the parking button and it will start to film at that moment.
BUT if that happens during the car accident and you don't have the ability to hit that button, Vantrue N2 Pro will start to capture the footage automatically.
The sensibility of the G-sensor is also adjustable.
N2 Pro Vantrue And The PC
When N2 Pro dash cam is connected to your PC, there is three folders. Photos, events, and normal. Photos are the ones captured when you hit the parking button on your Vantrue dash cam N2 Pro. Event are footages that ari filmed manually or during the accident. This file is also for the footages that are filmed with the help of the G-sensor. Normal is the folder fot the rest of the Vantrue N2 dash cam's footages (most of the footages filmed automatically during the ride).
Features:
5 inch display
dual 1080P Full HD camera, Sony Exmor sensor
170 degree front/140 degree rear wide angle
infrared night vision
24h parking mode, G-sensor
Vantrue N1 Pro Dash Cam Review
Easy To Use
Vantrue N1 Pro is a small, handy dash camera.It is most simple, and also the cheapest of the Vantrue dash cam family. The design is plastic (but not cheap!) and it has the simple (not Micro SD) USB port. Hardwire kit is a possible alternative to the USB connection.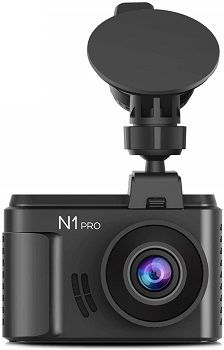 The 1080P Full HD Camera
Although small, Vantrue N1 Pro's camera does not lack sharpness. It comes in 1080P Full HD, which paired with Sony IMX323 2MP image sensor makes a great quality videos. N1 Pro films 30 frames per second, and has a 6-layer glass lens. You can manually choose 1080P Full HD or 720P (good for the night footages).
Lithium-ion Battery
N1 Pro does not follow the trend of supercapacitor batteries, but has the lithium-ion one. One of the advantages of using the lithium-ion battery is not having to install the  hardware kit in order to use the parking mode. The battery can take up from 20 minutes to few solid hours that way.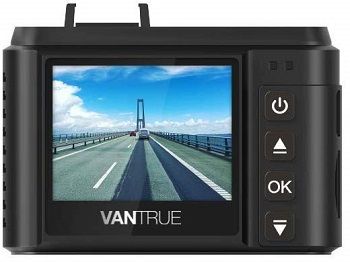 Size Of The Supported SD Card
Contrary to Vantrue N1 Pro's size, size of the supported SD card is one of it's greatest qualities and surprises. N1 Pro can take up to 256 GB, which is almost a full-week of non-stop filming.
Features:
1080P Full HD, Sony 2MP image sensor,
6-layer glass lens, 30 fps
30 amp lithium-ion battery
motion detection and emergency collision detection
optional GPS
Vantrue X4 Dash Cam Review
First 4K 160 Degree Camera In The World
Vantrue claims to have the first world's "true" 4K dash cam because of the 8MP Sony Sensor, while the usual 4K dash cams have only 4MP Sony Sensors. There are two resolution settings to choose: 2K@60 fps and 4K@30fps. 160 Degree wide angle is also this dash cam's superior video quality.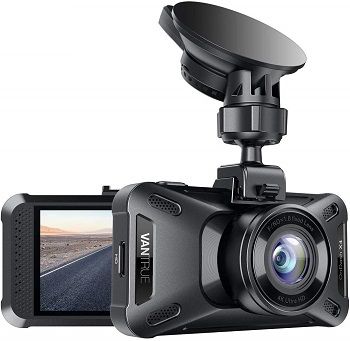 Super Night Vision And Wide Dynamic Range
4K cameras usually have problems with the night images. For the clear and crisp night vision, this dash cam combines super night vision with wide dynamic rage. Wide dynamic range makes combination of different light images and makes the best lighting-condition images by combining them, and than making videos out of them.
Super Capacitor
Instead of a lithium-ion battery, Vantrue X4 has the super capacitor. It helps dash cam works in extreme temperature conditions.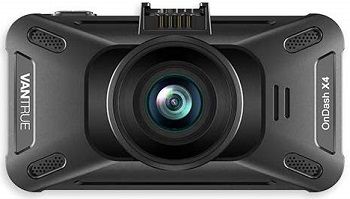 Loop Recording
You can manually adjust loop recording from 1, 3 to 5 minutes. This means that newest videos overwrite the oldest ones when the memory is full.
Time Lapse Function
Time lapse makes your Vantrue X4 capture images in wanted time intervals. These images are then connected to a video clip. It is great for space saving on memory card because it takes much less memory than the usual video capturing.
Features:
3 inch display
2K@60 fps and 4K@30fps
Sony 8MP image sensor
160 degree wide angle
super capacitor
optional GPS
Vantrue N2 Pro Installation Parts And Accessories
For the installation of the Vantrue N2 Pro dash cam, you need suction mount and the power cable. You put power cable into the port in the suction mount, tuck it into your car roof, and connect it to the connector board which is plugged in to your car.
Vantrue Manual Instruction
Every Vantrue dash camera manual is given in the product packaging with it. It is also ready to download from the website. Besides manuals, you can also download firmware updates. Follow the instructions and read the manual before use!
Conclusion: Which Vantrue DashCam Do You Need?
If you are looking for a handy and cheap dash cam that is also high quality, Vantrue N1 Pro dash camis the right dash cam for you. Discreet design, 1080P Full HD, 24 h parking mode, motion detection, all in small size make this camera a great value-for-money. But, if you are looking for more of a high-end dash cam,Vantrue N2 Pro dash camcould be the one. Dual1080P Full HD, Sony Exmor Sensor, and an infrared night vision make this camera a true friend in the car.
If you haven't found your match, read my article with reviews of best dash cams and you might find want you need. You can read about dual dash cameras here, and also about hidden car camerass so you can hide them in your car.