Would you like to get a dash cam that records speed but not sure which one is the best?
We are here to help you out!
In this article, you can read all about the top five best models when it comes to dash cameras that can record the speed you are driving at. Since there are many models on the market, we hope this article will help you narrow down your options and choose the best one for yourself!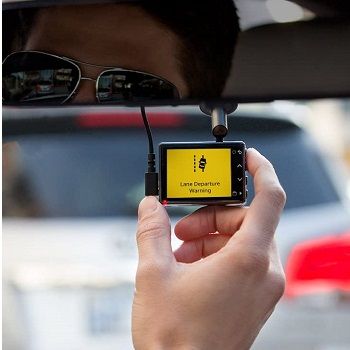 Things To Know When Buying A Dash Cam With Speed Indicator
What Is A Dash Camera?
A dash camera is a camera you usually mount to your car's windshield and it is used to record the road ahead of you. It is great in case of an accident because you have the evidence which you can then show to the authorities. They also alert you when you start drifting away from your lane or when you are getting to close to the car in front of you.
What are some of the dash camera features?
Dash cameras come with a bunch of different features. The most important is the camera viewing angle and lens resolution. You can also get features such as Parking Mode, Emergency Recording, Loop Recording, built-in GPS, etc.
Why Is Speed Indicator An Important Feature?
The speed indicator is a feature that comes with dash cameras that have a built-in GPS and can be connected to wifi. They will show you your current speed, as well as your location and driving route. Sometimes they even warn you when you are driving way to fast.
Where To Buy A Dash Cam With Speed Detector?
The best place to buy a dash cam with a speed detector is online. The site we recommend is Amazon because there you can find the biggest variety of brands and different models. We also made sure that all of the models mentioned below are available on Amazon.
Best 5 Dash Cam With Speedometer Reviews
Best Hidden Dash Car Camera With Speedometer
Garmin Dash Cam 55
Good Quality Small Camera
The first dash cam that records speed we are going to review in this article is by the brand Garmin. It is their dashcam 55 model which is very small and almost unnoticeable when you mount it on the windshield. It comes with a high-quality 3. 7-megapixel camera and 1440p resolution of the videos. The camera works well in daylight as well as at nighttime. To view all of the recorded footage you will get a 2.0″ LCD.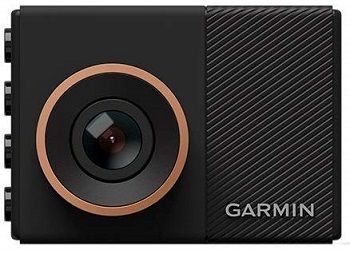 Warnings And Alerts
One of the benefits of this Garmin dash cam 55-speed camera is that it will give you warnings when you start straying away from your lane. Also, you will receive alerts if you are driving too close to the car ahead of you. The great thing about this dash camera is that you can command it with your voice and keep your hands on the wheel for more safety.
Connect It To Your Smartphone
One of the features that come with this Garmin dash cam speed camera is the built-in wifi which allows you to connect to your smartphone and sync or download all of the videos. All you will have to do is download the free VIRB app on your phone. It is also much easier to share the footage with others through your phone.
GPS Feature
With this best dash cam with speedometer, you will get a built-in GPS that will show you your current location, speed, date, time, etc. The G-Sensor feature will also automatically start recording in case of an accident. It will also then lock all of the footage recorded in the case of an accident so it won't get overwritten if the memory gets full and you can use it as evidence.
Features:
7-megapixel camera
1440p video capture
0" LCD display
Best Dash Cam With GPS Speed
Rove R2-4K Dash Cam
High-Resolution Lens For Day And Night
Next, the best dash cam with the speed camera detector we are going to mention is the Rose R2-4K dash camera. It is a high-quality camera that can record videos in a resolution up to 2160p. All of the videos are crystal clear and there is a definite difference in quality when you compare it with other dash cams. With Super Night Vision Technology, you are also able to get clear videos and images in low-lighting conditions.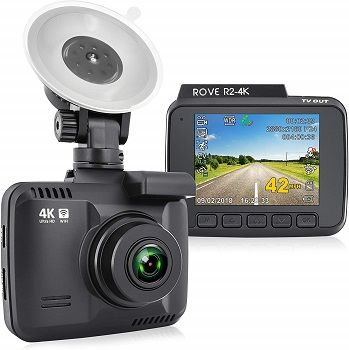 Dash Camera With GPS
One of the main benefits of this dash camera is that it comes with the built-in GPS which can accurately record your driving location and speed. You can also view your driving route or use it to navigate you to your desired location. It comes with the built-in Wifi and you can connect it to your phone to easily download the videos or share them with friends and family.
Other Features Included
Other features included with this dash camera with speedometer are f1.8 apertures, motion detection, parking mode, G-sensor, loop cycle recording, emergency video lock, slow-mo video, and time-lapse video. It supports microSD cards up to 128 GB, but the card is not included when you buy the camera.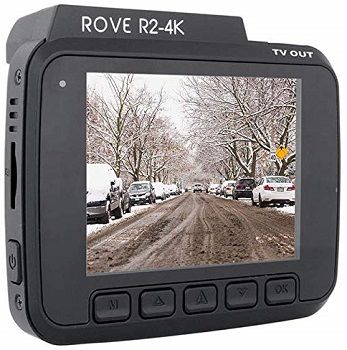 In The Package
With this Rove dash camera, you will also get a dual USB car charger, USB power cable which is 12 ft long and one USB data cable that is 2.5 ft long, 360° Suction Mount, 360° 3M Spare Sticky Mount, Car Wiring Tool, 5x Cable Hiding Clips, user manual as well as the registration card. Aside from all of those accessories, you will get a one-year warranty and a 30-day full refund if you have any doubts about the product.
Features:
resolution up to 2160p
Super Night Vision Technology
built-in GPS
Equipment included
Best High-Resolution Dash Cam With Speedometer
70mai Dash Cam Pro
Camera And Lens Features
Another dash cam that records speed we are going to share with you today is the 70mai Pro GPS speed model. This one features the Sony IMX365, 6-glass lens, F1. 8 aperture, 2592x1944p FHD with WDR 140° wide-angle and can capture cleat images even in low-lighting conditions. The rotatable 140° wide-angle has great coverage of the road ahead and its sides.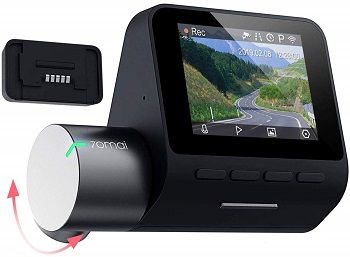 Recording And Storage
One of the benefits of this 70mai GPS speed dash cam is that it has a G-sensor which can detect collisions and will automatically start recording if that happens. It will also lock that footage so it doesn't get overwritten later when the memory gets full. That kind of recording feature is called Emergency recording. With the Loop recording feature, each moment is captured automatically and gets overwritten once the memory is full. All of the footage is saved on the microSD card with a capacity of 16-64GB.
Built-In Wifi
With this dash cam and speed camera detector, you will get integrated wifi which means you get fast access to downloading ad sharing your videos. The built-in GPS also uses that wifi to detect the location and current speed of driving.
Monitor Your Parked Car
With the Parking Mode, you will be able to detect any motions or vibrations next to your parked car. That way you can prevent vandals or car thieves to demolish or steal your car once you parked it. But for that, you will have to have a continuous power source.
Features:
2592x1944p FHD
6-glass lens
140° wide angle
Parking mode
Built-in GPS
Best Dash Cam With Speed Display
WheelWitness HD PRO Premium Dash Cam with GPS
Processor And Lens Features
The next dash camera with the speed detector we are going to review in this article is b the brand WheelWitness. It records all of the videos and pictures in high resolution because it is equipped with the Ambarella A7LA50 processor and a 170-degree super wide-angle lens. It can cover all of the roads in front of you in the ultra-clear Super HD 2k, in crisp 2304x1296P resolution. Due to the WDR/HDR Technology, it can capture all of the details even in the dark.
3.0" LCD Screen Included
Aside from the camera, you will get the 3-inch color LCD which shows you a preview of everything that your camera sees. On the screen, you can also choose various settings via four physical buttons, two on each side of the screen.
G-Sensor And GPS Feature
You will get the G-sensor which will automatically detect car accidents and start recording them as well as it will lock all of that footage to prevent it from getting deleted. With the GPS mode, you can capture the speed, location, and coordinates of your car. All of the footage is saved on the microSD card that isn't included in the package.
Easy To Install
Before you start using this product all you have to do is insert the SD card, mount the suction cup and plug in the power. After that this dash cam will automatically start recording when you start driving. However, keep in mind that when the power is cut off, the camera will turn off and recording will stop.
Features:
The 3-inch color LCD
170-degree super wide-angle lens
Easy installation
WDR/HDR Technology
Best Dash Cam With Speed Camera Warning
Vantrue S1 Dash Cam with Built-in GPS Speed
Dual Camera
The last best dash cam with the speed camera we are going to mention in this article is the Vantrue S1 dash camera model. It is a dual cam that comes with the 170° front and 160° rear FHD 1920x1080p 30fps lens. It has a discreet design which makes it unnoticeable behind your rearview mirror. Because of its size, it doesn't block the driver's sight. Due to the HDR feature, you can get the same high-resolution in all lighting conditions.
Built-In Gps And Supercapacitor
Just like all of the previously mentioned models, this one also comes with the built-in GPS module which allows you to check the exact driving route, speed and location. The SuperCapacitor is used as a power source instead of a lithium battery and can withstand different temperatures conditions.
Parking mode and time-lapse
One of the features included with this dash camera is the parking mode. It allows for both cameras to auto-start record once the front car camera detects motion surrounding your parked car. For the 24-hour parking mode, you will have a constant power source. The time-lapse feature takes photos at the set time interval and auto edit them together to make a video clip.
What's In The Package?
In the box, you will get one front dash camera, rear camera, 10ft car charger. 3ft mini USB cable, 20ft rear camera cable as well as the front and rear camera brackets and adhesive stickers. You will also get a full 18 months warranty in case you have any technical problems with your dash camera. The SD card isn't included, but you will need to buy it to save the recorded videos.
Features:
170° front and 160° rear FHD 1920x1080p 30fps lens
Built-in GPS
Supercapacitor power source
Conclusion: What Is The Best Dash Cam That Records Speed Available On The Market?
In my opinion, two of the best dash cam with speedometer are Vantrue S1 Dash Cam and Rove R2-4K Dash Cam models. The first one is a dual camera that records in high-resolution front and rear. The other one is the single-cam that records in resolution up to 2160p both at daytime and night time. Both models come with built-in wifi and GPS that can detect your current location and speed.
If you want to know more about the best dash cam models, check out our article on that topic. If you are interested specifically in wireless dash cams or dual dash cams, read our two articles!