Have you ever found yourself in a car accident where nobody knows what happened and there is no evidence or chance of finding that out?
Or have you ever thought about that situation and want to prevent it? If so, a car dash camera is a perfect solution for you. Today we will present dash cameras overall, and Rexing dash camera specifically.

The Rexing USA Company
About Rexing USA
The company prides itself on two main things: quality and care. Rexing dash cameras are some of the best-selling dash cameras. At the same time, they receive a bunch of reviews of Amazon customers. They claim to be committed to customers in a way of listening to their needs and answering their questions. They are also striving to become a leading brand in this area of producing dash cameras.
Where To Buy Rexing Car Dash?
If you look for it on the Rexing USA site, you can find a link to both the Rexing store and Amazon too. We recommend Amazon as the most reliable online retailer, plus it often has lower prices and discounts.
Value For Money
Many recent dash tests show Rexing V1 Car Dash Cam as the best value for money option.  It's discreet and invisible-to-the-other-drivers design makes it appealing from the outside. On the inside, there is a high video quality automatic-locking file recorder.
Customer Service And Warranty
The company provides a 30-day hassle-free return policy and a 12-month warranty that covers product malfunctions. These malfunctions can not be caused by physical or liquid damage. Warranty can be extended to 18 months if you are registered to their site.
Product Support
There is a great range of products to access manuals, software, and videos for all of the Rexing's car dashes. They have frequently asked questions answered and video guides which makes these car dashes very user-friendly. Also, there is a free app to download with 3D-guided interactive instructions.
Best 5 Rexing Dash Cam Review
Rexing V1 dashcam
The Full HD Camera
One of the biggest reasons for the Rexing V1 dash cam's popularity is its great camera. Its six-layer lense and 170-degree angle it gives optimal recording with the ultrawide angle of everything that's happening around your vehicle. It can capture almost every detail at any angle. Wide Dynamic Range technology makes the camera automatically adjustable to any lighting situation. Camera's night vision is not that perfect but blurry a bit.
Footage View
Videos are recorded in 1 to 3-minute intervals, while new recordings overwrite the old ones automatically. It has WiFi connection (by using their app) so you can save the footage on your phone device which makes sharing footages super-easy. Nevertheless, footages are safely locked from being overwritten if the collision happens because of the camera's G-sensor.
Design And Resolution
Rexing V1 dash cam has an extremely low-key design which makes it invisible to other drivers. It is one of the reasons for its popularity.  This camera can be put anywhere on the windshield and it's black and unusual design is not recognizable on the road as a dash camera. That way it will less likely be stolen and passengers in the car won't notice it that much. Rexing V1 has a full-resolution with 1080P in HD.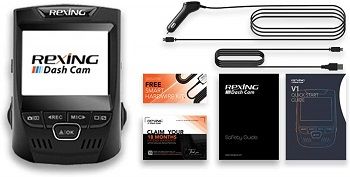 Why Rexing V1?
Given the camera's discreet design, full resolution, great camera, and wide filming angle it is sure one great dashcam. Considering that and also features which make footage filming and footage watching so easy, it is not hard to understand why Rexing V1 enjoys such popularity. The price is also right, so it is indeed one great value for a money dash camera.
Features:
discreet design
170 angle camera and 1080P full-resolution
G-sensor for accident detection
has WiFi
able to create vivid images, but the night vision is blurred
automatical overwriting of the old records
Rexing V1P dashcam
Design And Resolution
Rexing V1P dash cam has kept the low-key profile look like it's younger brother, Rexing V1. Invisible to the others and discreet. The front camera has kept the resolution of 1080P, but the difference is that V1P has dual channel recording.
The Full HD Dual Camera
This dual camera records from two separate perspectives by connectiong rar camera to the front camera. Front camera has 1080P full HD resolution and Sony Starvis image sensor. This Sony Starvis makes camera more adjustable to the dark. Just like V1, this model also has a 170 degree angle to capture the view of the road the best it can. The 6 layer glass lens beautifully captures surroundings.
Supercapacitor Power
Rexing V1P dash cam's power is being brought by supercapacitor which is alternative to lithium-ion battery. It is resistant to hot and cold climates and can withstand temperatures from -20 to 176°F.  That way, the risk of overheating is minimum and life of the supercapacitor is much longer than life on the standard battery.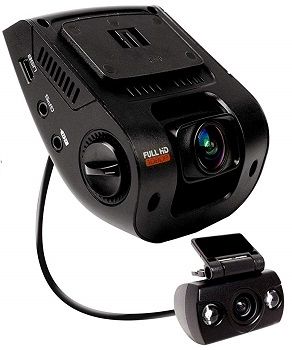 Parking monitor And Why It Matters
Parking monitor feature makes camera automatically turn on and record when there is some vibration occured. It means that your dash cam is powered on while inside vehicle is not operated and that way protects your vehicle when you are not inside of it and driving. To activate parking mode, you need to connect the smart hardware kit to it.
The Loop Recording Function And Gravity Sensor
The loop recording function makes this camera reliable in a way that it records without interruption when the limit on the storage card is already reached. The new recording automatically overwrites the old ones. There is SD memory card that holds up to 256GB in memory size so when the memory is filled and G-sensor detects collision, the current video is locked and protected and save from being overwritten.
Features:
discreet design
dual camera and 170 degree ultra wide angle lens
supercapacitor and parking monitor
loop recording and G-sensor
WiFi connector
Rexing V1P Pro Dual
The Double Full HD Dual Camera
Rexing V1P Pro has kept all of the great V1P lens characteristics (1080P front and rear camera and 170 degree ultra wide angle lenses). Rexing V1P Pro Dual is the first dash camera that records withthe two full HD 1080P dual cameras from two different perspectives to make it into one by connecting them. What makes it even better is 120 degree wide dynamic range which helps visual clarity in all types of lighting conditions.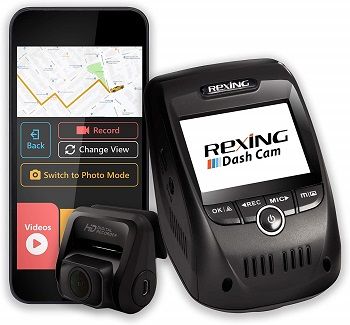 Built-in Rexing GPS Logger
Without the need of externalGPS device, Rexing V1P Pro Dual has it both dash camera and GPS.  With Rexing GPS logger you can mark all relevant informations like time, data, location and speed information to all your recordings.
Supercapacitor Power
This camera has supercapacitor as an opposite to regular lithion-battery and can stand temperatures from -20 to 176°F. It means enhanced temperature resistance to hot and cold climates.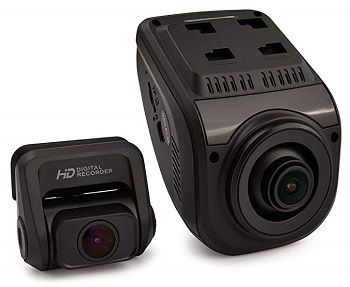 Recording And Connection
V1P Pro has the WiFi connection via both Android and Iphone app to your mobile device. It's recordings are split into segments. When the storage is full it just overrecords the footage over the oldest one. The Gravity sensor is there to detect a collision, lock a current video and then ensure the new footage is being protected. You can add micro SD card up to 256GB in memory.
Features:
discreet design
double 1080P camera, 170 ultra wide angle and 120 degree wide dynamic range
GPS system
loop recording, G-sensor
supercapacitor power
WiFi connection
Rexing V1 3rd Generation
The Single Ultra HDCameraLense
Rexing V1 Generation 3 has only one camera lense, unlike the other Rexing cameras. Ultra HD recording with 2160P combined with wide dynamic range gives maximum picture resolution and clarity. With it's advanced image sensor it automatically adapts to all life conditions. 170 Degree ultra wide angle lens also makes this camera capture beautifully the surrounding.
Loop recording And Gravity Sensor
When the memory card reaches the storage limit, new recordings automatically overwrite the old ones. Gravity sensor makes sure that any collision means that current video is locked and safe in storage. Rexing V1 Generation 3 supports UHS-I.  Because of these two technologies, your most important footages are safe.
Rexing V1P Generation 3
Similar characteristics to Rexing V1 Generation 3, with slight differences. Rexing V1P Generation 3 also has – wide dynamic range technology and 170 degree ultra wide angle lens. Rexing V1P Gen 3's camera is in double HD, they  both record Full HD 1080P video at a frame rate 30 frames per second.
Features:
discreet design
single 2160P/double 1080P, wide dynamic range, 170 degree ultra wide angle
WiFi connection
loop recording, Gravity sensor
parking monitor with 24 hour protection
170 degree ultra wide angle lens
Rexing V1LG
The Double, Single HD Camera
Rexing V1LG comes with double HD camera: front camera captures 1080P and has wide dynamic range that makes the camera perforrm optimally during the night. Rear camera captures 720P. These two cameras capture the video in HD simultaneously, up to 1080P+720P resolution.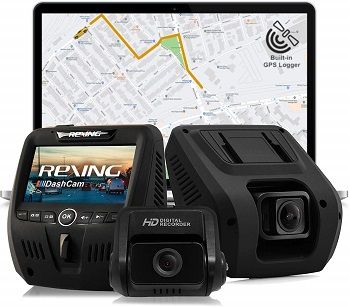 Accidental Auto-Detection (G-Sensor), WiFi Connection and GPS
Rexing V1LG has a built-in sensor which makes them capture the footage automatically when the sensor detects a collision. The footage is locked and protected from being erased or overwritten.
V1LG has no WiFi connection to your mobile phone.
V1LG's GPS is internal unlike the models mentioned before
Rexing V2 Recording
Rexing V2 also has dual-channel recording with front and cabin cameras that both record in 1080P. Cabin camera helps to see the night footage with clarity. Wide dynamic range technology is included. What makes V2 special is infrared night vision. This model is recommended for the taxi drivers and ride-sharing services by the Rexing USA Company and Amazon too. Rexing V2 has WiFi connection to your mobile phone. It has the external GPS system.
Features:
discreet design
double HD cameras
wide dynamic range
infrared night vision (Rexing V2)
G-sensor
GPS, WiFi (Rexing V2)
Conclusion: Which Rexing Car Dash Cam Do You Need?
Rexing V1 Dash Camis this company's absolute best-buy if you want dash camera that is high quality and also great value for money. It's discreet design, supercapacitor, good camera, capture capacity and footage storage make it a whole-package.
If you think that this is not the prefect match for you, read my post about best dash cam models and I am sure you will find what you are looking for. There you can read about cheap dash cams if you have a limited budget, or even hidden car cameras if you don't want others to know you have one.