Are you interested in buying the Cobra dash camera for your vehicle?
You should read my article!
Here I will describe the top five dash cameras by this brand. You can read all about their characteristics and technical specifications. Compare these Cobra dashboard camera models and find the perfect one for yourself!
Things To Know About The Brand Cobra
Company's History
Cobra Electronics is the leading global designer and marketer of communication and navigation products. The company was founded around 60 years ago, more precisely in 1961 in Chicago, Illinois where they still have their headquarters today. However, nowadays they have also expanded to the European market as well. Their first products were Radios.
Cobra's Products
They are known to deliver innovation as well as award-winning products since their early beginnings. Today their products include radar detectors,  navigation units, power inverters, jumpstarters and wireless solutions which all provide safe and stress-free commute for all of the drivers. Some of their products also help to eliminate distractions when driving and have features such as one-touch dialing, voice commands, and text-to-voice conversion.
Best Choice For Professional Drivers
All of their products are great for both professional drivers but also people who drive their private cars day today. Their products will save drivers time and money with real-time traffic updates and truck-friendly navigation routes. They also offer extra protection when it comes to thefts, front collisions, drifting from the road, etc.
Forward Thinking Technology
All of their technology is very advanced. They use very sensitive motion detectors, highest-resolution cameras, automatic operation, etc. All of that will give you a very modern driving experience, which is one of the main reasons why people love this brand so much.
Cobra Dash Cam App
When it comes to their dash cameras, one of the best features they have is the Cobra drive HD app. You can download this app on your phone and connect your phone with the Cobra dash camera through Bluetooth. Though the app you can get access to your location, current speed as well as alerts on the upcoming red light and speed cameras, police location, etc.
Best 5 Cobra Dash Cam Reviews
Best Cobra Drive HD Camera
Cobra Drive HD Dash Cam
Full Front And Rear Coverage
The first Cobra dash cam review we are going to share with you today is on the Cobra Drive HD dash cam. It is a dual camera that comes with the 1080pixel front and 720pixel rear coverage. It has the automatic loop recording feature which records videos in 3, 5 or 10-minute loops. Due to the G-sensor, all of your footage is protected and cannot be overwritten.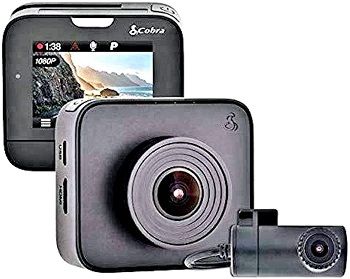 Extreme Temperature Protection
This Cobra Drive HD camera is built with the supercapacitor technology which allows it to withstand extreme temperatures in your vehicle. It was tested to perform well in the most frigid cold and hot conditions.
Parking Mode
To protect your car from thieves, you will get the parking mode which automatically records when your car is parked if there is any motion detected surrounding it. That way you can catch thieves in action and have evidence for the police.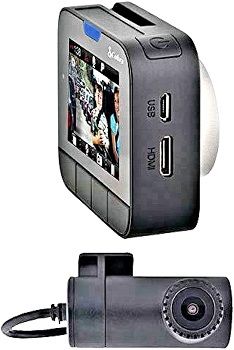 Easy Installation
This Cobra dashcam is super easy to install and set up before you use it. It comes with the 32GB MicroSD Card, HDMI cable and the car mount included in the box. Aside from the automatic recording feature, you will also get the automatic turn off the feature.
Features:
2" screen
Dual camera
G-Sensor
Best Cobra HD Dash Cam Review
Cobra Dash Camera DASH2208
Super HD Footage
Cobra 2208 dash cam is another popular Cobra model we want to review in this article. It comes with a dual-camera for the complete road coverage of the road ahead and the space behind your car.  The front camera has a resolution of 1080P and the rear camera has a resolution of 720p.  It records well in cases of traffic accidents, road trips or just mundane commute.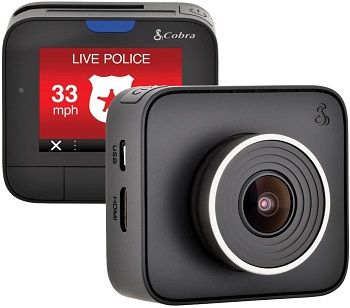 Even More Protection
You will get the Advanced Driver Alert System which will warn you about forwarding collisions as well as drifting out of your lane. Also, it can be connected to your smartphone via Bluetooth and you will be able to know the exact location of every recording. You can also connect it to the iRadar App and get alerts about the upcoming speed cameras, live police locations as well as red-light cameras.
Installation And Operation
With this Cobra das camera, you will get the 8GB Micro SD Card, low profile adhesive mount, and a vehicle power adapter which allows you to mount, power and drive! You will also get the Loop Recording which continuously records the road ahead as you drive and overwrites the old footage once the SD card gets full. It also has the automatic shut down feature which means you don't have to worry about turning it off, each time you leave the car.
Other Features
You will get the Parking mode with this Cobra Dash cam, which starts recording, once the motion was detected. Another feature is the Drive HD Software which lets you edit your view and edit your footage, even the recordings made at nighttime.
Features:
Parking mode
Loop recording
Drive HD software
Dual camera
Advanced Driver Alert System
Best Cobra Dual Dash Cam Review
Cobra Dash Camera DASH 2316D
Comes With Dual Camera
Another one of the Cobra dash cams we are going to review in this video is the Cobra dash 2316d camera. This one comes with the dual camera, one for the front and one for the rear. The front camera records videos in 1080p, while the rear records in 720p resolution. It can record all of the details no matter if it is daytime or nighttime.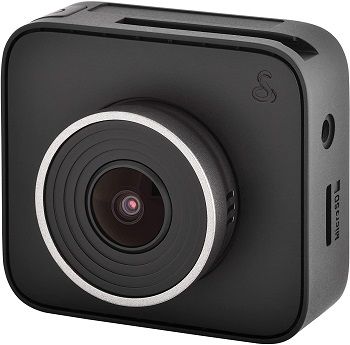 iRadar Bluetooth Connectivity
You can connect Cobra 2316D to the iRadar app on your smartphone through Bluetooth. That way you get the information such as where the next red light or speed cameras are, where are live police location, etc. You also get the information on your current location and speed at all times through the G-Sensor.
Extreme Protection
One of the main benefits that come with this camera is the Advanced Driver Alert System which provides forward collision and land departure warnings to warn you if you are drifting out of your lane or if you are approaching an object in front of you. It way also built with the supercapacitor technology which means it can withstand extreme temperature sin your vehicle. That means you are protected no matter how hot or cold it is.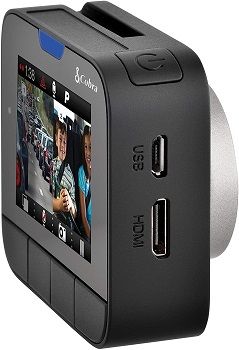 Easy Installation
Along with the camera, you will also get the 16GB MicroSD card, low profile mount, and the vehicle power adapter. All you have to do before you use this camera is to simply mount it, power it and drive. After a while of not moving the vehicle, the camera turns off on its own.
Features:
Front and rear camera
iRadar connectivity
16GB MicroSD
Best Cobra CDR Dash Camera Review
Cobra Electronics CDR 840 Drive HD Dash Cam
Know The Location Of Your Footage
The next one on our list is the Cobra CDR 840 dash camera. This one will allow you to record the road while driving so you can rewatch it later in case anything interesting or dangerous happens! One of the main benefits of this product is that it comes with internal GPS which allows you to know the exact location of every recorded video. The free PC software will also allow you to see the G-sensor location along with the location.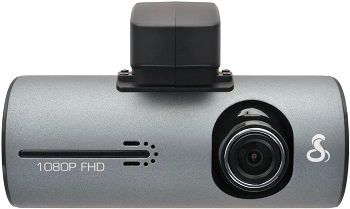 HD Camera
The camera comes with the 118° viewing angle which allows you to record the road in front of you but also the sides of the road. All of the videos are crystal clear and come in the 1080p HD format. You can view all of the videos on the 1.5″ LCD screen or your tv or computer.
Video Storage
This Cobra dash cam 840 comes with the 8 GB memory card which automatically saves all of your forage. Another great feature is the Continuous Loop Recording which will automatically overwrite all of the old footage once the memory cards get full. That way you never have to transfer your footage somewhere else to record new footage.
G-Sensor
An additional feature included with this dash camera is the G-Sensor. It can detect sudden acceleration and collisions and automatically capture and protect critical footage. That way you have evidence in case of an accident.
Features:
G-Sensor
118° viewing angle
5″ LCD screen
Internal GPS
Best Cobra Drive HD Dual View Dash Cam With iRadar Review
Cobra Electronics CDR855BT Dash Cam
User-Friendly With Advanced Features
The last Cobra dash cam we are going to share with you in this article is the Cobra CDR 855 BT. It is one of Cobra's most popular dash cameras. It allows drivers to protect their vehicle, record their driving and then watch and share interesting footage of the road ahead with others.  It has all of the most advanced features but is still super user-friendly.
Camera Specifications
The CDR 855 BT dash cam comes with the ultra-wide 160° viewing angle which records videos in 1080p HD. That way you can film the entire road ahead as well as the periphery. The recording is automatically optimized for the best clarity in the daylight or at nighttime. It also has a two-inch LCD screen as well as the embedded G-Sensor which automatically saves all of the footage. Due to the new SnapShot feature, you will be able to snap a photo at any time while the video is recording.
Bluetooth Connectivity
Another benefit is that you can connect it to your smartphone via Bluetooth Smart wireless technology. Your Cobra CDR 855 will be connected to the Cobra iRadar app. That way you will get new features such as GPS location, time, speed information as well as alerts on the upcoming red light cameras, live police locations, etc.
Other Specifications
When it comes to setting up this Cobra dash cam, all you have to do is simply mount it, turn it on and start driving. You will also get the Parking mode for more security while your vehicle is parked. If the camera doesn't detect any motion for a certain period it will turn off automatically.
Features:
1080P Full HD
Bluetooth Enabled GPS
Simplified User-Interface
0" LCD Screen
160° Viewing Angle
Cobra Parts And Accessories
When it comes to equipment that comes with most of the Cobra dash cameras, it is usually Cobra dash cam mount, Cobra micro USB hardwire kit and power adapter. Also, you get the Cobra dash cam reinserts sd card included inside of the product which allows you to save all of the footage automatically. All of these products that come with the cameras are original, but you can also get universal ones.
Cobra Manual And Instructions
Manuals with all of the instructions for each specific model are available on the Cobra official website. You can find the Cobra CCDC4500 dash cam manual and all the other models we mentioned here on that website. There you can find all of the instructions on how to use it and install it. We advise you to read the manual and all of the Cobra dash cam installation before you use the product for the first time.
Conclusion: What Is The Best Cobra Dash Cam Currently Available On The Market?
In my opinion, two of the best Cobra dash cameras are CDR855BT Dash Cam and the DASH2208 camera model. Both of them have iRadar connectivity as well as the cameras that record in 1080p HD resolution. The CDR 855 BT model comes with the 160-degree viewing angle, while the Dash 2208 model has both front and rear cameras.
If you are looking for the best dash cam, check out our article on where we mention some of the best models divided into different categories. Read all about some of the best dual dash cam models on the market in our new article! We also have an article all about the wireless dash cam models where we reviewed the top 5 models!