Have you been wanting to buy one of the Apeman dash cam models, but can't decide which one? Or maybe you never heard of this brand and want to know more?
You came to the right place!
This short buying guide is written to help you out either way. We bring you all of the information you need to know about this brand but also review the top five Apeman dashcam models. After you're finished reading, it will be easy for you to choose the best one for yourself!
Things To Know When Buying One Of The Apeman Dashcams
About The Brand
Apeman is one of the most popular brands when it comes to premium camera products. It is a fairly new company, which was founded not too long ago, in 2016. They specialize in action cameras, dash cameras as well as security cameras. So, if you are looking for a cost-effective, stylish and most importantly reliable camera- Apeman is the best choice!
Where To Buy Apeman Products?
The company is originally from China with headquarters in Shenzhen, Guangdong. However, they offer their products to customers all over the world. You can find them online, on their official webshop, but they also have other online retailers. The one we recommend is Amazon.com where you can find many different models under fair prices.
What Are Some Of Their Most Popular Dash Cams?
This brand offers a big variety of different dashcam models. Some of them are Apeman c420 dash cam, Apeman c450 dash cam, Apeman c860 dash cam, Apeman c470 dash cam, Apeman c550 dash cam, Apeman c570 dash cam, Apeman dashcam c580, Apeman dashcam c660, and many others. To find out which ones are our top 5 picks, read the whole article!
Best 5 Apeman Dashcam Reviews
Best Apeman Dash Cam 1080p
Apeman Dash Cam 1080p
High-Resolution And Wide Angle Lens
The fist Apeman dash cam review is on the Apeman dash cam 1080p model. This is a great model that comes with the FHD lens, super high resolution of 1080p as well as a 3-inch LCD screen. The camera has a super-wide angle of 170-degrees which means you will get a wide field of view with little to no blind spots. This Apeman FHD 1080p camera can capture all the little details crystal-clear.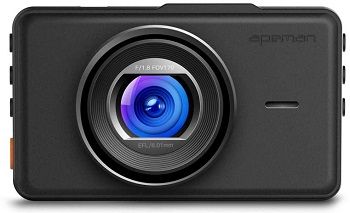 Equipment And Set Up
In the package, you will also get a suction mount, adhesive mount, user manual as well as the car charger and mini USB cable. The microSD card isn't included but you will have to get one if you want to be able to save your footage. The maximum capacity of the micro SD card can be about 32 GB. The set up is super easy as well as the operation. You can hide this Apeman 1080p dash cam behind the rearview mirror so it is not distracting to the driver. The settings are already set to default settings all you will have to do is set time and date.
Footage Protected In Case Of Accidents
When there is an accident all of the footage will automatically be recorded and saved. That is due to the built-in G-sensor which locks that footage and prevents it from being overwritten even in the loop recording settings. That way you have evidence in case you need it.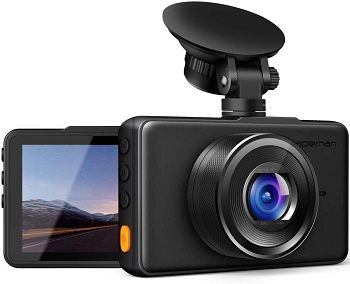 Night Vision Mode
Not only does this Apeman dashcam 1080p record high-resolution footage at daytime, but also at nighttime. It comes with the combination of an F1.8 large aperture, WDR, and HDR which all ensure clear images and videos at night. You also won't need any auxiliary light sources in low-light environments.
Parking mode
Another benefit of this Apeman dash cam FHD 1080p is that it comes with the parking monitoring feature that will monitor your car's surroundings when your car is parked. It will start recording if there is any motion detected surrounding your car. Itis is great for protecting your car from vandalism or theft.
Features:
170-degree wide viewing angle
1080p resolution
3-inch LCD screen
built-in G-sensor
8 large aperture, WDR, and HDR included
Best Apeman Mini Auto Dashcam
APEMAN Mini Dash Cam
Updated Version
The next Apeman model we are going to share with you in this article is the Apeman mini dash cam. It is the Apeman dash cam c420 which has a lightweight, mini design, unlike its previous versions. The size of this c420 Apeman is perfect for hiding it behind the rear mirror. There is also an upgrade of the button which is a lot more comfortable and user-friendly.
Great Lens Features
It records all of the footage in the 1080P Full HD and has a 170-degree viewing angle so you get great coverage of the road. It can capture three lanes without any distortion and you will get no dead angles. There is also a high-end processor included which records at 30 frames per second. Due to the advanced sensor, it captures every single detail in the daylight, but also at night.
User-Friendly
One of the main benefits when it comes to this Apeman mini dashcam is that it is super easy to use. All of the settings are already set and you also get all of the needed accessories, so you can use this Apeman dashcam immediately. It will take you only two minutes from the unboxing of this product to installation and use.
All-Weather Monitoring
With this camera, you will get the Motion Detection feature as well as the Parking Monitoring feature. That means that the camera will automatically start recording whenever there has been a collision or any shakes, or when it detects any kind of motion around your parked car.
Loop Recording Feature
All of the footage recorded with this dash camera is saved on the micro SD card with a maximum capacity of 32 GB. However, keep in mind that the micro SD card isn't included in the package. You will get two features- Loop Recording and G-Sensor which ensure that all of the old videos are overwritten once the memory card is full. That way you will get the continuous recording no matter what.
Features:
lightweight, mini design
170-degree viewing angle
1080P Full HD
Loop Recording and G-Sensor
Best Apeman Dual Dash Cam
APEMAN Dual Dash Cam
Front And Rear Lens
Another one of the dashcam Apeman models we are going to mention today is the Apeman dual dashcam which is also from the Apeman mini dash cam c420 series. It comes with the sharp full HD 720presolution and dual 170° ultra-wide-angle lenses which provide a broader field of vision and outstanding image quality. Due to the Advanced Starvis Sensor, WDR technology and F1.8 Large Aperture, it can capture the finest details even in super low-lighting conditions.
Best Quality And Reliable Functions
This camera model comes with all of the features you would expect to have an ideal car cam. You get the G-sensor which saves the videos in case of accidents. You also get non-stop recording due to the Loop Recording feature. Some of the other features that are included are Motion Detection, Parking Monitoring, etc.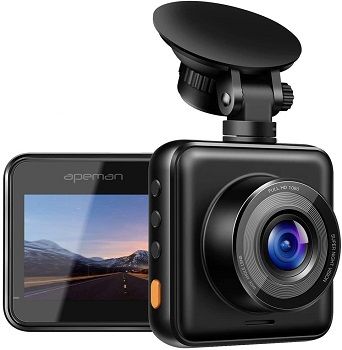 Compact Yet Modern Design
The important thing about this Apeman dashcam is that it fits any car and doesn't block your line of sight. You also get the 2-inch TFT screen which allows you to use all of the recordings in real-time, but won't distract you from driving. Dimensions of this model are 9 x 4.7 x 2.1 inches.
Easy To Use
Another benefit of this model is that it comes with almost all of the needed accessories. Aside from the Apeman dual dash cam, you will get one car charger, one micro USB cable, one suction mount as well as the user manual with all of the instruction. The set up is easy and quick, just follow the instructions. However, the Apeman dash cam sd card where all of the recordings are stored isn't included in the price.
Features:
2-inch TFT screen
Front and rear 720p HD camera
Advanced Starvis Sensor, WDR technology and F1.8 Large Aperture
Best Apeman Car Dash Cam
APEMAN 4K max Dash Cam
Modern But Discreet Design
Apeman 4K max dash cam model is the next one we are going to talk about. It is a very modern dash cam that comes with a large 3-inch OLED touch screen and a very discreet design. The screen on this dashcam is the same as the one on iPhone 11 and has better color contrast ratio, viewing angles, as well as less power consumption when you compare it to a normal LCD screen. This camera is going to be well-hidden but will still capture everything that is going on the road ahead of you.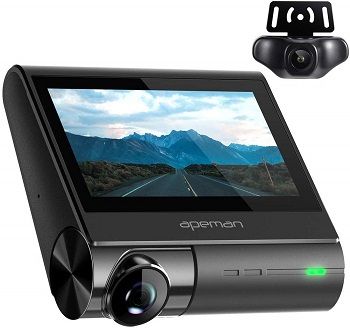 Superior camera resolution
With this dash cam, you will get the single and dual cam mode. Both of them record videos in the 1080p full HD providing you with the best picture and video quality. The lens for the front and rear both have an ultra-wide 170-degree angle which gives you full coverage of the area.
Wifi And Detachable GPS
This Apeman dashcam full HD can also connect to wifi from your phone. That way you can check and download videos on your phone and share them on social media. You can also update your camera at any time. One of the major benefits is the Apeman GPS that is also included. With it, you can track your location, direction, date, and speed at any moment.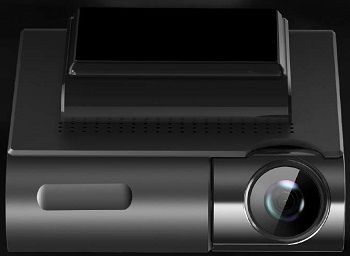 Other Features
Like most of the other Apeman dashcam models, this one also comes with the Parking mode, which will detect strange vibrations in front of your car when it is parked. Another feature is the G-sensor which has been updated to be even more sensitive to movement and vibrations. Thanks to the seamless loop recording your new footage will automatically overwrite the old one, so you won't have to format it as often.
Features:
170-degree viewing angle
single and dual cam mode
3-inch OLED touch screen
Detachable GPS included
Connects to WiFi
Best Apeman FHD Dash Camera
APEMAN Dash Cam FHD
High-Resolution Dual Camera
The last Apeman dashcam review we are going to make it on the Apeman FHD dash cam model. This one consists of a front and rear camera, but has a hidden design and won't distract the driver. It comes with the 170-degree angle for both front and rear cameras which provides you with a three-lane coverage. The resolution on this Apeman dual dash cam is 1080p for the front camera and 720p for the rear camera.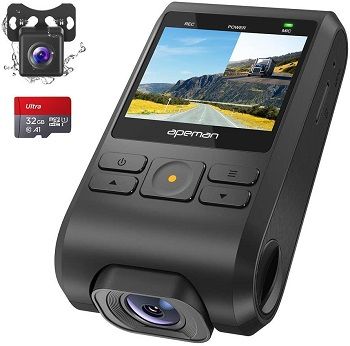 Day And Night Options Plus GPS
The great thing about this camera is that it can record clear images and videos even at night time due to WDR Technology. It comes with the detachable GPS option which will allow you to track your location, speed, directions and much more. However, the GPS antenna isn't included so you will have to buy it if you want to use the GPS function.
Recording Specifications
When it comes to the recording you will get the Apeman dash cam Loop Recording feature which will automatically overwrite the oldest unlocked file when the memory card is full. The footage that was locked by the Gravity Sensor won't get deleted. The G-sensor also makes sure that the automatic video recording starts when there is a collision happening.
Features:
FHD 1080P Front and 720p rear camera
0 Inch Large LCD Screen
SD card included
WDR technology
Apeman Instructions And Manual
Each of the Apeman dash cameras comes with the user manual included in the box. There you can find all of the important information on how to install and use it. Aside from the physical copy, you can find the manuals online. For each specific model, there is a different manual. That means there are four different manuals- Apeman dash cam c450 manual, Apeman c420 dash cam manual, Apeman c860 manual and Apeman cs70 dash camera manuals-for 4 of these models.
Conclusion: What Is The Best Apeman Dash Cam Model Currently Available To Buy?
Choosing the best product out of the five we reviewed, it wasn't an easy decision. We chose not only one, but two of the models we consider the best. The first one is the Apeman 4K max Dash Cam which comes with the OLED touch screen as well as a dual and single-lens mode which both offer high resolution. It also has a detachable GPS feature. The second-best model is the Apeman Dash Cam FHD which comes with a dual camera, a large LCD screen and included SD card for storage as well as the built-in GPS.
If you are curious to know more about the dual dash cams, check out our review on the top 5 models! We also have an article all about the 4k dash cam where we review the best models on the market. Overall the best dash cam in each category can be found in this primary article.