Are you looking for a product that will protect you while driving and at the same time track your location?
You must get yourself a dash cam with GPS!
We gathered all of the best car cameras with GPS features and reviewed each one in-depth. Hopefully, all of those pieces of information will be helpful for you when you go buy one for yourself.
Things To Consider When Buying The Dash Cam With GPS Tracking
Why Do I Need A Dash Cam With Built-In GPS?
When it comes to driving and traveling it is always possible to get lost. That is why two-in-one products such as dash cams can be very convenient. They offer you the best of both worlds- you get the recording evidence if an accident happens, but also you get to track your location and driving route at all times, even at the time of the accident.
How Much Does The Dash Cam And GPS Tracker Combo Cost?
Since these products are two in one combo, their price may be a bit higher than the regular GPS or dash cam without the GPS. But it will cost you less than buying each product individually, for sure.
What Are The Best Dash Cam Models On The Market?
Some of the most popular dash cam with GPS models are from some of the most popular dash cam brands in general. They are the Garmin GPS with a dash cam, 70mai dash cam GPS, Aukey dash cam GPS, Blueskysea mini 0906 GPS dual dash cam, Nextbase dash cam GPS, Yi dash cam GPS and a few others which we also reviewed below.
Best 5 GPS And Dash Cam Reviews
Best GPS With Dash Cam
Garmin RV 785 & TrafficGPS Navigator With Built-In Dash Cam
Best Option For Travelling Enthusiasts
The first dash cam and GPS combo we are going to mention are the Garmin GPS with a dash cam. This navigator comes with a 7-inch touch display and a built-in dash camera and is perfect for any RV or camping enthusiast. The display on this best Garmin GPS with dash cam offers bright and high-resolution picture which allow you to easily see all of the important information.
Record Each Ride
Since this model comes with the included built-in dash cam it can record your drive and automatically save all of the footage. If there is an accident you will get all of the GPS details of when and where it occurred with the file. You also get different kinds of warnings to protect your safety such as lane departure warning and forward collision warning.
Outsmart The Traffic And Take The Best Route
The great thing about this RV 785 is that it takes the weight and size of your vehicle into consideration when looking for the optimal route. It will warn you if any roads are closed if there are any upcoming steep grades, sharp curves, weight limits, etc.
Hands-Free Feature
To make sure you are not distracted by touching the screen while driving, you will get the hands-free operation feature. With it also comes smart notifications on your smartphone along with the voice-activated navigation when you download the free Garmin drive app on your phone. Since it has wifi the software can easily be updated.
Features:
7-inch touch display
hands-free operation
Warnings on upcoming road events
Best Mini Dash Cam With GPS
Blueskysea Mini 0906 PRO Dual Lens
Dual Sensors For Excellent Night Vision
The next dash cam we will review for you is the Blueskysea mini 0906 GPS dual dash cam. This is a model that has a dual-lens, Novatek NT96663 Chipset, Sony IMX327 sensor for the front camera as well as the Sony IMX291 sensor for the rear camera. All of the footage will be recorded in the 1080p HD resolution at the speed of 30 fps.
No More Fear Of Collision
With this dual dash cam with GPS, you will have both front and back angles covered which means you have full protection on the road. Both front and back cameras work simultaneously. Whenever you start your car's engine the dash cam will start recording automatically without you pressing any buttons.
Wifi And GPS Functions
Due to the built-in wifi feature, you can view the real-time footage or playback the older videos through your phone, anytime, anywhere. You will just have to download the free app before you do it. With the non-traditional GPS mode, you can record your driving route and stamp the date on the video. You can also see the GPS value when you are driving.
Package Includes
In the package you will find the dahs cam body which consists of a front and rear dash cam, you will also get the 19ft to extend a cable for the rear camera, 2 degree and 4-degree mounting wedges, KB1.4*6mm screws, 5V 2A cigar lighter charger, Micro USB cable, Cable clips / 1x VHB sticker pads, VHB sticker removing the cord, a cloth, and a user manual.
Features:
1080p HD resolution
Novatek NT96663 Chipset
Sony IMX327 and Sony IMX291 sensor
non-traditional GPS mode
Best GPS With Dash Cam And Bluetooth
Rand Mcnally Overdrive Truck GPS Tablet With Dash Cam
One Product With Many Different Features
The next product we want to mention is a GPS with a dashcam and Bluetooth feature. It is an all-in-one dashboard device that was designed for drivers. You will get features such as robust truck navigation, built-in SiriusXM satellite radio, voice assistance, and Bluetooth hands-free calling and texting which will allow you to have a safe and protected drive each day.
High-Resolution Screen And Camera
The screen that is included with this product is 8-inches in diagonal and shows everything in high resolution. There are two cameras- the forward-facing 8-megapixel camera and a self-facing 2-megapixel camera. You also get the built-in speaker for the excellent audio.
Navigation Features
The Rand McNally GPS with dash cam has the award-winning navigation system. With it, you will receive real-time updates about the weather and traffic as well as the fuel prices according to your route. This is truck-specific navigation and perfect for professional truck drivers.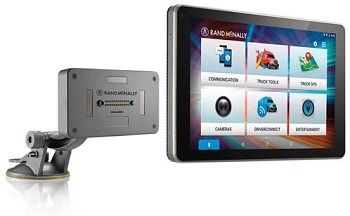 Additional Functions
With the Rand McNally truck GPS with a dash cam, you will also be equipped with the SiriusXM Play which ensures you can listen to your favorite truck stereo while driving. The battery life on this device will last you up to 6 hours of constant surfing the web, watching the recorded footage or even listening to music. The memory card that is included is 32GB.
Features:
built-in SiriusXM satellite radio
award-winning GPS
forward-facing 8-megapixel camera
self-facing 2-megapixel camera
Best Dash Cam 4k GPS
Rove R2-4k Dash Cam
4K Recording
With the Rove R2 dash cam model, you can record all of your videos up to a resolution of 2160p. Such high quality will allow you to get better clarity and see everything in its true colors. You also get the ultra-low light Sensor NT96660 + OV4689 which gives this dash cam the best night vision technology.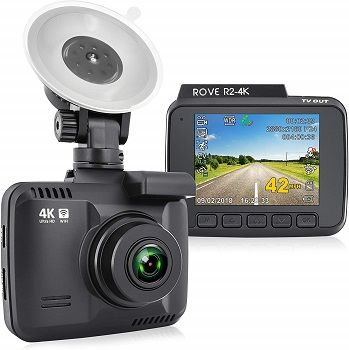 Wifi And GPS Options
You also get the built-in wifi with this dash cam. All you have to do is download the ROVE app on your iOS or Android device after which you can connect it with the dash camera. With the built-in GPS, you can very accurately record the driving speed and your current location. You can view in by using the app on your phone or with the Car DV player.
Art Technology Features Included
There are a couple of other features that make this dashcam 4k GPS so high tech. The camera comes with the largest f1.8 apertures in the industry, a 150-degree wide viewing angle, parking mode, loop, and emergency recording as well as up to 128 GB of storage.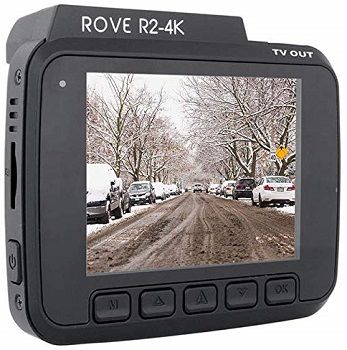 Equipment Is Included
With the Rove R2-4K dash cam model, you will also get a couple of other accessories and equipment included. The package includes the dual USB car charger, USB power cable which is 12 ft long, USB data cable which is 2.5 ft long, 360° Suction Mount, 360° 3M Spare Sticky Mount, car wiring tool, five of the cable hiding clips as well as the user manual and registration card. You will get a one-year warranty and a 30-day full refund if you have any doubts about this product.
Features:
ultra-low light Sensor NT96660 + OV4689
150-degree wide viewing angle
supports SD cards up to 128GB
Best Dash Cam With GPS Speed
Nextbase 322GW Dash Cam
Ultimate Car Safety
The Nextbase dash cam GPS is the last dash cam with GPS tracking we want to share with you. This one comes with features such as SOS response, Bluetooth 4.2 and wifi. That means that if the accident happens the emergency services will be warned and they will receive your exact location thanks to the highly accurate GPS. This alert will also send your medical data such as blood type and medical history to paramedics that will come to rescue you.
Optics Features
When recording with this dash camera you will get the highest image quality. All of the footage is recorded in 1080p with the 60 fps. You will get the 140-degree angle lens, but you can add the additional camera modules to expand the viewing area if you want to.  With the 2.5'' IPS HD touch screen you can watch all of the footage that is being recorded.
New PRO Mount
One of the special things about this dash cam with live GPS tracking is the new Pro mount. It is a magnetic mount that can easily be installed and removed. The power cable can be installed directly into the mount to allow the dash cam to be completely cable-free and wireless.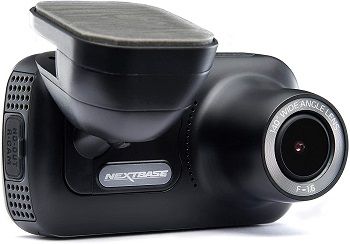 Protection of You and Your Vehicle
All of the footage on this dash cam is automatically recorded when you drive your car. In the event of an accident, the G-sensor feature will automatically safeguard the footage and move it to a special folder. There it cannot be automatically overwritten or deleted later. When your car is parked it is also protected by the Intelligent Parking mode feature that records any bump or physical movements next to your car.
Features:
Bluetooth 4.2
140-degree angle lens
5'' IPS HD touch screen
Conclusion: What Is The Best GPS And Dash Cam Combo You Can Get For Yourself?
In my opinion, the best dash cam with GPS is the Nextbase dash cam model we reviewed. It comes with an excellent GPS that features the SOS response and sends your exact location to the emergency services. The best GPS with a dash cam is the Garmin RV 785 & TrafficGPS Navigator. It is a navigation system made for trucks that come with the included dashcam feature for even more protection on the road.
Want to know more about the best dash cams options? Take a look at our article! If you are more interested specifically in the best dual dash cam models, don't worry we got this topic covered as well. All of the best truck dash cam models, you can find in this article.