Do you want to get a dash cam with the widest coverage possible?
A 360 view dash cam is the solution for you!
In this short article, you can read all about the 360 view car camera and what are its benefits. You can also read reviews we wrote on our top five picks. That way if you are confused with so many options on the market, you have an easier time choosing which model to buy.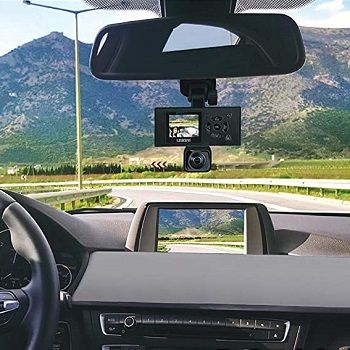 Things To Look For When You're Buying A 360 Car Dash Cam
What Are Benefits Of A 360 Car Camera?
If you are looking for a camera that will record everything that is happening around your vehicle, 360 dash cam is a way to go. One of their major benefits is that they cover the front, back, sides as well as inside of your vehicle, which means more protection a no blind spots.
What Other 360 Dashcam Features Are Important?
Just like with the rest of the dash cams, you should look for a good quality lens that offers high resolution and records well in different lighting conditions. The great benefit is the built-in GPS, easy setup, free storage, etc.
What Are The Best Models In The 360 Dash Cam For Car Category?
Some of the most popular models in this category are Vezo 360 dash cam, Waylens 360 dash cam, Dr Pro 360 dash cam, Falcon 360 dash cam, Gator 360 dash cam, Vava 360 dash cam, etc. To find out which ones we picked, read all of the reviews below.
5 Best 360 Dash Cam Reviews
Best 360 Car Security Camera
Waylens Secure360 4G Dash Cam
Always Protected
The first 360 car camera review in this article is on the Waylens Secure360 4g Dash Cam model. With this dash cam, you will always know what's going on in and all-around your car. Your car will be protected from anyone trying to steal it or damage it. The recorded videos can be used as evidence in court or with your insurance company if there was an accident.
360-Degree Vision
With this Waylens 360 dash cam, you get a single all-glass, a 7-element lens that has a 360-degree view. That way it can record all that is happening on the road in front of you, but also on behind and on the sides of your car. It also comes equipped with the IR LEDs which allow you to see and record in super low light conditions.
Know Your Car's Location
Another benefit of this 360 dash cam is that it has built-in GPS technology. You can always know exactly where you are, which is very helpful when you are traveling. With advanced power management, this camera is even aware of your car's surroundings when it is parked.
High-Speed 4G And Instant Notifications
Thanks to the high-speed 4G feature you can get real-time alerts and notifications on your phone to watch the live stream. There is also an automatic feature that will upload all of the recorded videos on the Waylens Cloud.
Features:
360-degree view
built-in GPS technology
high-speed 4G
IR LEDs
7-element lens
Best 360 Panoramic Car Camera
Zenan 360 Panoramic Dash Cam For Car
No Blind Spots!
Another 360 car camera system on our list to review is the Zenan 360 degree dash cam model. It comes with the 360-degree front and 140-degree rear camera that will overall cover all of the areas around your car. Also, the videos are recorded in full HD 1080p resolution. You will get 4 of the recording modes which are the wide mode, the ball mode, around mode and four-mode.
IPS Touch Screen
With the camera, you will also get the IPS screen. The 5-inch screen will display all of the videos as they are being recorded. You can easily see them without losing the focus from the road since the screen is big enough.
Reverse Assistant For Safe Parking
The rear camera is waterproof and gives you guidelines when you start reverse parking your car. It is automatically activated when your reverse gear is engaged. Since it has a wide coverage angle, there won't be any blind areas, which will make your parking way more secure.
Features:
360-degree front and 140-degree rear camera
full HD 1080p resolution
5-inch IPS screen
waterproof rear camera
Best Wireless 360 Car Camera
Uniden DC360 iWitness Dual-Camera
Front And Rear Lens 1280p Resolution
Another 360 car dash cam we want to share with you today is the DC360 iWitness dual camera model. It comes with a dual front and rear lens. Together those two lenses give the resolution of 1280p. Each lens has a 180-degree viewing angle which altogether makes 360-degree coverage.
Constant Recording
With this dash camera, you will get the constant automatic recording which starts as soon as you turn on the engine in your car. That way I fan accident happens you will have all o fit recorded and you can later use it as evidence. With the built-in microphone, you will also get an excellent audio recording.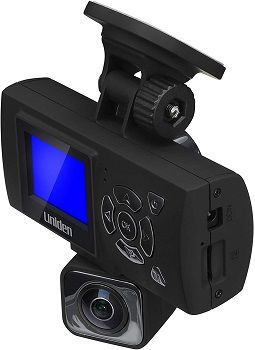 Collision Detection
An additional feature to the Uniden 360 dash cam is the G-sensor which can detect any collisions or even smaller shakings of your vehicle. When that is detected the videos will automatically get locked and saved so they can't be deleted after.
Features:
resolution of 1280p
180-degree viewing angle
built-in microphone
Best 360 Degree Bird View Camera For Car
Razo d'Action 360 Dash Cam
Award-Winning Dash Cam
The next best 360 dash cam for a car that we want to review in more depth is the Razo d'Action 360 dash cam model. This is a 2018 winner of the Innovative Product Award at the SEMA show. The reason why this model is so great is that it records crystal clear 4K videos and covers 360-degrees angle around your vehicle.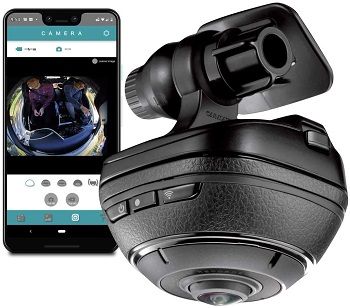 Live Stream Or Playback The Videos
You can easily live to stream the videos and view them on your smartphone or PC. It is compatible with the Android and iOS systems. You will have to download the d'Action app for free on your PC or phone. Keep in mind the OnePlus 7 phone is not compatible with the d'Action 360 app. Through the app, you can download and save videos and even share them with others. Kee pin mind that the live streaming I sin low resolution.
Four Video Formats
With the 360 dashcam you will get four different video formats. You can choose between 360-degree fisheye, panoramic view, front and back split view and active scrolling widescreen angle. One of the major benefits is also that you can take this dash cam out of your vehicle. After you attach the portable battery pack you can easily use it as a handheld 360 video action camera. Take it with you hiking, bike rides or any extreme sports activities.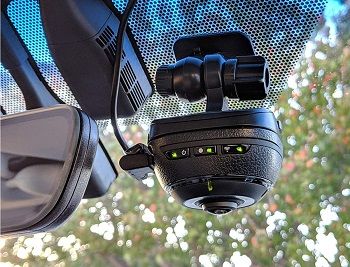 Record On-Road Experiences
With the built-in GPS feature, you can record your driving route, location, and geotags. You also can continuously record the speed of your vehicle. After you are done with driving and recording you can download all that footage on the app and share it on YouTube or your social media.
Features:
crystal clear 4K videos
360-degrees angle
four different video formats
off-road use
built-in GPS feature
Best Car Surveillance Camera 360-Degree
VAVA Dash Cam
Excellent Lens Features
The last on our 360 car camera system list is the Vava 360 Dash Cam model. This is a model that comes with the powerful Novatek NT96663 CPU and the Sony IMX291 CMOS image sensor. The camera on this dash cam model can come with a 360-degree swivel angle and a 155°lens that can capture up to 5 lanes all at once. The great thing about it is also that all of the recordings are in 1080p resolution.
Wifi Connection And VAVA App
You will get the built-in wifi which means you can easily connect this dash camera with your smartphone. You can then watch live streams, real-time photos and share videos on social media. Also, you can directly transfer the media to the police or social insurance companies. The app is free and compatible with iOS and Android systems.
Snapshot Button Option
One feature that not a lot of dash cams have is the Snapshot option you get with the VAVA 360-degree dash cam. You can place it on the steering wheel or wherever it is the most comfortable for you and capture any unexpected things. You can also take a short 20-second video if you press the button for a little longer.
Compact Design And Easy Installation
Since this dash camera is quite small, you can easily mount it on your windshield and it is well-hidden. The installation will take up only a few minutes of your time. You can simply follow the given instructions which are found in the user manual.
GPS And Parking Features
With this dash cam, you will also get a GPS that captures all of your current locations and coordinated, as well as your current speed, You can also share all of that footage and information through the app. You will have to use Google Maps to display the location. The Parking mode will monitor your car's surroundings while your car is parked and the engine is turned off. Every detected trigger will record a 15 seconds video.
Features:
Sony IMX291 CMOS image sensor
360-degree swivel angle
1080p resolution
Snapshot option
Conclusion: What Is The Best 360 Car Dash Cam At This Moment?
When it comes to dashcams, the two best ones in the 360 car camera category are Waylens Secure360 and Zenan 360 dash cam model. The first one has a high-speed 4G technology, built-in GPS and a 7-element glass lens. The other one comes with a 5-inch IPS screen and waterproof rear camera, along with the HD front camera. Check out these models if you want to buy a high-quality 360 dash cam with all of the advanced features.
If you are looking for more options, we recommend reading the best dash cam article. If you are interested in 4k dash cams, we have a whole article all about them. You can also read all about the hidden car camera models in one of our short guides.