Are you interested in protecting yourself and your car when driving?
Then a car surveillance camera is something you simply must have!
If you don't know what that is and what are the best models in the auto security camera category, don't worry. We bring you some basic information on the car camera security systems and reviews on the top 5 most popular models currently on the market.
Things To Know When Purchasing Surveillance Cameras For Dashboard
What Is A Security Camera For Your Car?
A security car camera is a recording device that is used to protect you and other people in your vehicle together with your car whenever you are driving. It records short video clips of the road and everything surrounding your car, including traffic lights, signs, other vehicles, etc. These clips can be used as proof in case there is a car accident.
What Types Of Car Security Cameras Are There?
Some many different models and brands offer you great protection. Usually dash cams are divided by the number of lenses they have- single-lens cameras, dual-lens cameras, three-channel cameras, etc. You can also divide them according to some other features they offer such as GPS, Wifi connectivity, parking modes, etc.
Best Place To Buy A Car Camera Security System
If you are on a hunt for the best car security camera then we suggest looking in some specialized physical stores or online. The website we recommend for all of those who prefer online shopping is Amazon. There you can find all of the models we reviewed below, but also much more than that!
Best 5 Car Surveillance Camera Reviews
Best 360 Car Security Camera
Razo d'Action 360 Dash Cam
Award-Winning Dash Camera
We are going to start with the Razo's d'Action dash 360 dash camera. It is a high-quality surveillance camera that was the number one car accessory in Japan a few years ago. Now it is also available in the USA. In 2018 this camera won the Innovative Product Award at the Specialty Equipment Market Association (SEMA Show).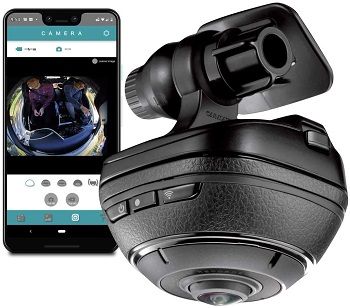 Excellent Lens Features
Aside from being the number one camera, it also has some excellent features. The first one is the crystal clear 360-degree 4K video resolution which captures all of the smallest details. It comes with the 360-degree viewing angle which means it can record the front, the sides, the back and even the inside of your vehicle.
Watch The Videos In 3 Ways
All of the videos can be watched in the full HD 4k resolution if you download them to your PC. If you download them on your phone through the free app you can view them in full HD 1080p resolution. However, keep in mind that the live stream videos are in low resolution, which is one of the rare disadvantages of this camera.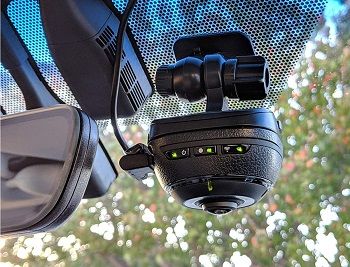 4 Video Formats To Choose From
Aside from picking the resolution, you want to watch the video in you can also choose one of the 4 video formats. They are the 360-degree fisheye, panoramic view, front and back split view, and the active scrolling widescreen angle.
Portable Action Camera
One of the most interesting features that come with this dash cam is the fact that it is portable. You can easily attach the portable battery pack to this security camera for a car 360 degree and use it when you go biking, hiking, skiing, etc. With the built-in GPS function, you will never get lost as it tracks your location and route.
Features:
360-degree 4K videos
four video formats
portable
Best Mini Surveillance Camera For Car
Crosstour Dash Cam
Professional Recording Features
The second model we want to share in this article is by the brand Crosstour. It is their 1080P FHD dash cam that comes with the 3-inch LCD screen where you can read the numbers on the plates and see other important information. It has a 170-degree angle that allows for good coverage, 6 glass lens, wide dynamic range (WDR), high-performance chip and sensor and the F1.8 super big aperture.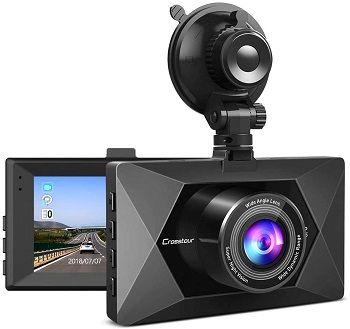 Mini Design
This small surveillance camera for car comes with the dimensions 3.5 x 2.1 x 1.4 inches and weighs around 10 ounces. Because it has a stealth low profile it is very discreet and not easily noticeable. Another benefit is that it doesn't take up too much space on the windshield and doesn't distract the driver from the road. Because the surface of this dash cam is made with frosted, black, shiny material it is water and temperature resistant.
Lens Adjustability And Requirements
The mount on this auto-tracking security camera is adjustable and you can tilt it 180 degrees while rotating it for 360-degrees. That helps a lot in finding the perfect filming angle. One thing you will need to have with this camera is the memory card. Different kinds of memory cards are supported: class 10, SDHC, TF card, which all have to be up to 32 GB in size.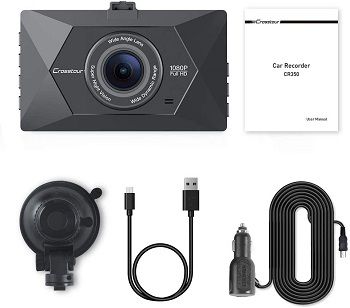 Automatic Features
You will get the automatic parking mode which will activate itself after any kind of motion was detected. The camera will record a 30-second video clip, lock it and automatically save it on the memory card. You will also get the automatic locking of any files recording in times of shakes and collisions.
Features:
3-inch LCD screen
170-degree angle
waterproof design
automatic recording
Best Parked Car Security Camera
Peztio Dash Cam
Wide Image With No Blind Angles
The third product worth mentioning is the parked car surveillance camera by the brand Peztio. This one is equipped with the 1080P resolution and 170° wide-angle that can capture even the smallest details on the road you are driving on. The wide viewing range helps to eliminate as many blind spots as possible, so you get a full picture of what is going on.
Wifi And App Connection
There is a built-in 2.4GHz Wi-Fi transmitter that allows you to connect the camera with your phone. That way all of the videos and pictures can easily be transferred to your phone. The app that is used for this process, needs to be downloaded to your phone, but don't worry it is free. It is compatible with Android and IOS ad doesn't require your mobile data.
Powerful Functions
Another benefit of this automotive security camera is that it comes with many powerful features, You will get the G-senor, loop recording, parking monitoring, etc. The parking monitoring feature will keep your car safe even when you aren't driving it. That way you can park it anywhere and be sure it won't get stolen or scratched.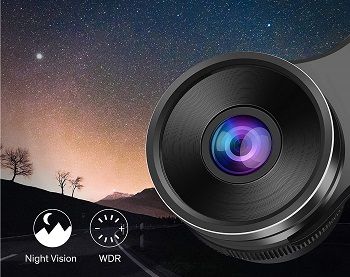 Day And Night Recording
Because it comes with the f1.8 aperture and WDR technology the recording will be just as successful in the daytime or at night time. The night shots will be much brighter and the daylight footage won't be overexposed, which is the best combination.
Features:
4GHz Wi-Fi transmitter
8 aperture and WDR technology
Parking monitoring
170° wide angle
1080P resolution
Best Car Security Camera Front And Rear
Z-Edge Front And Rear Dash Cam
4-Inch Screen Touch Screen Included
Another great model, worth reviewing is manufactured by the brand Z-Edge. This one is special because it is a dual dash cam that also comes with the 4-inch screen with touch features. It makes the whole operation more elegant and effortless. On the screen, you can watch everything that is being recorded in HD with many details.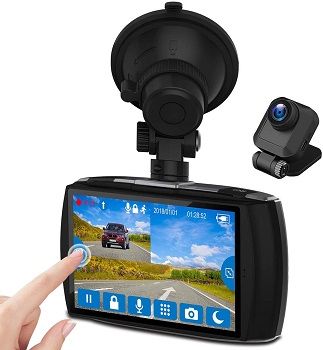 Four Pre-Set Modes
When you start using this dash cam you can choose between one of the four modes. That way you can choose one that will suit the best to your environment and save time trying to customize a specific mode individually.
On The Road Witness
This security dash cam comes with the front and rear camera which both record in full HD 1080p resolution. Both cameras also have a 155-degree viewing angle offering great coverage. With the powerful processor and 6-layer glass, the footage is bright enough but not overexposed. Due to the PIP mode, you can easily playback all of the recorded videos.
Night Vision Technology
When you are recording at night, the Wide Dynamic Range (WDR) will compensate for the light and dark spots and balance all of the exposures. This feature also helps to restore the true colors of objects and give you a fuller picture. One of the benefits of this night vision mode is that it can capture license plates easily at night.
Automatic Safeguards
The auto motion security camera will start recording as soon as the engine of your vehicle is turned on. Once the ignition is off, the camera will turn off as ell. The LCD screen comes with the energy-saving feature if you haven't been using t for a while. You will also get manual and automatic video protection from deletion with this dash cam, together with the 24/7 surveillance of your parked car.
Features:
155-degree viewing angle
6-layer glass the footage
4-inch screen with touch features
Wide Dynamic Range (WDR)
Best Hidden Car Security Camera
Vantrue X4 Uhd 4k Dash Cam
Internal Construction
Finally, the last product on our best security camera list is the Vantrue's X4 dash camera. This one has the 8MP Sony IMX317 Sensor and Ambarella A12 chip combined with the 160-degree lens. You will get all of your videos recorded in full 4K 3840X2160P and you will have a much clearer and broader view. It is also quite fast and records everything in the 30fsp.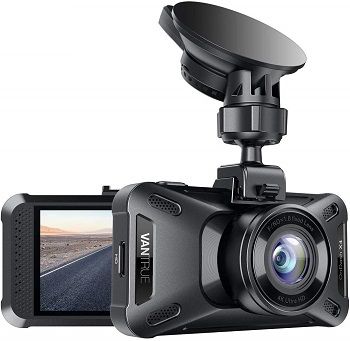 Supercapacitor And Extreme Conditions
Most dash cams use the standard Lithium battery, but this one comes with the supercapacitor instead. That will ensure a much longer lifespan and operation on extreme temperatures. That way it will reduce energy consumption and make your car a safer environment.
Best Night Vision Technology
Just like all of the previously mentioned models, this one comes with all of the features that make up a great night vision mode. They are the Wide Dynamic Range (WDR), F1.8 plus 6 glass lenses that offer recording in extremely bright and dark conditions. Due to them, the videos are clear, sharp and without any distortions.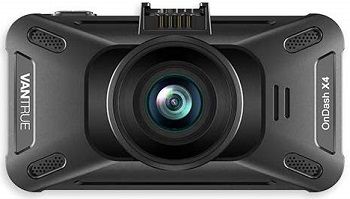 Time Lapse And Optional Gps
Another feature included with this model is the time-lapse function. With it, you can keep taking photos at set times and automatically edit them into a video clip. That way the size of the video clip will be reduced compared to recording real videos. With the GPS feature, you can track the location, direction, and speed of your vehicle. But if you want to use this feature you will need to buy the extra X4 GPS mount.
Features:
supercapacitor
8MP Sony IMX317 Sensor and Ambarella A12 chip
full 4K 3840X2160P resolution
Conclusion: Which Car Surveillance Camera Do We Think Is The Best One?
We had a hard time choosing only one dashcam as the best one. That is why we chose two models- Razo's d'Action dashcam and the Vantrue X4 model. The Razo model records all of the videos in 4k resolution and offers 360-degree capture. The Vantrue model also offers 4k resolution includes the supercapacitor instead of a battery. Both offer amazing security when you are driving, but also when your car is parked.
More information about the best dash cams, read in this article. Other best 4k dash cameras are gathered in this buying guide. If you are interested in 360 dahs cams, we suggest checking out the reviews we made on some of the most popular models in the category.