Have you had problems with traffic while cycling to work? Did you want to record your trips? Are you thinking about buying a bicycle dash cam?
If you are, here you can read about the pros, cons, and specifications that should be considered while buying a bicycle dashcam. I will write the bits of advice for choosing the best cycling camera that suits your needs. I will show the most important features that you should look for.
Tips For Buying Bicycle Dash Camera
How To Use Bicycle Dash Cameras
You can mount them on the front or the rear of your bike depending on what you want to record. With setting the right mount, you can wear it on your helmet. They work on the batteries and some of them are replaceable and rechargeable. Recordings can be used as interesting memories or accident evidence.
What Features You Should Look For
First, you should know if you want very good video quality so even license plates could be readable. For that, the resolution shouldn't be below 1080p. Next what you should look up is how much can the battery last so you can record the whole trip. It might be good to see if the battery is replaceable so you can have more than one on the road.
Night Vision And Road Safety
Some of the best cyclists' cameras have an LED light to make you visible in the dark. Then you don't need to have additional lights and you have more space on the bike.  With the light comes the ability to make good videos in the dark. If you want the camera as accident evidence, you should look for ones that can detect the passing distance of the cars near you.
What Can Go Wrong With Dash Cams
When you get your bike dashcam, first what you will notice is if it fits on your bike. You should see how many mounts and hinges it has so you don't end up with the unusable dashcam. Look up if it's waterproof and if it has a loop recording. You don't want to destroy the camera in the rain or run out of memory mid cycling.
Prices And Where To Buy Dash Cam
Prices of the good quality dash cam for bikers range from 25$ to 250$. The price depends on the weight of the camera and any additional features. On Amazon.com you can find anything from cheap good quality cameras to more expensive ones with plenty of great features.
Best 5 Dash Cams For Bicycles
Best 4k Bike Dash Cam
Campark X30 60fps Action Cycling Camera
High Resolution And Good Quality Camera
This bicycle dash camera records videos at the 60fps in 4K resolution. It takes 20MP photos that appear sharp because of its anti-shake feature. Because of this feature, videos record very smoothly even in bad weather conditions or sporting activities. It also has a distortion correction feature and the anti-shake feature can't be used while this one is on. The angle of the lens is adjustable and the widest angle is 170°.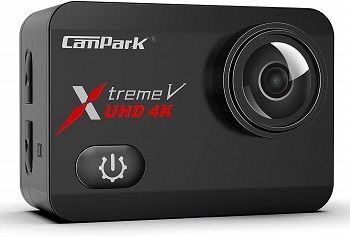 Battery Life And Storage
The camera comes in the package with two removable 1350 mAh Li-ion batteries. This means one battery can last up to 2 hours. The charging time of one battery is 2-4 hours and included in the package is one single slot dock. This camera has a micro SD card slot of up to 64GB. Video resolution can be reduced so you can save longer videos.
Waterproof And Easy To Mount Case
Campark X30 cycling dash camera comes with a waterproof case which is another reason to use it for bad weather conditions. It can also be used for water activities because it allows dives as deep as 40 meters. It can be used for cycling as it comes with a bicycle mounting kit.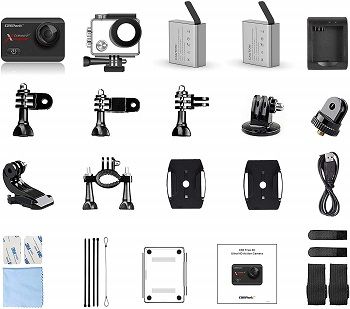 Connectivity To Wi-Fi And Easy Sharing
Thanks to the built-in Wi-Fi you don't have to worry about sharing your experiences. You can connect to your phone via Wi-Fi connection and share photos and videos on your favorite social media.
Camera Dimensions And Weight
Considering other cameras, this one is pretty robust and heavy for a bicycle dashcam. It weighs 0.99 pounds and its dimensions are 9.8 x 4.7 x 2.8 inches. This camera is up to four times bigger than most other cycling cameras.
Features:
4K/60fps highest resolution
2 inch LCD touch screen
Anti-shake and distortion correction
Robust waterproof casing
Ideal for water and winter sports
Best Cheap Small Dash Cam For Bicycle
Crosstour Waterproof Wi-Fi Bike Camera CT7000
Basic Information About Crosstour Action Camera
This action camera weighs 2.4 ounces and is really small, its dimensions are only 2. x 1.6 x 1 inch. It comes with two 1050 mAh rechargeable batteries and it has an 18-piece multifunctional mounting set. Thanks to this big set, it can be mounted almost anywhere you wish: on your helmet, wrist, bicycle saddle, handlebars or elsewhere.
Waterproof Casing Up To 30 Metres
This is a great cheap bike camera for rainy, foggy or snowy weather conditions. It is waterproof and nothing will degrade its performance on the bike. It can be used for hobbies other than cycling, such as diving because it is waterproof up to 30 meters.
Full HD Resolution Allows Making Great Recordings
This Crosstour action camera is one of the cheapest on the market, but with Full HD resolution, it is a quality camera. It takes 12MP photos and it has a wide-angle of 170°. With the 2 inch display, you can see very clearly all your videos and photos before downloading them to the computer.
Wireless Connectivity Makes It Easier To Use
To control your photos and video files, this bike cam uses a mobile application iSmart DV. This application makes it easy to manage all the recorded footage. From this app, you can directly control this bike dashcam. For using the cycling dashcam over the phone and this app, simply connect to your phone using cameras built-in Wi-Fi.
Special Features On This Cheap Cycling Cam
Video resolution can be changed to 720p with 30 or 60fps which allows for long memory time. Image resolutions can be decreased as well, to 8, 5 and 4MP. Other than these features it doesn't have any.
Features:
The Full HD video and 12MP image resolution
Waterproof up to 30 meters
Multifunctional mounting set for easy adjusting
Replaceable and rechargeable batteries
Best Dual Small Helmet Bike Camera
LOOKING Front And Rear Bicycle Dashcam DB-1
Small And Lightweight
This bike camera is great for any outdoor sport. It is easily mounted on a helmet or a shoulder. For these purposes, it is important to be as light as it gets. With only 0.2 x 0.1 x 0.1 inches in dimensions it is the smallest on my list. It weighs just 3.68 ounces and won't be a problem on the helmet.
Excellent Image And Video Quality
The Looking Technology's DB-1 camera has Full HD resolution. That is more than enough for clear shots and good videos. This cyclist dashcam has great both front and rear cameras with a wide viewing angle. These two cameras are paired in one piece and can't be detached. Other than the mentioned features, it doesn't have any image improving characteristics.
Waterproof With Great Wi-Fi Connectivity
This small cycling camera is water-resistant and that's one more reason to use it for extreme activities. It doesn't require any tools to fit or take off and it saves battery time by detecting movement. The camera will automatically turn off if it stays still for 3 minutes. Connecting to the phone can be done by using Wi-Fi. There is also a remote controller that can be used for taking still pictures while the video recording is on.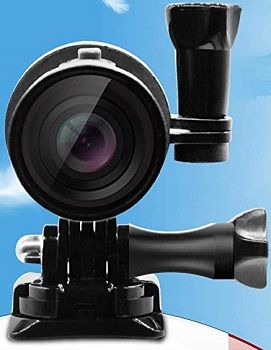 Loop Recording And Night Vision
The recordings will not be interrupted by memory space as this camera has a loop recording which means it will overwrite new video over the oldest ones. The maximum capacity of micro SD cards that are accepted is 128GB, but it comes in the package with a 32GB card. This cycling camera has a Sony IMX307 image sensor for good visibility of pictures even at low illumination. This camera also records audio for more interesting videos.
Battery Time And Warranty For Safe Shopping
DB-1 camera's battery will last up to 2.5 hours of continuous recording. This bike dashcam has a good mounting set that will keep it secure and tight on your helmet. The manufacturers are confident about the quality of the product so it comes with the 1-year warranty and you even get 3 months of warranty for all of the accessories.
Features:
Lightweight for easy handling
Water-resistant with good night visibility
The rear camera is bent by 15 degrees
Built-in microphone for audio recording
Easy setup and quick disassembly
Best GPS Smart Bike Dash Cam
Camile R100 GPS Smart Cycling Camera
Designed Especially For Cycling
Camile R100 was designed to fit the needs of cyclers. It can be used as a bike computer only and as well as the camera. This camera records everything a usual cycling mobile app would record.
User-friendly app environment
This dashcam for cyclists comes with the Camile App which can be used to manage photos and videos. In the app, you can see all the data that the camera collects and share it on social media and most importantly Strava cycling app. Using the app, you can plan your cycling trips and view the accomplished statistics.
GPS Module Makes It Great Cycling Tool
To know your coordinates, this camera uses altimeter and 6 axis motion sensors. Camile R100 camera doesn't only have 2D positioning, but it has 3D positioning thanks to the altimeter sensor. The app calculates your effort and calorie consumption according to the altitude.
Basic Information About Camile R100 Camera
This camera's dimensions are 4.75 x 2.88 x 2.25 inches and it weighs 2.12 ounces which is slightly bigger than most other cameras. It has a Full HD video resolution and it has a bike DashCam function to make the recordings in the case of an accident.
Memory Storage For More Rides
For saving all the camera and bike computer data, this camera has integrated 32GB memory storage. This storage is enough for 8 hours of videos and that is more than the battery will last. Battery life is up to 3 hours if used for filming and up to 16 hours if it's used only as a bike computer. The battery has 1350 mAh capacity and it is rechargeable, but not replaceable.
Features:
Time-lapse mode to save more storage
GPS bike computer feature
Good connectivity via Wi-Fi and Bluetooth
Best Safety 1080p Dash Cam For Bicycle
Cycliq Fly12 CE Camera + Front Light
Great Camera's Features and Functions
This bicycle camera has a 1080p video resolution and it can record videos even up to 8 hours, but charging takes 2.5 hours only. An image can be very clear and the license plates can be read because of the HDR (High Dynamic Range) and 6-axis image stabilization. This camera has the 135° viewing angle records audio along with the video.
Night Vision And Home Safe Mode
Cycliq Fly12 camera has the 600-lumen front light that makes the night vision possible. It is also visible during the day and that is an extra safety feature. During the cycle, when the battery drains down to the low levels, the camera will turn off so you can use the light for 30 more minutes and come home safely in the dark.
Why Safety Cameras Are Best Cycling Cameras
As mentioned, the camera will automatically turn off so you can come home safely. An additional feature of Cycliq Fly12 is a built-in alarm. If your bike moves when you're not around, the camera will start recording and the light will start flashing, but you will also get a phone notification about what is going on.
Safety cameras will have the loop recording so you won't have to erase every video. Cycliq Fly12 automatically detects if there was an accident and saves the video so it can't be overwritten. The field of view is smaller in this kind of cameras so the distance of other vehicles can be more easily determined. Because of this feature, it is more likely to be accepted as evidence.
Weight And Dimensions Information
With the 6.9 ounces, this is still a lightweight camera, but it is a bit heavier than most others are. Its dimensions are only 3.3 x 2.2 x 1.3 inches and this means it is one of the smaller cameras on the market.
Features:
Front light for night vision
Accident detection with loop recording
Home safe mode and great battery power
ANT+, Bluetooth and Strava connectivity
Conclusion: What Bicycle Dash Cam Best Suits Your Needs
If you are looking for the best bicycle dash camera for filming great shoots in different conditions then I would recommend the Campark X30 60fps Cycling Camera. This camera has plenty of features to make good quality videos and photos. And another great camera is Crosstour Bike Camera CT7000 because it has Full HD resolution and is very cheap.
To learn more about bike dash cams and how to mount them on your bike, helmet or yourself, you can read this review of best dash cams. If you want to know more about front and rear cycling cameras and why they could be something that you are looking for, read this article about dual dash cams.