Do you want a front and rear protection when driving in your car?
Then you must get one of these front and rear dash cams!
Read all about what kind of protection they offer, what features they are equipped with and what are some of the top brands in that category right this moment. We hope our in-depth reviews will help you find what you like the best.
Things You Need To Know When Getting A Car Camera Front And Rear
Why Are Front And Rear Dash Cams So Popular?
If you are looking for that extra safety and protection when driving then dash cams with a wider range of coverage are the best option. That is why the dual dash cams that have a front and rear lens are so popular nowadays. They cover the front of the road you are on as well as everything that is going on behind you.
What Are Front And Rear Dash Cams Also Used For?
These types of cameras are not only great for driving on busy roads but can also help you when it comes to parking. A lot of models with the rear camera offer the reverse parking assistance that will give you some guidelines on how to easily park in reverse.
Installation And Operation
The great thing about the car dash camera front and rear are that they are usually super easy to install. All you have to do is mount them on the dashboard of your car and plug it into the power source. Most come with user manuals that sometimes even have pictures for easier understanding. The operation also not complicated, especially if they come with the touch screen also included in the package.
Best 5 Front And Rear Dash Cam Reviews
Best Front And Rear View Mirror Dash Cam
Chicom Mirror Dash Cam
Sharp, Clear, Full HD
The first on our best front and rear dash cam list is the Chicom mirror dash cam backup camera model. It is a combination of a front and rear camera that comes with the 1080p resolution and 350° rotating front camera. That way not only you get the sharp, clear and detailed footage, but you also get really wide coverage. The front camera has the 170-degree viewing angle, while the rear has a bit smaller which equals 140-degrees.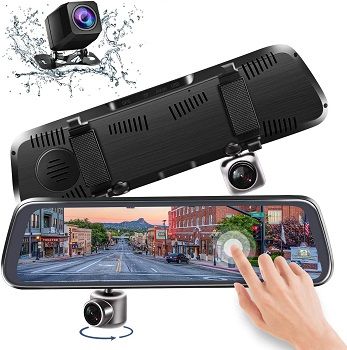 Touch Screen Included
You will also get the 10″ full touch mirror which will give you up to 4 times better field of vision than you would get with the traditional rearview mirror. It also avoids almost all of the blind areas so you are even more protected when driving. The one-finger operation is convenient to use even when driving as it requires almost no special attention.
Waterproof Design Of The Rear Camera
The rear camera on this model has another benefit. It comes with the waterproof design which means you don't have to worry about it stop working if it comes in contact with water. Both cameras are made out of durable materials which makes them long-lasting and sturdy.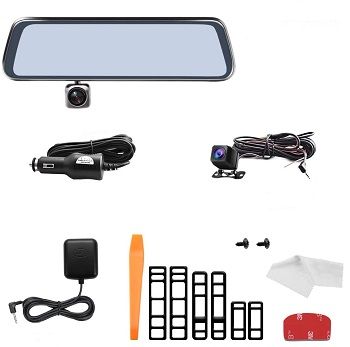 Easy Set Up And Reliable Customer Service
This front and rear car camera system are also not very complicated to set up. All you have to do is mount it over the existing rearview mirror with the given equipment. If you have any additional questions regarding this product you can contact the customer service that will respond to your request within 24 hours.
Features:
1080p resolution
350° rotating front camera
10″ full touch mirror
one finger operation
Waterproof rear camera
Best Front And Rear Car Camera Recorder
Pyle Dash Cam Rearview Mirror
Record Videos Or Take Pictures
The next dash camera that consists of a front and rear lens is the Pyle dash cam rearview mirror. It captures all of the videos is the full HD 1080p resolution, but it can also take pictures. You also get the 4.3-inch TFT wide viewing angle display screen where you can see what is being recorded instead of looking into your rearview mirror. Aside from recording videos it also records audio with the built-in microphone.
Seamless Loop Recording
This car dash camera front and rear come with the loop recording system which will keep recording and start deleting the oldest files when the micro SD card becomes full. But with the G-sensor all of the crucial footage which was recorded at the time of an accident will be locked to prevent the loop recording feature to delete it later.
Cameras And Cables Included
In the package, you will find two cameras with the connection cable, USB power cable and the USB transfer charger. There is also a 23 feet rear camera cable included. The set up of this best rearview mirror dash cam is easy and as well as the plug-and-play operation.
Features:
full HD 1080p resolution
3-inch TFT wide viewing angle display screen
Loop recording
plug-and-play operation
Best Front And Rear Dash Cam With Night Vision
Thinkware Q800PRO Dual Dash Cam
Super Night Vision Feature
The next dash cam we are going to mention in this article that falls into the front and rear dash cam category is the Thinkware dash cam front and rear model. The model captures all of the videos in the 2K 1440p resolution and comes with the new and improved Sony STARVIS sensor. You also get the super Night vision 2.0 feature that captures license plates even in the low lighting conditions. With the advanced video clear technology, you get to reduce the noise and enhance the image quality of all of the recordings.
Memory Card And Cloud Storage
After it has been recorded, all of the footage is saved on the 32 GB SD card that comes in the package. You will also get the free Cloud where all of the footage is also stored. Form the Cloud you can easily reach the footage from your smartphone, tablet or computer.
Get Safety Notifications
Another great thing about this dash camera is that it comes with the Advanced Driver Assistance System or ADAS. This is a technology that alerts the driver of any potential forward collisions, lane departures, and front vehicle departures. It is a great safety feature, especially when you are driving long distances and your concentration isn't as good after some time.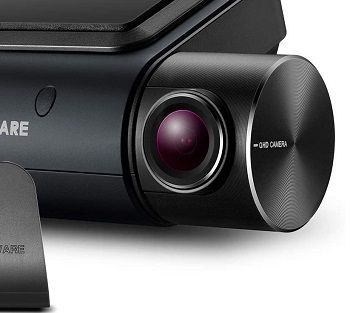 What Else Will You Get?
There are just a few accessories included in the package. They are the 3M mount, handwriting cable, 12V power cable, 32 GB microSD card, and the user manual. The setup and operation are easy and all of the instructions on how to do something are in the user manual.
Monitor Your Parked Car
An additional feature is the Parking surveillance mode which will be triggered when there is a motion detected near your parked car. You will need a constant power supply if you want your parked car to be monitored all the time.
Features:
2K 1440p resolution
super Night vision 2.0
Sony STARVIS sensor
Advanced Driver Assistance System included
Parking surveillance mode
Best Dash Cam Front And Rear With Parking Mode
Chortau Dash Cam Front And Rear
Excellent Optical Features 
Another one of the best front rear dash cam models we think is worth mentioning is the dual dash cam by the brand Chortau. It comes with the 170-degree wide front viewing angle and the 130-degree wide rear lens viewing angle. Both cameras offer the 1080p resolution while the rear camera also has a waterproof design. You will get the 6 pcs IR LED and Wide Dynamic Range for easier recording in low-light conditions.
Dash Cam With A Parking Mode
If you want to know if someone scratched or damaged your parked car while trying to park theirs, you will get the Parking mode feature. When the motion is detected near your car, this car camera front and rear will automatically start recording.
Easy To Install And Use
Another great benefit of this car camera front and back is that it comes with the easy installation and operation. You will get the user manual that has all of the reference pictures so it is super easy to follow. You will also get the amount you can easily attach anywhere on your windshield. After that just insert the SD card and connect it to the power supply. Once you've ignited the car's engine the camera will start recording automatically.
Features:
1080p resolution
6 pcs IR LED
Parking mode feature
Best Dash Cam With Backup Camera
Rexing V1P  Dual Channel Dashboard Camera
Discreet Design Dash Cam
The last dashcam from our best dual dash cam front and rear is the Rexing front and rear dash cam, more specifically the VP1 model. This model is well-known for its signature low-profile design which ensures that the camera is well-hidden on your windshield. It records from two separate perspectives for even greater coverage.
Optics And Coverage
You will get the Sony Starvis image for the front camera which records all of the videos in full HD 1080p resolution at 30 fps. It is also equipped with the 7-layer glass lens and the WDR technology that allows for the optimal amount of light to get into the footage and it will automatically adjust your exposure. The lens has a 170-degree ultra-wide viewing angle for great coverage.
Supercapacitor Instead Of A Battery
With this front and back dash cam you won't get the standard lithium battery, but a supercapacitor that has more benefits when you compare the two. It can endure extreme temperatures between -20 to 176°F. That way there is no risk of it freezing or overheating. You will also get a longer lifespan with the supercapacitor compared to the traditional batteries.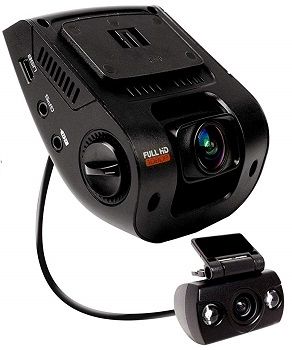 Recording And Storage
All of the videos can be recorded in 1, 2 or 3-minute intervals, depending on how you choose to set it. The recorded footage is saved on the micro SD memory which can be up to 256 GB in size. There are loop recording and emergency recording features also included.
Optional GPS Software
You can also additionally install the GPS Logger software to your Rexing VP1 dashcam. That way you can track all of the information about your speed, location and driving routes, which are then displayed within the app by using google maps. For the GPS feature, you will also need an antenna which you can buy separately.
Features:
Records from two separate perspectives
1080p resolution at 30 fps
7-layer glass lens
WDR technology
Optional GPS Logger software
Conclusion: What Is The Best Dash Cam Front And Rear Camera On The Market?
Two models we chose out of the five we reviewed, as the best ones are the Chicom Mirror Dash Cam and the Thinkware Q800PRO Dual Dash Cam. The first one will replace your original rearview mirror and comes with the 350-degree coverage. The second one offers 2K resolution for all the pictures and videos along with the parking surveillance system and night vision 2.0.
More reviews on some of the best dash cam you can find in another one of our articles. All of the best Uber dash cams are mentioned here. If you are looking for the best car view mirror camera check out this article.