If you have been thinking about getting a car dashcam, but are still not quite sure which one you want, keep reading this article about the best BlackVue dashcams and maybe it can help you decide! You will find the most important information about the company, as well as 5 example dashcams with their specifications.
Keeping your car safe, especially when you go to an unknown place or a city, is of great importance. Dashcams are therefore a good way of keeping an eye on your car even when you're not in the vicinity. Here you will find reviews and information about dashcams from one the most trusted manufacturers today, BlackVue.
Keep reading this article to get to know BlackVue better, see what else they offer, and what kinds of dashcams they have. You'll also find five examples of some of their best dashcams available today, along with specifications and Amazon.com links.
What Is BlackVue Brand?
When Was It Founded?
The South Korean company Pittasoft, which makes BlackVue dashcams, was founded in 2007, with the goal of making the best dashcams in the world. They aim to make user-friendly, high-quality products that bring the end-users real value on the daily.
What Is Their Mission?
They are aware that a lot of companies make dashcams today, and with that in mind, they want to excel and lead the dashcam market in spite of strong competition. To be the leaders, they are always working on new ways of connecting people with their cars, and there Over the Cloud is the embodiment of that aim.
What Else Do They Offer?
They offer a wide range of dashcams, including cloud, Wi-Fi, and simple dashcams. You can also buy parking mode add-ons, and accessories such as tamper-proof cases, microSD cards, interior cameras, external GPS receiver, dashcam mounts, power and video cables, and more.
Customer Service
Pittasoft is also constantly trying to provide their users with the best after-sales service. All of their dashcams come with a 1-year warranty, and that includes free repair in case something goes wrong, as well as worldwide express shipping. You can find installation videos on their website and find useful guides on their blog.
Not Convinced Yet?
If all of those facts are still not enough for you to budge, keep reading this article to see for yourself all the perks you get in one BlackVue dashcam. But first, you can also apply for a job with Pittasoft and become part of the highly-qualified team that makes one the best quality dashcams in the world.
5 Best BlackVue Dashcams Reviews
BlackVue DR750S-2CH Car DVR Recorder
Dual Camera System
You get two cameras for the price of one with this BlackVue car camera. Because it has dual STARVIS sensors, you get videos in 1080p definition (Full HD). The front camera records at 60 fps, while the rear at 30 fps. Both cameras record videos at a 139-degree angle, which makes it a wide-angle dashcam.
Impact And Motion Detection
Movements, sudden changes in speed, and impacts are all detected while you're driving and while your car is parked. Recorded videos are marked with regard to that and you can view them in a viewer and app created for the OS you use (Windows, macOS, Android, iOS). The app and viewer are free to download and use.
User-Friendly Design
You can start recording just by waving your hand in front of the built-in proximity sensor. Wi-Fi is also built-in, and your actions are confirmed by a voice prompt (turning Wi-Fi on/off, resetting your password). You can connect your phone to the dashcam via Wi-Fi, and the GPS adds location and speed data to recordings.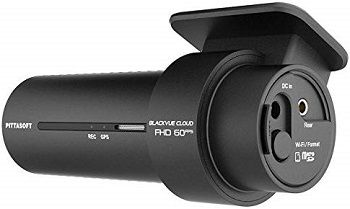 File Management
The dashcam has loop recording enabled and overwrites old files when you reach your storage maximum. You can protect up to 50 files manually or by impacts. The adaptive format-free file system improves recording stability and reduces the need for formatting your microSD card.
Features:
Dual camera
139-degree angle
App and viewer
Wi-Fi
Proximity sensor
BlackVue 4k DR900S-2CH Dashcam
Ultra-High Definition
Also, a dual cam system, this BlackVue dashcam's front camera has an 8 megapixels sensors and records videos in 4K Ultra High Definition or 3840*2160 at 30 fps. The rear cam employs 2.1 megapixels STARVIS sensors and records in Full HD, or 1920*1080 at 30 fps.
Dual-Band Wi-Fi
You get built-in GPS tracking which adds location and speed data to your recordings. You can record your speed either in Km/h or Mph, and you can turn it off in the settings. With the built-in dual-band Wi-Fi, you can download videos to your phone at high speed, and allows Over the Cloud functionalities via any Wi-Fi network.
Parking Mode Recording
As with the previous dashcam, this one also records videos while you drive and while your car is parked. As with the previous BlackVue dashcam, this one also organizes videos accordingly. You can find and download them either via the Viewer or the designated app.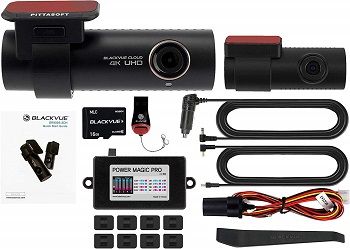 BlackVue Over The Cloud
With this feature that all BlackVue dashcams employ, you can connect your dashcam to your phone. You can back up videos remotely, play and download them, and even use two-way voice communication with the driver from the app through the integrated speaker and microphone.
Features:
4K UHD recording
Dual-band Wi-Fi
GPS
Two-way communication
BlackVue DR590W-1CH Dashcam
Full HD Recording
With the 139-degree wide-angle view, this BlackVue dashcam has a CMOS Sensor with a Sony STARVIS Image sensor and records your surroundings in 1080p at 60 fps. That minimizes motion blur, results in smoother recordings, and the wide-angle allows you to capture more of the world around you.
Buffered Parking Mode
As with most other dashcams, in the parking mode, the camera keeps recording even when you're not in your car and it is turned off. Upon detecting motion, the dashcam will save a video ranging from 10 seconds pre- and 10 seconds post-incident. To enable this feature, you will need a Power Magic Pro or Power Magic Battery Pack.
Built-In Features
There is a built-in microphone and speaker for voice guidance. You can also add optional GPS, and there is, of course, the Viewer and app for managing your recordings. The dashcam can operate in temperatures ranging from -4 to 158 degrees Fahrenheit.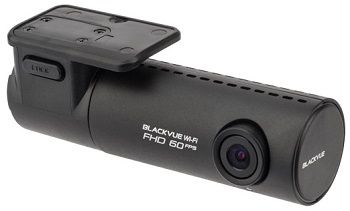 Secure Memory Management
With the included loop recording feature, the DR590 records over the oldest videos in a seamless loop when the SD card is full. With the adaptive format-free technology, the dashcam reduces the need for card formatting and prevents file corruption even after multiple write circles.
Features:
139-degree angle
Full HD at 60fps
Parking mode
Microphone and speaker
BlackVue DR490-2CH Dashcam
Dual HD Cam
This dual-channel BlackVue dashcam can record both the front and the back of your car, and even the interior. The recording quality is 1080p at 30fps, in a 130-degree wide-angle. The front camera has a built-in Sony STARVIS sensor for better clarity in low light.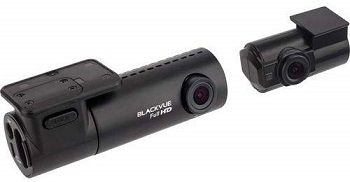 Multiple Recording Modes
With built-in impact and motion detection, this BlackVue dashcam detects impacts and changes in speed. It can detect movements even when your car is parked, but you need a Power Magic Battery Pack or a Power Magic Pro hardwiring kit.
Format-Free Technology
Because of loop recording, when you reach your storage limit, the dashcam automatically starts recording over the oldest videos in a seamless loop. The format-free technology reduces the need for formatting the microSD card and prevents files from being corrupted.
Optional GPS And App
You can get an external GPS receiver and with it add location and speed data to your videos. You can record your speed in either Km/h or Mph. For managing and viewing your videos, there is the BlackVue Viewer for your computer and the BlackVue app for your phone. Both are free for download and use.
Features:
Full HD
Front, rear, interior recording
130-degree angle
Optional GPS
BlackVue DR650S-2CH
Hide It Behind The Rearview Mirror
The front camera measures 118.5 x 36 mm and weighs 96 g, which makes it small and light enough to fit behind your rearview mirror and you can forget it is even there. The rear camera measures 67.4 x 25 mm and weighs only 28 g. Both cameras have a CMOS sensor.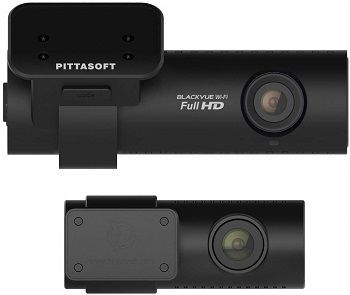 High-Quality Recording
Both cameras record videos in Full HD at 30 frames per second. Also, both cameras' diagonal viewing angle is 129 degrees, which makes them wide-angle cameras. With the Over the Cloud add-on service, you can check on your car any time, and manage your recordings.
Three Recording Modes
The dashcam can switch between three recording modes (normal, event, parking) because of its built-in impact and motion detectors. The dashcam switches to a mode automatically depending on the circumstances. Also, with the loop recording feature, the dashcam overwrites the oldest videos when you reach your microSD's card storage limit.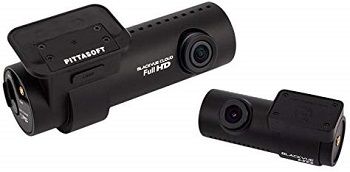 Live View Feature
By know you already know about the BlackVue App and Viewer, but with this dashcam, you can check real-time Live View and setup your cam via the app, just connect the app to the dashcam via the built-in Wi-Fi. There is also built-in GPS which adds speed and location data to your recordings. Besides the remote Live View, you can receive push notifications, back up videos and play and download them from the Cloud.
Features:
Full HD recording
129-degree angle
GPS and Wi-Fi
Live View
Which BlackVue Dashcam Is For You?
Besides the five mentioned above, BlackVue offers a lot more dashcams, all available on their website and on Amazon.com. If you need a little help deciding which one to get, read my recommendations. The first BlackVue dashcam I like is the BlackVue DR900S-2CH because you can record both the front and the rear of your car, all in 4K quality. The other I like is the BlackVue DR650S-2CH model, because you can again record both the front and the back, and you can access your camera remotely via Live View.
For products by other manufacturers, read my article about the best dash cams. If you want the highest recording quality dashcams, read my article about the best 4K dash cams. If you are on a budget, read my article about best cheap dashcams.