Would having a dash cam make you feel safer while driving? Are you considering buying a dash cam?
If the answer is yes, continue reading because in this post I'll give reviews of the 4 best Pilot dash cams currently available on the market. First I'll teach you about the history of the brand, their goals and introduce you to their rich product offer.
I'll point out all interesting and useful features of the 4 models and list their positive and negative sides. I'll advise you on buying replacement parts, give a small tour of the manual booklet, and provide you with links for the online manuals.
About Pilot Automotive Electronics And Their Products
The History Of The Brand
The Pilot Automotive was established in 1996 as a branch of Wang's International which existed since 1984. Today, the Pilot Automotive is one of the biggest car accessories suppliers. In 2006 they joined VPS (Vehicle Performance Systems) and a newly bought intellectual property of American Products Company. To this day APC is one of the largest suppliers for vehicle manufacturers.
The Pilot Automotive's Product Offer
The Pilot's product offer consists of truck accessories, interior and exterior accessories, various types of soft seat and covers and floor mats, LED lighting systems and car electronics. It includes products such as speakers, car jacks, ECO USBCell batteries, dash cams and much more.
Important Features A Dash Cam Needs To Have
High Resolution Camera
A good quality high-resolution camera allows for better and sharper recordings. Dash cams usually include 1080p resolution, but some more affordable models have 720p resolution that also gives good quality footage.
Discreet Design
It's important that a dash camera doesn't take up a lot of space on your windshield, and that it is discreet and can be installed easily. They come with an adhesive mount and can be placed next to your rearview mirror or on top of it which makes them unnoticeable.
Loop Feature
Thanks to the loop recording feature you'll never run out of memory space. The models come with a 4GB SD card, but when storage reaches its limit, the dash camera will start recording over old recordings.
Best 3 Pilot Dash Cam Reviews
The Pilot Dash Cam CL3005
Basic Information About The Pilot Dashcam CL3005
The dimensions of the Pilot CL3005 are 8.1 x 5.6 x 2.6 inches and weighs 0.6 pounds. It's made of durable black plastic. This model of a Pilot dash cam is very small and discreet, and you can fix it to the windshield using an adhesive mount. Pilot dash cam 1080p has a small 1.5 inch LCD display screen with push buttons on both sides and a high-resolution single camera. In the package, you'll receive a suction mount, power cord, and data transfer cable.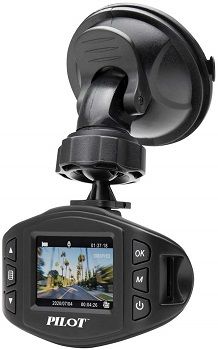 Single Camera On The Pilot CL3005
The Pilot Automotive dash cam offers a 120-degree angle view of the road thanks to its high-resolution single camera. The Pilot 1080p dash cam can be used as a webcam or a dash cam and has an enhanced night vision. You'll be able to set the resolution on 1920 x 1080p or 1440 x 1080p and receive great sharp footage in daytime or night time. The camera has 12/10/8/5 megapixels.
Additional Features
This model of a Pilot Electronics dash cam has a built-in microphone and supports voice recordings. It includes a 4GB SD memory card and a loop recording feature that records over the old recording when the storage reaches its limit. In case of a car accident, the Pilot Automotive 1080p dash cam will automatically save the video.
Features:
Comes with a 4GB SD card
Can be used as a dash cam and webcam
Gives high-resolution footage
12/10/8/5 megapixels
Pilot Dash Cam CL3026
Main Information About Pilot CL3026 Dash Cam
The CL3026 model features a very modern, simple and compact design. It measures 8.1 x 5.6 x 2.6 inches and weighs only 0.6 pounds. The Pilot dash cam includes a single camera and a 2.4 inch LCD display screen. The Pilot 720p dash cam comes with a power cord, data transfer cable and suction mount for easy installation.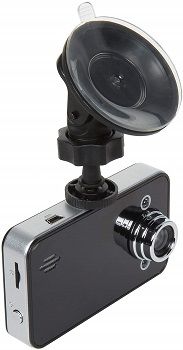 Features Of The CL3026
The Pilot CL3026 dash cam includes a 4 GB SD card and FIFO loop recording function that activates when the SD card has reached its limit. Since the Pilot Automotive 720p dash cam includes a microphone, you'll be able to take good quality audio and video recordings.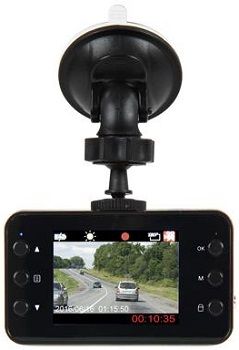 Camera Quality
The Pilot camera lens allows a 100-degree angle view of the road. The Pilot dash cam CL3026 has a 1280 x 720p HD resolution camera that delivers good quality daytime and nighttime footage.
Features:
Modern sleek design
Unobtrusive
Small and lightweight
Comes with a 4GB SD card
Pilot On-Board Dash Cam
Primary Information About The On-Board Dash Cam
This model of a Pilot dashcam comes with a single camera lens, a small LDC display monitor with silver push buttons and an adhesive suction mount that allows for easy and simple installation. Pilot on-board witness dash cam made of black plastic and weighs a little less than 8 ounces. Because of its small size and simple compact design, Pilot dash cam 720p will look unnoticeable from a distance.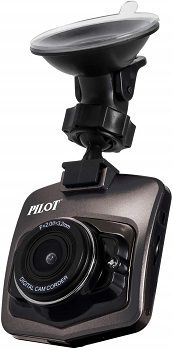 Pilot Dash Cam Technical Features
The Pilot on-board witness dash cam features 720p HD resolution and is a good affordable option to consider. It comes with a 4GB SD card, charging cable and data transfer cord. Thanks to the preprogrammed loop recording function, the Pilot on-board witness dash cam will record over the old footage after the memory limit is reached.
Features:
Simple installation
Comes with a suction mount and charger
Includes a 4GB SD card
Affordable
Pilot Automotive Dash Cam Replacement Parts And Accessories
When it comes to buying replacement parts, you have 2 options: to look for original parts or spare parts. Since Pilot dash cams are very affordable, the spare parts such as the Pilot dash cam mount are too. On Amazon you can find mount kits for different types of cash cams, but you need to be careful while buying and find the one that will fit your camera. Some people even advise simply buying a completely new dash cam because of their cheap price.
Pilot Dash Cam Manual Instructions
It is important to keep the instructions manual somewhere safe where you won't lose it and forget about it because it contains useful information about the Pilot dash cam. Before usage you must read the manual because it will introduce you to all parts of the dash cam, instruct you on installation and explain how to use each feature so you don't experience any malfunctions in the future. Manuals for some models of Pilot dashcams are available for viewing online like the Pilot CL3005 dash cam manual.
Conclusion: Final Verdict On The Pilot Dash Cameras
All in all, Pilot cams are good quality devices for the given price. They're very affordable but still manage to take 1080p HD resolution recordings. That's why my favorite model, out of all I reviewed in this post, is the Pilot dashcam CL3005. It supports audio and video recording features a loop recording function and offers a 120-degree angle view or the road with 1080p resolution. The Pilot dash cam 1080p is very discreet and can easily be installed on the windshield using an adhesive mount.
If you think having a wired dashcam would get in the way while driving, read my post about a wireless dash cam. If you're looking for a dash cam that will give you a full front and back view of the road, check out my review of a dual dash cam. Or if you simply want to check other options, read my post about the best dash cam.